Urban Screens 2005: How public spaces are integrating art and culture via LED screens
Urban Screens 2005, an international conference organized by Amsterdam's Institute of Network Cultures and the Art and Public Space Dept., plus the Berlin-based Urban||ReseARTch Group, convened in late September in Amsterdam. Approximately 220 practitioners involved with art, architecture, urban studies and digital culture attended.
At least 35 speakers discussed how LED screens have integrated outdoor digital art with urban spaces. Speakers showed how large-format electronic displays from the United States, England, Russia, Switzerland, Serbia and Montenegro, France and Brazil serve as "art gallery walls", public political forums and community bulletin boards - communication forums that stimulate "lively culture". Large-format LED screens have been integrated into such public spaces as city parks, pedestrian malls, town squares, shopping malls and mixed-use retail/living spaces, where displays are specifically dedicated for such non-commercial purposes as art, education or entertainment.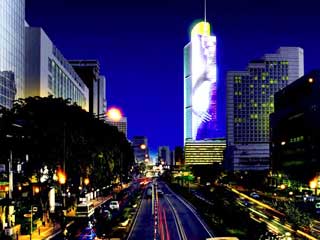 Giant LED screens of The Grand Indonesia tower (Jakarta, Indonesia)
The Grand Indonesia tower (Jakarta, Indonesia) is a 57-story skyscraper covered with two LED video screens. The low-resolution back LED screen presents abstract motion art and the high-resolution foreground LED screen periodically presents lifestyle and branding content along the face of the building. Building visuals (both high and low resolution), comprise approximately 60,000 sq. ft. of LED video coverage along the exterior curtain wall.
Conference manager Mirjam Struppek, curator of Urban||ReseARTch, noted how public spaces have always engendered human interaction, "where an exchange of ritual and communication is a critical dynamic of social interaction". Struppek said social interaction now occurs not only traditionally, but also electronically, via large screens integrated within a public space. Frequently seen in Europe, electronic "culture boards" are taking hold in the United States. Large-scale art/entertainment video integration has happened within such public venues as Chicago's Crown Fountain in Millennium Park and giant LED screen of Las Vegas' Fremont Street Experience's Viva Vision.
In shopping malls, public-access video screens mix advertising, shopping activities and lifestyle video clips into an elaborate "electronic sales catalog" for the mall's venues. Two shopping centers, Fashion Show in Las Vegas and Mall at Millennia in Orlando, FL capitalize on art/entertainment to provocatively entice their customers to extend their shopping onsite. The Urban Screen speakers expressed concerns about creating and financing these LED screens. They also discussed how these LED screens might be incorporated into existing or newly developed urban spaces.
Most importantly, they emphasized that relevant content critically defined how "messages or art" should be displayed. Finally, speakers explored how "culture curators" could collaborate with the media planners and billboard operators to create "art moments" with existing electronic billboards. The interplay of outdoor electronic LED screens and public spaces has its roots in such commercial havens as Times Square, the Ginza in Tokyo, Dundas Square in Toronto and Piccadilly Circus in London. The Urban Screen community wants to foster a marketing evolution in which electronic LED screens migrate from commercial (advertising) to cultural use (art). Several presenting city planners and real-estate developers also showed plans for real-estate and shopping-mall projects that expand video LED screen usage.
Video cathedrals
Scott McQuire, senior lecturer at the University of Melbourne (Australia), opened the conference with "The Politics of Public Space in the Media City". McQuire observed how television has transformed from a home commodity to an architectural-design element. What he terms "media buildings" serve as cathedrals of community presence. "This has allowed the outdoor video screen to potentially become the community's new public square", McQuire said, "and is creating new forms of public relationships between people and their community".
Why is this important step in display evolution? Electronic signage is now the dominant medium in public spaces. It has been incorporated and compartmentalized into advertising, commercial use, traffic management, spectaculars and architectural areas, where it has provided actual, market-based electronic signage. This varied market distribution in outdoor sectors is happening worldwide, where it embodies the metaphorical global village.
In England, the BBC embraces outdoor video technology as a form of "public-service broadcasting". In a position paper released at the conference, the BBC viewed the large-scale video screen as a "critical communication system for creating "digital city centers" to publicly showcase community and educational activities, video art and breaking news".
Conference speaker Linda Wallace, of the Australian National University, observed how these outdoor video LED screens form a "video sphere", a delivery mechanism that fuses virtual space (video and media content) within the real world. To make this happen, the BBC collaborated with the Royal Bank of Scotland, in 2004, to create their first, operative, public-space screen in Manchester Exchange Square. The BBC plans to place several more public-space screens in other British locales.
Out(door) is in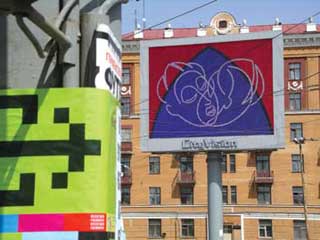 Clip of OutVideo Festival at LED screen in Yekaterinburg
In Yekaterinburg, Russia, curator and media artist Arseny Sergeev liberated eight video screens to gain screen time to host "art videos". Sergeev emphasized the medium's eye-catching appeal to persuade the city's media planners to allow him to screen the videos: "If you let me use your video LED screens to run an art-film festival, people will look at your LED screens more often. Thus, you'll have a more receptive public audience who will care about your screens". His outdoor-media festival, OutVideo, displayed approximately 160 video works as short, 30-second advertisements "to educate people about electronic art in public spaces". Shown continually, the videos ran during the entire, month-long festival.
Vera Buhlman and Andreas Wagner of the University of Art and Design (Basil, Switzerland) presented "Intelligent Skin — The Fourth Dimension of Architecture". They demonstrated how building facades have evolved into dynamic shells that represent the building's identity as a "living brand". Video LED screens form an electronic skin that covers the building and visually represents the company's identity. New York City's NASDAQ and the Lehman Brothers buildings serve as prime examples.
However, advanced architectural thinking has gone a step further by integrating solar cells and "smart" electronic systems that maintain the building as a "conscious entity" to its surroundings. This intelligent skin helps the building visually adapt to its environment, and its owner's brand and cultural identity. Several other speakers, primarily real-estate developers, showed renderings or demonstration models of planned architectural sites that feature built-in specifications for LED screens, which will accommodate their venues' public spaces.
Tune in
This academic conference focused on reality as well as future visions. Many speakers described how they've brought urban screens to their home cities and explored ways to transform local urban spaces into integrated "video spheres". The conference website, www.urbanscreens.org, reviews the proceedings. The 2006 conference is scheduled for Berlin on a yet-to-be-determined date.