Media façade and dynamic digital signage: a new item on your media plan
Part 1
The first part gives overview of modern outdoor advertising carriers with special attention to digital signage and media façade as the ideal way to promote corporate image. The second part considers opportunities and peculiarities of digital marketing and media planning, as well as recommendations on selecting media façade and a list of typical pitfalls of the inexperienced.
Media façade and dynamic digital signage
When people talk about media façade they frequently mean an LED surface of any shape, size or resolution located on a façade of a building. This LED structure may be used as an informational and advertising display or as a designer's architectural element. Agreed: media façades come in a wide range of solutions from a small dynamic digital signage to a huge façade. The former may be placed over entrance to a shop or restaurant and may greatly add to the stylistic outlook of a property (the sign may display company logo, text messages, graphics or special effects) as well as provide commercial information about products and services of the owners.
In the latter case we may talk about huge architecturally complex media façade that may have inserts of LED displays, including HD-video surfaces, and practically unlimited opportunities for design, advertising and sponsorship. All around the world media façades are used for outdoor advertising, unusual lighting solutions, architectural improvement of the environment, displaying TV- or video-programs. Media façade with its bright imagery and texts attracts all attention and pushes the architectural features of the building to the background.
Corporate concept of media façade
Strategically, media façade is a new concept that allows to lighten up our cities, make streets more attractive, pass time more informative. A well-constructed media façade wins over drivers and pedestrians alike, boosts image of large companies, helps medium and small companies to stand out among competitors. Thus, there is a growing interest to media façades that dominate city space and attract attention of large audiences. Media façades are interesting to:
architects and designers;
building owners and developers;
advertising agencies and TV channels;
marketing and advertising experts;
internet resources and social networks;
investors and sponsors.
Without getting too technical, we should still mention an important advantage of media façade over other digital outdoor carriers: they are easy to synchronize and control. The software interface is user-friendly and maybe uploaded on any PC connected via protected Internet links. The comprehensive control system allows to link several nearby buildings with media façades into a unified media surface and create synchronized images on several high-rises in different parts of a city.
For example, a media façade may display (according to a planned play-list):
graphic and color effects;
text or images;
commercials or slide-shows;
on-line video;
sport events;
channels of satellite or cable TV;
real-time information about traffic jams, weather, currency rates and emergency situations.
The topic of media façades cannot be discussed without referring to dynamic digital signage which are also called dynamic light signs, video advertising, and even multi-video screens. All these terms presuppose a digital technology and digital image carriers place in public spaces primarily with advertising purposes. The concept of dynamic digital signage is fairly new for the Russian outdoor market. For the rest of the world it has long been associated with a hardware-software complex capable of flexible scheduling and remote control over the broadcast.
Dynamic digital signage technology is primarily about controlling information that maybe displayed on any digital screen. Naturally, control functions are compatible with sophisticated playback options. Therefore dynamic digital signage are frequently used not only for advertising but as elements of PA systems, for example, in airports where they operate as timetable screens.
Dynamic digital signage may not be strictly outdoor (though this remains its primary function) but indoor or semi-outdoor as well. Installed in the streets or squares of cities, dynamic digital signage tend to be bigger in size, brighter and with better contrast to remain visible at all times and maintain contact with the potential audience.
Experts predict that the world dynamic digital signage market will grow from $3.1 bln in 2010 to $4.5 bln in 2016. Considering this global trend and a huge and practically untapped potential of the Russian digital outdoor advertising market, we may safely say that dynamic digital signage and media façades will be in great demand shortly.
Advertising on media façades: Brief review
It's a mistake to believe that outdoor advertising is a modern concept unknown in ancient times. To say nothing about advertising on the walls of buildings. However it's a proven fact that elements of advertising can be traces to times immemorial. The earliest announcements were scratched or painted on the walls of caves or rocks. In Ancient Greece and Rome advertising notices were written on wooden boards or engraved on copper plaques.
Closer to our time, we could mention one essential event in 1898 when Dewar's, manufacturer of alcohol beverages, created first ever outdoor advertising film and projected it on the wall of a building in New York. Dancing figurines attracted rapt attention of people and press. This was a real technological breakthrough.
The first multimedia digital façade was built only in 1996 for the Nasdaq HQ in Times Square, New York. Today similar projects are gaining popularity around the world: take for example the famous "Uniqa" tower in Vienna, "Channel Ginsa" tower in Tokyo, "Wind Tower" in Kamogawa, Japan etc. Media façades have become permanent features in a number of European, American and Asian cities and are considered preferred sites for branding.
Russia tries to keep up the pace. The first media façade was commissioned in Moscow on a Manege Square. But Russia is an unpredictable territory. New rules demand removal of downtown billboards and instead of giant advertising posters on buildings' walls we may soon see posters with images from Russian history or even portraits of city VIPs. Even walls without windows are planned to be repainted in lively colors but no advertising will be allowed.
The use of media façades for high-profile advertising has a long standing history, was proven by practice in many countries of the world and is only waiting for the modern forms of advertising.
Modern installations of media façades
Each day some new media façade projects appear in modern cities. There are dozens of interesting and successful installations. The multitude of forms and shapes and sizes are breath taking. Apart from outdoor advertising, media façade projects become popular among citizens and authorities alike since they make cities brighter and more attractive, vastly improve architectural quality of buildings.
Below are some examples of media façades well-known for their beauty and commercial value.
Media façade with Daktronics ProPixel® freeform technology, Argosy Casino in Aton, Illinois, USA
Media façade with a large LED screen PSA Peugeot Citroen, Paris, France
Photo credit: Daktronics
Media façade on buildings in Phoenix Island, Sanya, China
Photo credit: designboom.com
Media façade on Zhejiang Charming Golden Entertainment Co., Ltd., Hangzhou, China
Photo credit: Daktronics
Media façade on Troia Design Hotel, Grandola, Portugal
Photo credit: troiadesignhotel.com
Media façade on Espectaculos Callao S.L.3, Madrid, Spain
Photo credit: Daktronics
Media façades on Hangzhou Tower Co Ltd, Hangzhou, China
Photo credit: Daktronics
Media façade on Grand Lisboa Resort Hotel, Macau SAR, China
Photo credit: Daktronics
Media façade The Americana at Brand, Glendale, CA USA
Photo credit: Daktronics
Media façade on Casino Grand Lisboa, Macau SAR, China
Photo credit: Alfred Molon
Coca-Cola media façade, Johannesburg, South Africa
Photo credit: Daktronics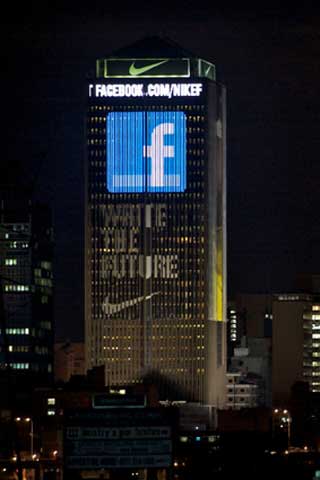 Media façade on Nike Building, Johannesburg, South Africa
Photo credit: Daktronics