Media Façade World Tour!
Digital building wraps continue to interface art and technology with the urban landscape
With this publication we continue the series of articles by the well-known US journalist and expert in media-technologies Louis Brill. In our May edition we reprinted his article on the modernization of ABC-studio media-façade in New York. Today's publication continues with the information on media-façades of modern cities.
Media façades have blossomed in many directions, with great promise to LED display screen manufacturers, sign integrators, architects, media planners and urban developers, who recognize how this super sized signage enhances the urban landscape. Bottom line, signage has media façades covered. "The integration of media façades in a building structure is transforming how architecture creates buildings," said Tom Powley, president of GKD-USA, a Cambridge, MD branch of the Düren, Germany based manufacturer of Mediamesh, a metallic woven fabric with an embedded, LED display screen that covers building façades. GKD collaborates with Cologne, Germany-based "ag4", which invented Mediamesh, in providing media-façade architectural solutions for various applications.
Powley said, "The creation of a media façade on a building allows the building to come alive with imaging and lighting, which changes how it relates to its surrounding cityscape. This is a development of corporate branding and corporate identity programs, creating its highest and most visible presence. This, in effect, is a new era for corporate LED display screens."
Media façades' LED display screens allow corporations to communicate their identities in public spaces. Two recent "ag4" projects highlighted in the article demonstrate "mediatecture" designs and the structural integration that links the media façade into its surrounding cityscape. Successful media façades match the building project with the appropriate LED display screen of media façade to cover the building.
Building height and shape no longer restrict LED display screen placement. Equally important, a media façade plan should cover content creation and management. Time for community relations is also allocated on media façades. ST takes a worldwide look at recently built media façades, including the Faberge Egg in Macau, China; the Khalifa Sports Stadium in Doha, Qatar and the Miracle Mile Shops in Las Vegas.
With such a groundswell of media façade interest, sign companies should anticipate soon managing digital-building covers in their own communities.
The Faberge Egg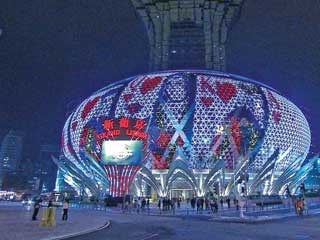 LED media façade The Grand Lisboa hotel and casino in Macau
Photo credit: Daktronics
Macau, China has become the Asian Las Vegas by adding layers of electronic digital LED sign glitz to brighten its building coverage. The Grand Lisboa hotel in Macau built a companion casino, the Faberge Egg, which is shaped like an egg cut lengthwise.
Like its gemencrusted namesake, the Grand Lisboa's distinct, awe-inspiring, LED display screen media façade glows as it promotes visitors' potential good fortunes. Designed as an illuminated lotus flower, which is the emblem of the Macau Special Administrative Region, the eight-story casino includes five floors of gaming, a sports bar, a stage with musical performances and six restaurants.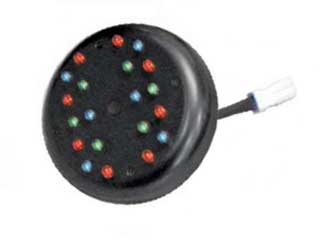 ProPixel - LED video element
Photo credit: Daktronics
A steel structural frame covers the concrete shell base and connects the ProPixel modules to the building structure. A grid of LED interconnecting brackets was mounted on the shell. Also fitted onto the grid were 12 000 triangular, colored-glass panels, whose structure was designed by architects Dennis Lau and Ng Chun Man. Filling the ovoid façade required 59 000 ProPixel units, which were inserted between the triangular glass panels.
Special video-content "mapping" avoids distortion along the hemisphere surface. To manage the video content, Daktronics incorporated two of its Venus-7000 video controllers with an off-the-shelf Scala (Philadelphia) video-server link to two Daktronics V-link video processors.
To complement the hotel/casino complex, Daktronics also applied 2 543 ProPixel units to the marquee entrance display for the veins of the leaf-like structures and the hotel's channel letters, which spell out "Grand Lisboa" in English and Cantonese. Finally, it capped the hotel dome with an LED placement.
Daktronics (Brookings, SD) created the 184-ft - (56 m) high x 620-ft - (189 m) wide LED media façade with its ProPixel LED video element, which presents full-motion video for large-scale architectural applications. The ProPixel LED module conforms to any building shape as a cladding element. For the Egg, it was shaped like a hockey puck, with the individually addressable video element embedded with 20 RGB LEDs into its surface (eight red, six green and six blue), with a 140° horizontal viewing angle and a 60° vertical point of view.
Daktronics collaborated with multimedia consultancy Shen Milsom & Wilke (NYC) to create the intelligent lighting system, which combines outdoor lighting effects with the ability to create and display custom text messages, graphics, animations and video images.
Upon completion, video imagery effortlessly glides across the Faberge Egg. In one instance, a LED display screen transformed the Egg into a vast aquarium with objects swimming around the front of the building. In another visual, the Egg morphed into an eye that searched the grounds. At another time, the exploding Egg unveiled gold coins that wished people good luck and fortune during their casino visits.
Milan's Arengario Museum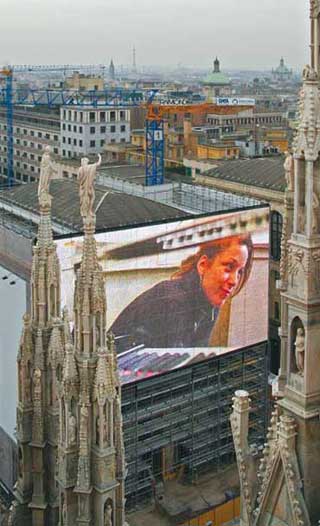 LED media façade Milan's Arengario Museum
Photo credit: ag4
Milan, Italy's capital of industry and a cultural hub, is home to the Arengario Museum. Built in 1293 on the Piazza del Duomo, the museum lies just a few steps from the gothic Duomo di Milano. The museum's recent reconstruction created an opportunity to develop a new LED media façade category.
A Mediamesh digital wrap was placed on a construction scaffold in front of the museum during its five-year refurbishment. In collaboration with "ag4" and GKD, the Milanese agency Urban Screens SRL installed the 480-sq. meter Mediamesh façade. In 1991, "ag4" was established as an interdisciplinary company that creates media architectural projects that enable such companies as BMW, Aventis and Merck Serono to communicate their identities in public spaces. In 2004, "ag4" developed the application of LEDs that made the design and installation of transparent media façades possible and premiered the technology in T-Mobile's media façade in Bonn.
A public window into the Milanese community and culture, the façade not only posts advertising, but also showcases the city's history and art. The shimmering wrap contrasts with the cathedral's gothic façade, but the juxtaposition also marries tradition and commerce, Milan's two building blocks.
The media façade will transmit live this year's opera season at La Scala. In addition, special advertising placements for the next five years will generate the necessary ROI to cover the media façade's capital costs. The media façade will also reinforce Piazza del Duomo's original function: a public gathering place.
Khalifa Stadium LED display screen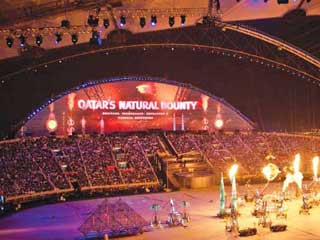 The giant media façade for Khalifa Stadium
Photo credit: Element Labs
Doha, Qatar's capital and largest city, lies on the Persian Gulf. Like its Gulf neighbor, Dubai, the city has experienced rapid growth built on oil and natural-gas industries, but has recently diversified. In 2006, Doha hosted the 15-th Annual Asian Games, which pitted 45 nations against one another and, like the Olympics, staged elaborate opening and closing ceremonies. These massive celebrations were viewed by hundreds of thousands of attendees and at least three billion television viewers.
To showcase those ceremonies, Khalifa Stadium, a 50 000-seat soccer stadium, added a LED media façade that allowed the stadium audience to easily view the ceremonies as they occurred. To acquire such a massive viewing arrangement, the Doha Asian Games Organizing Committee commissioned Element Labs (Santa Clara, CA), an LED display screen manufacturer for audiovisual and architectural applications.
Shaped like a half-moon, the LED display screen measures 541 ft. (165 m) long x 129 ft. (39 m) high, and covers 48 400 sq. ft. (4 500 sq. meters). Element Labs fit 20 000 units of one of its core products, the Versa® RAY, against the LED display screen's support structure. The Versa RAY RGB linear tubes were set at a 77 mm pixel pitch. Each weatherproofed Versa RAY unit, which measures approximately 10 ft. (3 m) and forms a ¾-in.-diameter tube, was set vertically on a pre-existing, modular, truss infrastructure.
Chris Varrin, Element Labs' cofounder and VP, discussed the logistics and challenges of building one of the world's largest, freestanding LED display screens in a desert environment: "To establish the video screen's sheer size, we began by building a proof-of-concept prototype, which was a 100-sq.-meter LED video mockup of the media façade. Once built, it was tweaked and tested until the customer was happy with the pixel brightness and pitch separation."
Element Labs further developed the mockup to meet the criteria of wind loading, ambient daytime temperatures and other weatherproofing concerns. To resolve the wind-load issue, the LED display screen was designed as a series of vertical ribs, onto which the Versa RAY LED modules were mounted. The gaps between each rib component allow the wind to pass through the LED display screen. Although the gaps are visible when examined closely, the LED screen operates at night, when it appears opaque.
To deal with daytime temperatures of at least 115°, most assembly was completed at night, when the area was significantly cooler. How do you distribute a video signal in real time to provide a complete image that simultaneously fills a 48 000-sq.-ft. display?
Because LED display screen size defines video signal distribution, Element Labs divided the video screen into many smaller viewing segments (think tile sections) and reduced the bandwidth to allow the fastest possible pathway to establish simultaneous image distribution. After the Versa RAY modules were set in place, the Element Labs team immediately installed power and data hookups to the LED display screen.
Sharif Hashisho, the Asian Games' director of ceremonies and cultural events, said, "At every Olympic ceremony, many new technologies are introduced. In our opening/closing ceremonies, we introduced our new stadium LED display screen. The presentation of the screen has made both the Beijing and London Olympic organizing committees worried about if and how they can top our screen."
Miracle Mile Shops LED media façade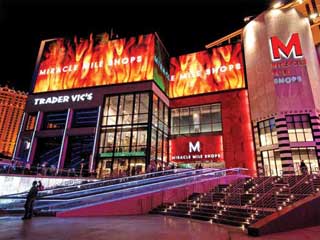 Miracle Mile Shops LED media façade
Across the hemisphere, in Las Vegas, ubiquitous LED display screens compete for sightlines. In 2007, on the famous Strip, the city's first media façade premiered to promote the opening of the Miracle Mile Shops (MMS), the 170-store shopping and entertainment center anchored by the Planet Hollywood (formerly the Aladdin) hotel/casino.
The media façade has distinguished the shopping center as a distinct destination on the heavily contested real estate. To create visual prominence, MMS commissioned Yesco Inc. (the Las Vegas branch) to design and install a series of its proprietary PRISM LED display systems, with a 25 mm pitch, that forms a media façade across the upper third of the building. The LED display screens follow the building's contours to completely cover the front of the building (which faces the Strip) and the two sides that face vehicular traffic.
Russell Joyner, MMS senior vice president and general manager, said, "Currently, most content on the MMS media façade is divided between promoting MMS as its own brand and presenting the sales and service offerings of its onsite tenants. Eventually, we also see third-party advertising as another component to our content mix."
Merck Serono Headquarters
In 2006, global pharmacy biotech giant Merck Serono, a division of Merck KGaA, refurbished its Geneva, Switzerland headquarters. Chicago based architect Helmut Jahn's concept integrated the already existing building complex into a steel/glass structure.
Jahn asked "ag4" to develop a concept that would stage and organically integrate its contextual focus as a biological-research center into a media façade. The concept, "Layers of Life", combines such natural elements as water (a waterfall) and beeswax (1.4 tons, formed into 138 blocks) in the first layer, and 50 LED display screens, which are embedded into some of the wax modules, in the second layer.
"Ag4" commissioned Cologne-based artist Mic Enneper to create the beeswax blocks. After having heated the wax, he manually formed the large blocks using hot air and a spatula. The organic interplay of the first two layers with mirrored walls and media programming reflects the "complexity of biotechnology, a science that feeds off different sciences and disciplines."
Images range from genetic-code symbols to Merck Serono employees working in worldwide laboratories and manufacturing facilities. The 432-sq.-yd. media façade extends across the main wall of a five story atrium that faces a stairway and surrounding buildings.
Project of Merck Serono media façade
Photo credit: ag4
Media façades are creating high-end branding opportunities. "A media façade doesn't necessarily tell stories as much as it creates an emotional connection to the building by its visual presence", ag4's co-founder Cristopher Kronhagel said. "Here, the message sometimes explains and sometimes adds to the mystery of what the client does." Either way, the building will have the public's rapt attention, which is the best you can ask a media message to do.
Media façade "WGBH"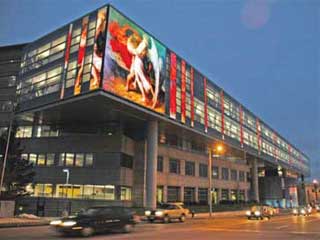 Passersby see part of the image on the various LED display screens
Photo credit: Chris Pullman
WGBH (Boston), a nonprofit public-television station, commissioned Mark IV (Plano, TX) to build a media façade for its new corporate headquarters in the Boston suburb of Brighton. WGBH developed its media façade as a visual representation that showcases the perceived lifestyle of its viewers. Commuters see only one image a day. The full-color, 28 mm-pitch system boasts a 336 x 384-pixel resolution, with six LEDs per pixel. The screen, set at a 140° viewing angle, is designed with a main, 30 x 35-ft. LED display.
A series of 13, continuing, vertical, LED video strips, at much narrower widths, covers various building segments to its back edge. When passersby see images on the various LED display screens, they can visualize the complete image.
Dennis Hickey, Mark IV's national sales manager, said, "Drivers that pass by wonder what visual theme they'll see that day." Images are culled from artistic renderings, historic subjects, environmental elements and cultural content.
"This media façade is designed to display a "lifestyle" presence rather than serve as advertising or a typical branding piece," Hickey said. NYC-based Polshek Architects and environmental graphics design firm Poulin+Morris designed the headquarters, and Mark IV created the media façade, using its SkyTheater outdoor video display. Broadway National (NYC) installed the system.
Beijing's latest media façade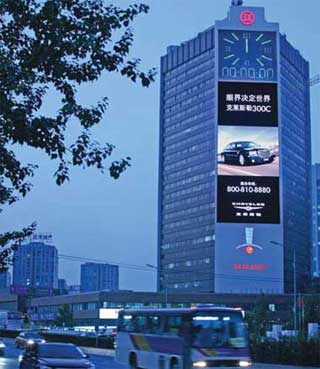 Beijing's latest media façade
Photo credit: Barco
Beijing's latest media façade, across the Jing Xin Building, comprises a Barco LED display screen. The 55 (17.92 m) x 137-ft. (42.3 m), virtual, 14 mm-pitch LED screen primarily displays outdoor advertising, additional government information and occasional news feeds.
Elevating outdoor LED display screens
As media façades continue to catch the eye of architects, corporate marketing teams and community activists, outdoor video LED screen content has been elevated into a new visual language that is redefining outdoor communications in the urban landscape.