LED media façades as a new artistic instrument for shaping urban space
Urbanization brings along new communicative media environment where LED-based technology, LED screens and LED media facades combine architecture, art and visual representation (based on various internet resources and articles of a well-known consultant and journalist Louis Brill).
LEDs have become a paintbrush and canvass for outdoor art that delights viewers. Unlike billboards and electronic message centers, LED sculptures do not have to conform to any shape or specific aspect ratio: rather the sculptural form dictates how the LED screens function within the sculpture. The color and brightness levels create architectural spaces that are chromatically interactive and symbiotically connected to their environment.
Because color and lighting effects are programmable and constantly change the nature of the artwork, pedestrians tend to spend a little more time around a LED sculpture because they don't want to miss anything. Adding LEDs to the existing sculptural materials gives public places a more theatrical look. Here are a few examples.
Millennium's Park Crown Fountain in Chicago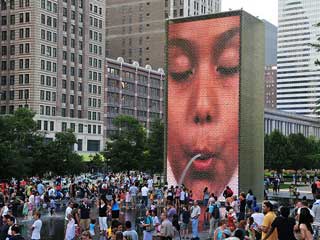 Chicago's Crown Fountain LED screen
Photo credit: Serge Melki
Chicago's downtown Millennium Park is a complete integration of world-class art, music, architecture and landscape design. One innovative aspect of the park is the Crown Fountain, a unique design that combines tradition (the age-old presence of water fountains) with technology (LED video screen) by presenting a 21st century rendition of a digital water fountain.
At each end of the wading pool is a set of LED video screens encased in glass brick towers. The 14 mm Slite video tiles for the LED screens were supplied by Barco. The entire fountain tower was created by celebrated Spanish artist Jaume Plensa, who envisioned the fountain as a visual monument to the city and citizens of Chicago. Twin LED video screens on the towers continually display a parade of faces, nature scenes, and colored light patterns in an endless montage of imagery. It was artist's intention to create a soul within his art sculpture which he achieved by parading Chicago's citizens across the LED screens.
For first time viewers, the effect is astounding. As each new video face comes up, he or she stares intently about, and then suddenly water spouts of their mouth and into a wading pool below the screen. It's a highly-charged emotional moment. The design and assembly of the Crown Fountain were a team effort of architects and engineers from various firms. What they did was far more than another video screen. It's modern art at its best.
The National Library of Belarus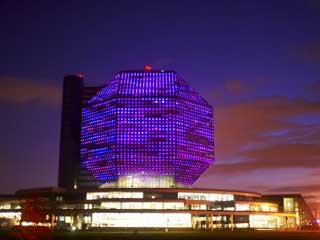 National Library media façade in Minsk (Belorussia)
Photo credit: ledsmagazine.com
The National Library of Belarus, an architectural diamond, is lit at night in stunning fashion by 4646 color-changing RGB LED fixtures. In 2006, Minsk received a new architectural symbol - a brand new building with media façade to house the National Library of Belarus. The twenty-three storey library is designed in the form of a diamond and symbolizes the enormous value of knowledge that mankind has stored in books.
The building is covered by glass panels and during the day all 24 sides sparkle as a real diamond. A color-changing LED fixtures is installed around the building, effectively creating a monitor with 25x25 meter sides and 62 meters in diameter. As a result, spectators are able to observe a fantastic show with incredible dynamic plots from hundreds of meters away. It is an extraordinary creative venue for lighting designers. The entire color-changing system was designed and produced by Walter Industries (Minsk, Belarus), a 100% subsidiary of a Canadian lighting manufacturer GVA Lighting, Inc.
The media façade consists of 4646 custom-made RGB light fixtures (star), 1349 controllers, 54 splitters, one channel splitter RS-485-1/8, one converter USB/RS-485-1 and one personal computer. Protocol RS-485 was chosen for maximal reliability of the system. Every star fixture is equipped with three 1W Luxeon (Red, Green, Blue) mounted on a metal-core PCB. The star fixture is IP54-rated and suitable for ambient temperatures varying from -30°C to +50°C.
Impressive troubleshooting functionality of the control system drastically reduces maintenance time. In diagnostics mode, the software is able to check the operation of all LED fixtures, controllers and splitters. In case of deviation from operational parameters, detailed information about the faulty component, along with its exact location, is displayed to the operator. Queries for thermal status of the splitters are also supported in this mode.
Bayer headquarters giant media façade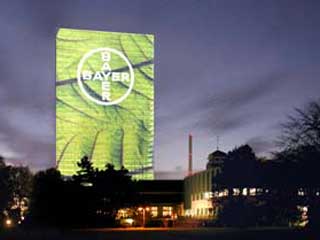 Bayer headquarters giant media façade
Photo credit: led-professional.com
Here is one more project that can only be described with superlative adjectives. The 122-meter-high former Bayer headquarters in Leverkusen is currently being converted into one of the world's largest LED media facades. From middle of 2009 onwards, a colored Bayer cross, up to 40 meters in diameter, will be visible day and night, sending messages out about Bayer across the Leverkusen region, some of them set in motion.
Bayer's high-rise former headquarters building in Leverkusen is not to be demolished, but will soon be lighting up the sky by 3.5 million full color LED lamps in a completely new guise – no longer as an office building but as an ultra-modern LED media facade. By converting the tower into a media sculpture visible for miles around, Bayer aims to create a contemporary visualization of the company at its global headquarters. Possibly, we will see real photos of this ambitious project within a few months.
YAS hotel in Abu Dhabi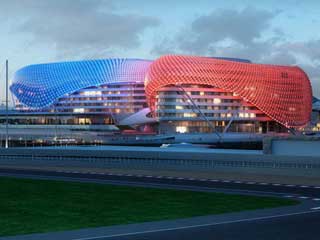 YAS hotel in Abu Dhabi
Photo credit: mediaarchitecture.org
Hotel chains are viciously competing. It seems that LED technologies are becoming a real power tool in the struggle for customers. New York-based asymptote architecture is nearing completion of their YAS hotel project, in Abu Dhabi, UAE. The YAS hotel is a 500-room, 85 000-square-meter complex which is due to open on October 30, 2009 to coincide with the Formula 1 Abu Dhabi Grand Prix. The YAS hotel is part of the ambitious 36 billion dollar YAS marina development and accompanying Formula 1 Raceway Circuit, which is also near completion.
Media façade of commercial complex in Singapore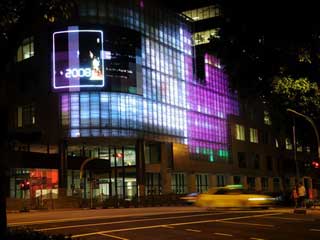 Media façade of commercial complex in Singapore
Photo credit: mediaarchitecture.org
Singapore lies on the trade and tourist cross-roads of South-East Asia. This town could not stay away from the world tendencies in city media architecture. The commercial and gaming complex at Selegie Road creates a cheerful futurist effect drawing people to the building and the surrounding square. Thus, LED technology becomes a masterful instrument in shaping city space and creating a new urban landscape.
LED lighting of new 7 World Trade Center in New York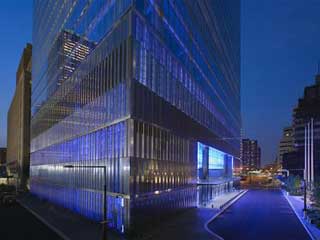 LED lighting of new 7 World Trade Center in New York
Photo credit: David Sundberg - esto.com
Architectural lighting based on LED technology creates a surreal floating effect for this massive structure. New 7 WTC in Manhattan was designed with special emphasis on facade lighting. The LEDs are built into the walls so that the light beams reflect from structural supports. Only white and blue LEDs were used for facade lighting, thus, creating a unique lighting style for this building. The architects wanted the tower to "float" among the surrounding densely spaced buildings. The photographs prove that they succeeded in their calculations.
LED technology is a powerful tool available to architects and designers in the 21st century. They fantasy and skill will continue to amaze us in future. The internet resources and blogs throughout the world keep posting new photos of creative use of LEDs and LED screens in urban environment. We will continue offering our readers the most interesting examples and applications of LED screens and LED lighting designs.
And as always, we invite our readers to share information or resources on how LED video technology enters our lives and becomes its indispensable part.