Pilgrimage to the LED Screen Mecca
There are several places around the world which are traditionally considered showcases for LED screens: for example, The Times Square in New York, or Piccadilly Circus in London, or Huaqiang North Street (SEG Market) in Shenzhen, southern China.
No matter how many large, beautiful and attractive LED screens you see at various famous world destination points, this will still be a pale imitation of what you will encounter during a walk down the Las Vegas Boulevard (Strip). There will be a multitude of screens of all types and shapes, made by different manufacturers but always of good quality, eye-catching and bright in spite of the blinding Nevada sun.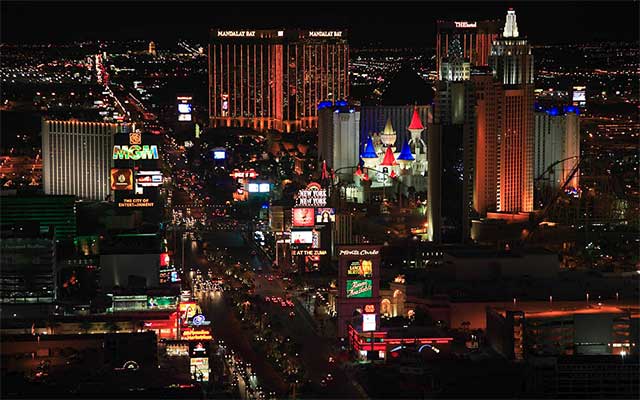 Las Vegas Boulevard (Strip)
Back in 2006 this journal devoted an article to the Las Vegas advertising screens. Already at that time Las Vegas boasted quite a few screens which were a relative rarity and extremely expensive. Ten years since much has changed. Lamp screens may be found only as historical exhibits or monuments to the long-lost era. Neon has lost in the competition with LED signs, decorations and multicolored letters. Today the public is weary of advertising and will react only to something really attractive, unusual and luring. That is why the number of screens in Las Vegas is so high and continues to grow. The impression is enhanced by the ever-present LED signage of small format but bright and multicolored. The city is washed in LED light day and night.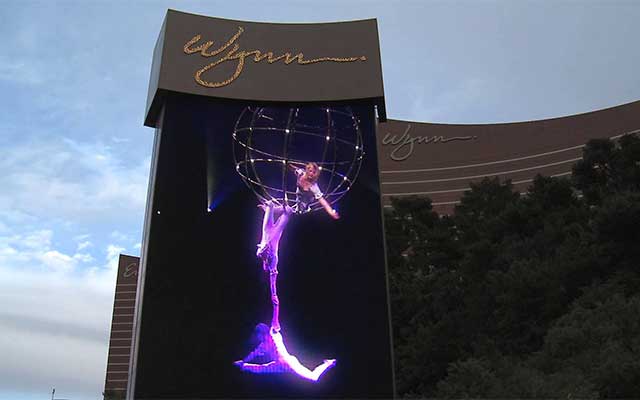 Las Vegas Wynn Hotel LED screen
Some "old" screens continue working at several well-known sites in Las Vegas. For example, you can still see the concave screens between sumptuous Wynn and Encore hotels with a moving sign perfectly synchronized with the big image. Or the screens of the beautiful fairy-tale palace at the Excalibur casino.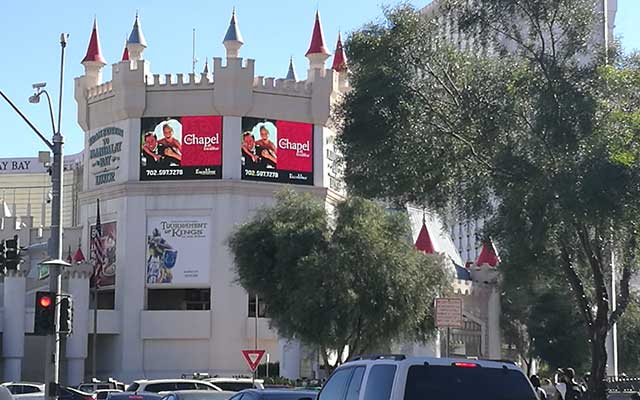 Las Vegas Excalibur LED screens
But many new Projects have been completed, too. Many of the casinos upgraded their old screens. This is only reasonable since the price of screens is no longer prohibitive. Small tidy cars with mobile screens are driving around Las Vegas streets promoting various concerts and shows. The size of those mobile screens is usually standard: 2.56 x 1.92 m and pixel pitch of 10 mm and less. But they are driving slowly along the crowded streets and nobody can miss noticing them.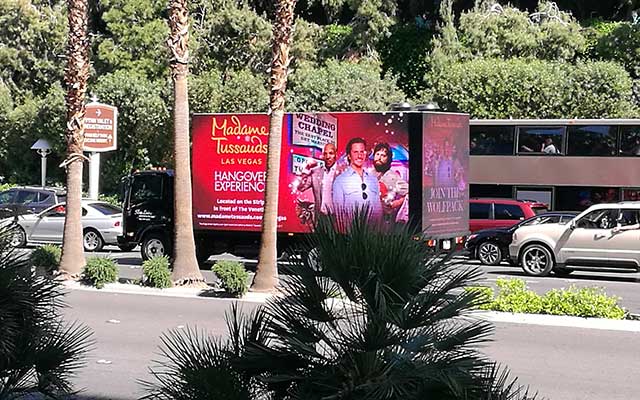 Las Vegas truck with LED screens
The famous Fremont Street with the LED roof reminding people of a giant movie theater or the planetarium screen was completely "renovated".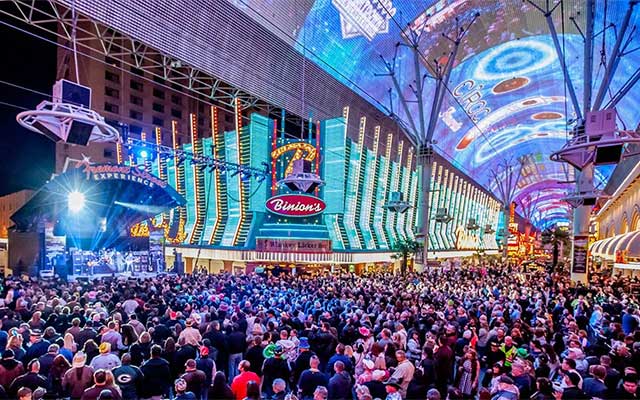 Fremont Street Experience
The well-known LED screen manufacturer Daktronics created a superb Project at the Fashion Show Plaza. This is a collection of innovative LED screens with the total area of over 900 sq. meters and impressive LED screens on SLS casino.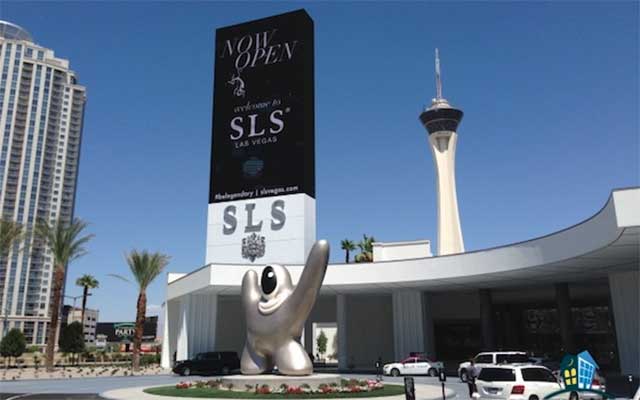 Las Vegas SLS LED screen
Several years ago Las Vegas casinos were traditionally building high advertising pillars topped with an LED screen. Today the approach has changed. The LED screens are embedded into the architectural complexes thus enhancing an impression of a modern elegant and effluent city.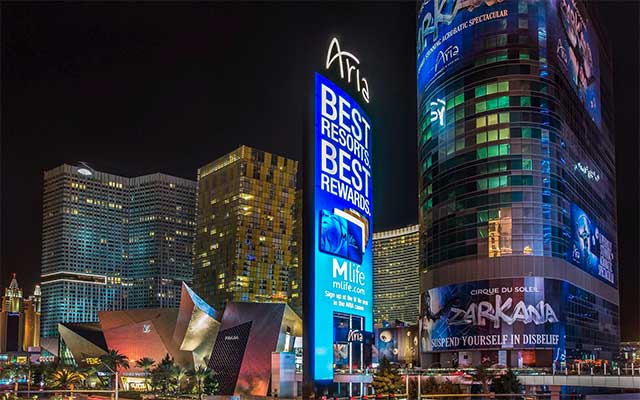 Las Vegas Aria Pylon LED screen
However, the most important observation made during this trip was that LED screens stopped impressing people. LED screens are no longer a striking and monumental technological wonder as they are. They are perceived mostly as a tool for presenting the advertising content. Therefore, competition game is played not between the screen manufacturers (most of the screens are equally high-quality) but between content developers and designers. It is the advertising message that is all important and creative power of the content that makes us watch DOOH screens.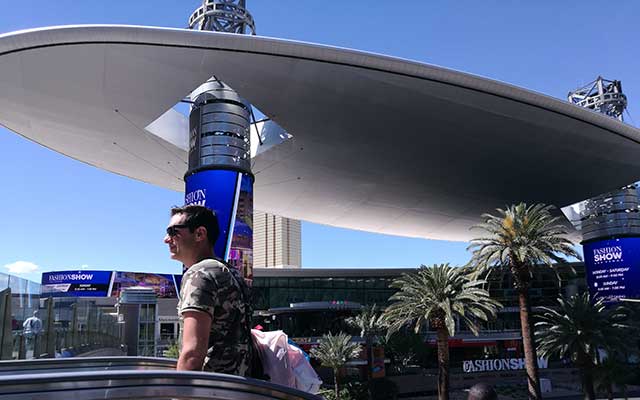 Las Vegas Fashion Show Plaza LED screens
The competition is the highest between the manufacturers of control systems that have to adapt content for complex and uneven LED surfaces, to synchronize presentation of various parts of the advertising message on different screens (as it is done on numerous screens of the Fashion Show Plaza). It becomes obvious that it is not enough to simply borrow content from TV commercials, but that those commercials have to be laboriously adapted to screen size, resolution and shape. This requires work of well-trained, well-educated creative teams of designers. Only then a slide or a video clip turn LED screens into a real outdoor mass-media with their own rule of presenting and preparing visual imagery.
Consider, for example, a gigantic curved LED screen at Harmon Corner. To show video content on such a "soccer field" screen you would need a media player with the 7K resolution.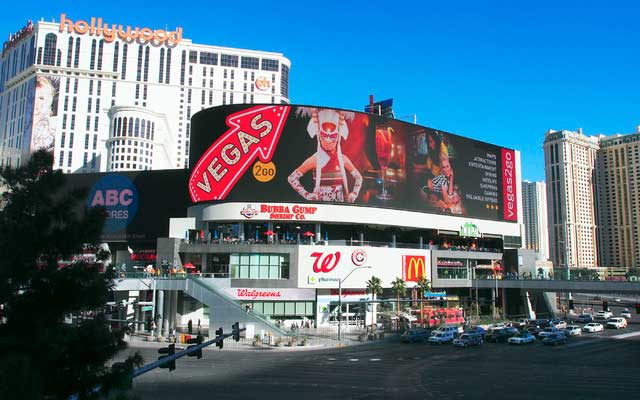 Las Vegas Harmon Corner LED screen
Whatever the case, a repeat trip to Las Vegas 10 years later was very fruitful. Americans once again proved their leadership in the area of construction and manufacturing technology and their ability to think several steps ahead when it comes to creative approaches and control systems.
If interested, you can watch video clips with Las Vegas LED screens via the links below: