LED Screens in Sports
Our latest articles could seem to readers excessively technical, science-oriented, specialized and uninteresting. Therefore, the Editorial Board decided to print something different: easy to read and watch, elegant, journalistic. Specifically, a potpourri of remarks and ideas on the topic of "LED screens in sports".
Naturally, we agree with potential objections – "Sports LED screens" are nothing new, event trivial. Nonetheless the topic is visually stimulating and important, especially in the year of global international events and Olympic Games. We wrote an article on the Great Britain gearing for the 2012 Olympics last year "Large outdoor LED screens at the London Olympics".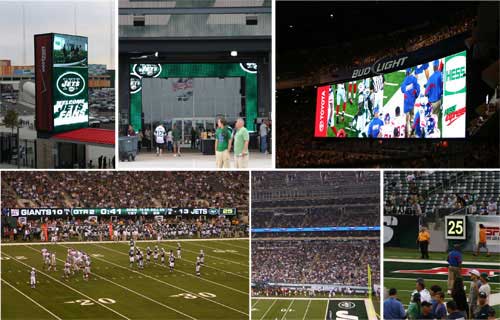 47 500 square feet of digital display technology at the new
Meadowlands Stadium
Photo credit: Daktronics
Sports displays were initially nothing more than modest scoreboards. Well, technology made a huge leap from a simple cardboard with the game's score changed manually to gigantic LED video screen combined to complex multifunctional digital scoreboard.
Rental LED screen at the Biathlon World Cup
Photo credit: Faber Audiovisuals
Rental LED screen at the Alpine Ski World Cup
Photo credit: Faber Audiovisuals
First LED screens in sports arenas were so horrifically expensive that only few major teams could afford the luxury. However the impact of screens on spectators was so strong that the trend thrived in spite of sky-high prices.
Video screens became part of sports arenas: soccer and athletic stadiums, hockey fields, basketball halls. Huge video screens mounted amid spectators' seats, video cubes hanging under stadium roof, video perimeters surrounding part or the whole circumference of the playing field – nowadays we are all used to these sophisticated devices that continuously pour colorful images of the game and dynamic advertising on spectators and sports fans.
LED screen at the London volleyball competitions
Photo credit: avforums.com
LED screen and scoreboard at the baseball stadium
Photo credit: Daktronics
These systems are expensive as a product and also cost more in maintenance. One must factor in expenses on specialists, on setting up mini-TV studios for broadcasting, mixing content and modern advertising or informational clips.
Today almost all large stadiums are equipped with video systems. Video screens are an indispensable part of stadiums and therefore are strictly controlled by authorities. Practically all sports associations and federations (like UEFA) announced special requirements to video screens, including their positioning on the stadium (not to prevent viewing, not to endanger players and public), type of materials and brightness (not to blind public and players), content of video materials (conformance to intellectual rights regulations), etc.
Two 12.8х7.68 m LED screens at the Wroclaw Stadium in south west Poland -
UEFA Euro 2012 soccer tournament
Photo credit: mitsubishielectric.nl
Two LED screens and LED perimeter at the Allianz Arena in Munich
Photo credit: flickr.com
The requirements to video screens are constantly growing: modern sophisticated screens have to be larger in size, must support HD resolution, work in adverse weather conditions (for example, at winter ski tracks or ski jumps events where wind and snow and low temperatures have to be taken into account in setting up and maintaining screens. Or in open swimming pools where high humidity may negatively affect numerous units within the screen or even drastically shorten the LED life span.
LED screens at the Formula-1 track
Photo credit: mediatecgroup.co.uk
Unique structure of LED video cubes at Staples Center in Los Angeles
Photo credit: Panasonic
Why do we need a video screen at a stadium? Is it not easier to install traditional scoreboard? It is. But impossible. Spectators and fans are used to TV capabilities of immediate repeat or replay of important moments and demand similar service while at the stadium. But video screens are not just an entertainment media, they are also important tools for advertising sales. The impact of advertising at the peak of emotional game is exceptional. The effectiveness of stadium-based advertising and therefore advertising prices at such events tend to be the highest. Do not discard the secondary effect of the TV broadcasting: on TV we watch screens within screens and the impact of in-field advertising extends from the thousands of spectators to millions of TV viewers around the world.
LED screen and LED video perimeter at the sports stadium
Photo credit: altoona.it
LED screen for swimming competitions
Photo credit: coloradotimesystems.com
All this concerns LED screens that service the most spectacular kinds of sports. Such systems are traditionally stationary and placed at stadiums. However there are many kinds of sports competitions that happen outside stadiums. For such kinds of sports LED video screens became indispensable. For example, ski or bicycle or car races: everywhere where athletes get far away from the traditional stadiums. In all such cases the only way to maintain the interest among spectators is to place LED screens at some central gathering spot and broadcast live TV covering of the event.
Interestingly, initially LED screens were installed at the stadiums as stand-alone systems. Today they are included into complex audio-video DOOH systems that service all areas within or outside the arena, including ticket office, transit areas, cafes and even waiting areas outside the stadium.
LED screens are no longer confined to stadiums. During important international or national sports events sports LED screens are placed in various key squares of our cities or even drive around our cities.
Large rental LED screen of the Dallas Mavericks
Photo credit: Daktronics
Four LED screens and two giant LED ribbons at the Tampa Bay stadium
Photo credit: Daktronics
To wrap up, here are two huge LED screens worthy of the Guinness Book of Records. One was installed in 2011 by Daktronics in Los Angeles for the Coliseum stadium and measures 40x150 feet (or 12x45 meters). With the 15 mm pitch, this screen has extremely high resolution of 792х3000 pixels.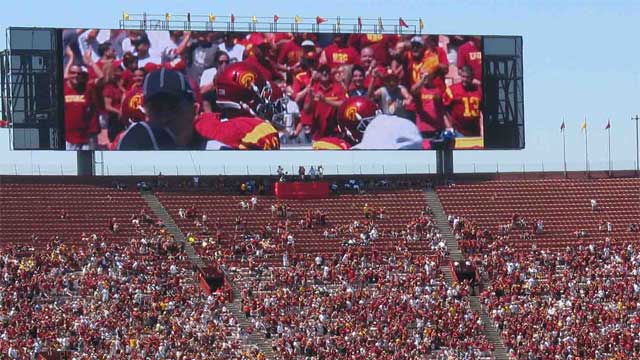 Giant high-resolution LED screen in Coliseum arena in Los Angeles
Photo credit: Daktronics
And here is the largest possible LED screen manufactured by Mitsubishi company. Back in 2009 we wrote about the "Gigantic structure made up of four LED screens at Dallas Cowboys stadium", also made by this Japanese firm. However their new LED 107.52х10.88 meter screen made specifically for Dubai World Cup Racing competitions is even bigger and more impressive.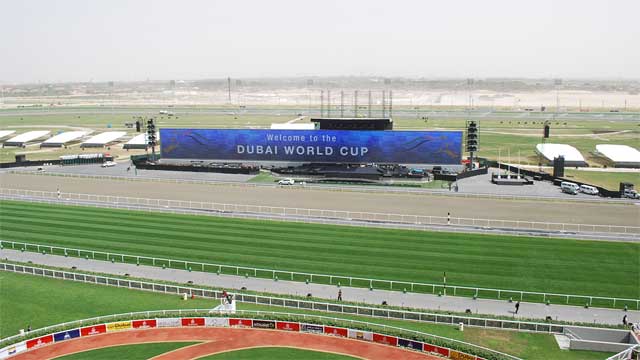 Gigantic LED screen in Dubai at the World Cup Racing competitions
Photo credit: dubairacenight.com
We are used to large video screens. They are around us everywhere. However, it is in the stadiums that the screens are the most effective. LED screens bring action closer to spectators and thus make competitions more enjoyable.