LED screens and global financial crisis - part 2
This article continues our brief review of leading LED screen manufacturers during the first year of the economic crisis and specifically focuses on two well-recognized world brands in LED screen area: Panasonic and Mitsubishi.
Panasonic
In Russia in almost every family half of all electronic appliances was made under the Panasonic brand. But people hardly ever think of Panasonic as a manufacturer of the state-of-the-art full-color LED screens. Wrong. Even a short compilation of news about recent Panasonic's installations proves that this company is equally good at what it makes: both small and big.
A small 2.8x2 meter LED screen at the entrance to Clay Center for the Arts and Sciences in Charleston of West Virginia will not impress with its dimensions, but specialists will certainly find it interesting. The LED screen features advanced 3-in-1 SMD technology with higher density of pixels and allows for closer viewing distances, better color compounding and wider viewing angles. Outdoor SMD technology is brand new and very few manufacturers can boast an installation like this. With 10 mm pixel pitch and 4000 nit brightness the LED screen is bright enough to operate during daytime in the blazing Virginian sun.
Outdoor LED SMD screen at Clay Center in Charleston
Photo credit: www.signweb.com
Outdoor LED screen at the Milan Puskar Stadium
Photo credit: Panasonic
Apparently, Panasonic has a strong sales team in West Virginia: in 2009 alone two more high-profile installations were completed there. They are a 25.5х6.9 meter LED screen with 22.5 mm pitch and a 90-meter 24 mm LED fascia boards running along the mezzanine edge of the stands at the 60 000-seat Mountaineer Field at Milan Puskar Stadium. The total LED advertising solution for the stadium includes also additional Panasonic LED auxiliary matrix boards in each end zone and the center-hung, four-sided Panasonic LED video replay cube.
Naturally, Panasonic could not avoid the world-known LED screen test grounds at the Times Square in New-York. There at the southwest corner of 7th Avenue and 42nd Street a new outdoor LED SMD Panasonic screen was placed to amaze passers-by by its high resolution 480х850 (8 mm pixel pitch on a 6.8x3.9 meter LED screen) that allows to run commercials with HD clarity.
SMD LED Panasonic screen at the Times Square in New York
Photo credit: www.illuminationsllc.com
LED screen at ANZ Stadium in Sidney
Photo credit: Panasonic
We could not leave out the largest Panasonic LED screen that was manufactured at the order from Australian ANZ Stadium, which at present is also the largest LED screen in this continent. Indeed, a 232 sq. meter screen is an excellent present for the 10-th anniversary of the famous stadium. An unusual feature is the 21:9 screen ratio. This format allows to display commercials of different size and resolution in various combinations on this enormous LED screen.
ANZ Stadium is also currently installing Panasonic Astrovision banner signage and ribbon LED displays on the stadium parapet that can dynamically display moving images and sponsors' logos, replacing static signs. Obviously, Panasonic has many more installations and plans, but it's time to look at its serious competitor.
Mitsubishi
The Japanese Mitsubishi is also coming strong in the market of LED screens during the troubled economic times. Take for example a humungous LED screen for Nakayama Racecourse in Japan. With 40.8x9.6 meter size and 12.5 mm pixel pitch the screen offers spectators an excellent opportunity to watch live feeds and replays of the dramatic action during races.
Generally, LED Diamond Vision model is quite popular in Japan and is already installed in many areas: a 204-meter LED screen in Biwako Kyotei (marina), a 206- meter LED screen in Utsunomiya Keirin (bicycle racecourse), a 101- meter LED screen in JRA Sapporro racecourse.
Europe also pays close attention to Diamond Vision technology. Two medium-sized 7.6x4.3 m screens with 15 mm pixel pitch were recently installed and overlook the 40 000 seat Cornellà-El Prat stadium in Barcelona (Spain). This would be a standard project hardly worth mentioning, were it not for additional 90 32" and 42" LCD displays placed at all the key areas within the stadium and linked in a network. There are not many similar projects that combine indoor LCD networks and outdoor LED displays, but it's obvious that such approach is very effective in reaching practically every person throughout the enormous area of the stadium.
Gigantic LED screen at Nakayama Racecourse in Japan
Photo credit: Mitsubishi
LED screen at Cornellà-El Prat Stadium in Barcelona
Photo credit: Mitsubishi
The Cornellà-El Prat stadium in Barcelona is not only one of the best soccer fields in Europe but also a playground for innovative technology fans. The solar cells in the roof provide 500 kW for lighting the stadium and supplying energy for its LED video screens. Add to this the automatic brightness control system for LED Diamond Vision and you get energy efficiency that all buildings in the world must hope to have.
And finally, one more (this time fourth) Mitsubishi record mentioned in the Guinness Book of Records: a complex of LED screens at the Dallas Cowboys soccer stadium. A gigantic four-sided structure weighing 544 tons hangs in the center of the field and consists of:
two huge sideline LED screens 49х22 meters each (pitch 20 mm)
two end-zone LED screens 15.5х9 meters each (pitch 15 mm)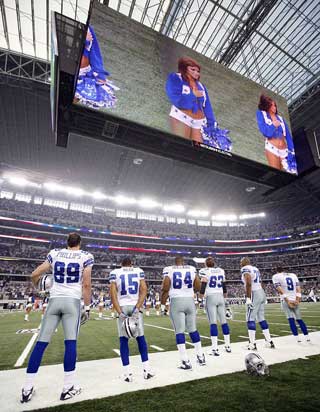 The immense 4-sided LED screens structure over the soccer field in Dallas
Photo credit: www.ancsports.com
All four screens support 1080p HDTV video format and consume nearly 1400 kW. With these LED screens in place all seats in the stadium acquire premium status. But this is not all: a gigantic Diamond Vision LEDerAd ribbon LED boards (1.2 meter high and 610 meter long) circle the whole stadium. This ribbon LED board displays commercials, score and text information and is powered by VisionSOFT control system by ANC Sports.
As if this would not be enough, four more 26 sq. m LED screens were installed on the lower concourse and two Dallas Cowboys Ring of Honor displays totalling more than 269 sq. meters. Thus, Mitsubishi seems to have sold more square meters of LED screens than other competitors in our mini-digest.
Other brands
Philips seems to have turned away from LED screens and focused on LED lighting. Numerous interesting projects, including such architectural lighting projects as Big Ben in London, Eifel Tower in Paris and SKYCITY complex in Auckland (New Zealand) – deserve a separate article.
Judging by the news briefs, the Korean LG lost interest in LED screens and concentrated on OLED and its popular LCD monitors.
Euro Display installed many LED screens over the past 12 months but they are all of the small city format. Good as they are, these LED screens can hardly be called innovative. However a large number of contracts and extended geography of installations are worth mentioning here.
A few years ago with just a handful of LED screens around the world it was not easy to find an interesting topic for the article. Today this market is overflowing, the competition is tough (especially during the crisis). The question thus is who will stay in the race for creativity, high-technology and quality. We'll check again in a year's time.