Utilization of outdoor screens in emergency situations
This issue we reprint the full text of the report made by Vladimir Krylov, Ph.D., at the 8th All-Russia conference "Informational security of Russia in conditions of the global informational society" that took place in 2006. The text of the speech was also published in the June issue of "Infoforum" magazine.
| | |
| --- | --- |
| | |
| The US President's address on a large outdoor screen in Los Angeles | Large outdoor LED screen in New York that belongs to ABC TV studio |
The world is still reeling from 9-11 events in New York when the World Trade Center towers were attacked by planes with terrorists. According to analysts, the NY tragedy demonstrated what threats the world will face in the third millennium. In the first hours after the tragedy the mobile phones were switched off, many Internet channels failed.
For a certain period there was an informational vacuum that only intensified the panic among population. In these conditions the large outdoor screens became the main source of information. The outdoor screens that usually display commercials were showing non-stop reports from the site of the tragedy, broadcasted Presidential address, appeal of authorities to the public with clear instructions on what to do in such circumstances. I'd say, this was the first such large scale events of using outdoor screens in emergency. After the 9-11, some of the biggest world news agencies set up their own outdoor screens at their offices to broadcast both commercials and informational clips.
The New York Transport Authority together with Clear Channel established a network of 80 video outdoor screens at the entrances to NY metro stations linked to informational displays inside the stations. In 2003-05, in Paris a network of informational outdoor screens appeared that covers the main transport hubs of the city.
| | |
| --- | --- |
| | |
| Outdoor screen at the entrance to NY metro station | Informational outdoor screens on Paris streets |
Informational outdoor screens on Paris streets
Earlier still, the municipal authorities of San Paolo (Brazil) started to utilize video outdoor screens to inform citizens of traffic jams to prevent congestion and of the events during important soccer matches.
Informational outdoor screens in San-Paolo (Brazil)
In Hong Kong and Shenzhen (PRC) the outdoor LED screen networks were set up in 2005 near entrances to metro and railway stations, inside the stations and in the coaches.
Informational outdoor LED screen in Hong Kong that belongs to a local TV station
Informational LED screens in the Shenzhen metro
In Russia, in 2005, during the terrorist attack in Nalchik, the outdoor LED screen was fired at by the terrorists, but continued to work and broadcast the address of local authorities to population to prevent panic.
The existing all-Russia outdoor screen network and separate outdoor screens are frequently used by the authorities, both local municipal and federal, to inform citizens of various events. No doubt, the outdoor LED screens (that form the basis for out-of-home TV) are unable to replace either radio of TV proper. However, when millions of people are outside on the way to work or home, during mass public events, the outdoor screens turn into the natural extension of traditional mass media, and sometimes are the only media source that may be of vital importance during emergency situation. Therefore, the utilization of outdoor screen systems in crises is becoming more and more important throughout the world.
In September 2005, the International conference "Urban screens 2005" was organized in Amsterdam and turned into an annual event since then. These conferences are attracting speakers and attendees from dozens of countries who together consider an important issue of integrating large video screens into urban environment, turning them into noticeable public address systems in crowded places in our cities.
Back in 2005, Russian representatives delivered a report on "Outdoor video screens in modern cities". The Conference debated the issue that while such trend is obvious and extremely important throughout the world, various technical, social and organizational problems prevent development of a unified concept of utilizing outdoor screens in urban context.
I would like to stress that Russia is one of the first countries to admit to the importance of this issue on the federal level and to protect modern technological developments in that sphere by patents. Thus, in 2005, the Ministry of Emergency Situations, the Ministry of Interior, and the Federal Bureau for State Security developed a concept for setting up public address video systems in public places for timely reach of citizens in case of emergencies or terrorist attacks.
Informational outdoor screens for ABC channel and Reuters news agency in New York
At present, the potential prototypes for such system are:
New York network of informational outdoor screens at 80 metro stations and separate giant outdoor screens belonging to Reuters and ABC and on Nasdaq building.
The outdoor screen networks in Johannesburg (RSA), San Paolo (Brazil), Berlin (Germany), Hong Kong and Shenzhen and Shanghai (China), and a network of outdoor screens in Paris (France).
Outdoor screen networks in the USA belonging to Lamar and Clear Channel that currently have about 500 screens and have expansion plan of 6000 screens in 2010.
The networks of outdoor LED screens in Moscow (Russia) belonging to Tri-Star group and in St. Petersburg – to Third Eye group, in Yekaterinburg – to Atoll group.
The "CityVision" group is currently controlling a network of 27 own outdoor LED screens and over 40 screens of other operators. The CityVision outdoor screens are linked via different communication channels including the Internet from a Unified Control Center in Moscow.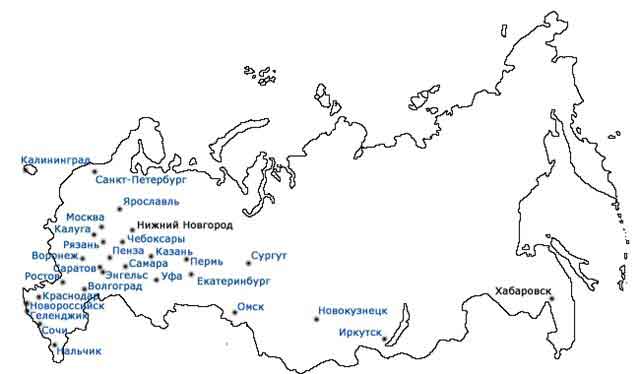 A network of outdoor LED screens in Russia developed by "CityVision" group
All the above examples prove the efficiency of network approach on spreading information among population. Although the outdoor screen networks are privately owned, they are closely cooperating with authorities. However, it's time to address the issue of reliable and safe operation of these outdoor screen networks, especially protection of information to be displayed, broadcasting channels and coordinating center. The issues of informational security of such outdoor screen networks may be presented as follows:
The security of the coordinating broadcasting center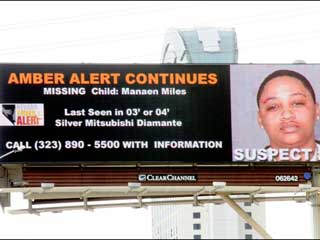 Outdoor screen Amber Alert announcement
The coordinating center must control operation of all its assets and interlink with different situational control centers operated by various state agencies. The issues to be resolved are: what information to broadcast and what not to, how to coordinate between governmental and non-governmental outdoor screen networks, how to protect the control centers proper, how to protect secure communication channels.
The procedures for preparing content of informational materials for outdoor screens must be also governed by clear guidelines. The people selecting materials and allowing them to be broadcast must have the necessary training and clearance. However, so far there is no clear plan for coordinating such work, between various government agencies, for adapting the existing solutions to quickly developing technology.
Resolving the issues of functional security, including fire, energy and vandal protection
So far there are no parameters that govern the selection on existing commercial systems for vitally important outdoor screen networks. Such systems must be manufactured to clear and safe specifications, must be competently and regularly serviced and evaluated after certain period of maintenance. Only then the outdoor screen systems will be reliable media for public address in emergencies.
Informational and functional protection of outdoor screens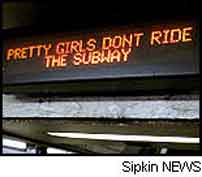 Since the technology is new, the issue is very hard to resolve. The procedures must be developed for protecting information on control systems of each of the networked outdoor screens. The measures must be taken to prevent substitution of information and broadcast of potentially dangerous or provocative information.
This may only be done based on the development of reliable control systems that offer multilayer protection of information, its distortion of substitution. The analysis of more than 100 commercial firms selling video control systems throughout the world showed that none of the existing modifications are safe from potential hacker attacks. This is a serious technological and scientific problem that needs to be resolved.
For example, on 12 November 2004, all informational displays in New York metro were displaying the provocative text that the authorities could not remove from the system for more than a whole day.
The "Sign Industry" magazine writing about the metro video screen network quotes Rex Williams, President of UDN, which installed the New York network. WiFi 802.11 as saying that "It is imperative that great care be taken by anyone looking to get into this business to ensure that the integrity of the content is impenetrable by outside forces". System security may be inadequate at the network design stage, or be exposed as digital signage systems expand and use multiple media transport providers (ISP - Internet service providers). "The system must be nearly "bullet proof" as far as hackers go. Steps must be taken to assure security at the content ingest, play-list management, display monitoring and other vulnerable points".
The enormous experience in outdoor screen maintenance was accumulated by the Russian "CityVision" group that is currently operating more than 50 outdoor screens of different systems. In 5 years of network management the cases of negligence, attempts at cutting off the power supply, setting fire, hacker attempts aimed at control computers inside screens, physical removal of the control computer and substitution of a different one were observed and prevented.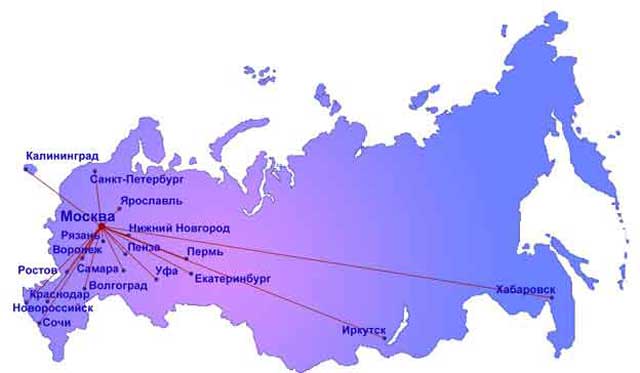 "CityVision" group outdoor screen network in Russia
Similar attempts at disrupting outdoor screen networks were made in China. The absence of reliable solutions that prevent the above security breaches is one of the factors that limit the expansion of video screen networks in our cities.
It is also evident that these issues may only be fully resolved by federal security agencies working hand in hand with commercial outdoor screen network operators. The necessary level of informational safety must be determined by the agency that is currently responsible for public address to Russian public and correlated with similar actions from the Federal State Security Agency (FSB). The work on integrating the existing commercial systems with informational safety means may be conducted by organizations licensed or cleared by the relevant federal agencies.