Urban Screens 2005: Outdoor video screens in modern cities
On 23 and 24 September 2005, the Conference Urban Screens 2005 was held in Amsterdam. The Conference addressed the growing infrastructure of large digital moving displays and their increasing influence on the visual sphere of our public spaces. The interest to this topic was so intense that initially planned as a one-day exchange of opinions the event turned into a full-scale two-day Conference.
Urban Screens 2005 is an international conference ranging from critical theory to project experiences by researchers and practitioners in the field of art, architecture, urban studies and digital media. The focus was on understanding how the growing infrastructure of large digital displays influences the visual sphere of our public spaces. Participants tried to answer the question how can the commercial use of these digital outdoor screens be broadened and culturally curated, how can urban outdoor screens contribute to a lively urban society, and involve the audience interactively.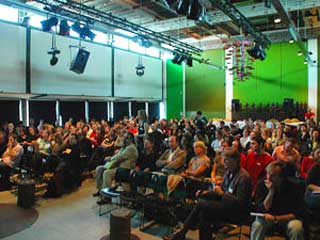 Conference Urban Screens 2005 in Amsterdam
The problem of integrating outdoor video screens into modern urban space is not new. The term that was used as a title for this Amsterdam Conference - Urban Screens - appeared several years ago. As the number of outdoor screens around the world mushroomed, specialists working in this area agreed that outdoor video screens cannot be limited to exclusively commercial advertising content. Today, outdoor video screens are not just and advertising carrier but a city landmark, decorative element of buildings and streets.
The Conference was organized by the Institute of Network Cultures in Amsterdam. TPG building / Post CS (temporarily hosting Stedelijk museum) was chosen as a venue. The conference hall was packed by nearly 200 participants from over 20 countries.
This was the first such event attended by so many influential and well-known personalities across the industry. Among designers, architects, artists, journalists there were representatives of large companies that develop and manufacture video screens of all types and modifications.
During the first day, the reports were presented by such well-known professionals as Professor Lev Manovich, Louis M. Brill, Dr. Vladimir Krylov.
Professor Manovich (San Diego, USA) called his report "Urban media surface: First steps". In principle, this was an excellent introduction to the whole Conference. Here Prof. Manovich touched upon all the topics that were brought forward in the Conference agenda and which attracted all these people to the mid-autumn Amsterdam.
Living your life in the modern city, you constantly interact with multiple Urban Media Interface - from the small screen of a cell phone to a large screen of a public electronic billboard. What are the most aesthetically daring examples of such Urban Media Surface designs? How is our experience of a spatial form (i.e. architecture) is affected when the form is covered with dynamic and rich multimedia information? What are the historical precedents of the UMS phenomena and what can we expect in the future? These were the issues that Prof. Manovich raised and that were debated by the participants during both days of the Conference. However, Prof. Manovich reminded that the new technology is only making first steps and much remains yet undone.
One of the most competent people to answer the questions raised by Prof. Manovich was well-known journalist representing the magazine "Sign Industry", Louis M. Brill. For years Mr. Brill has been publishing articles about screen industry. He knows the industry inside out, interviews captains of industry throughout the world, closely follows market trends. In his report "Urban video displays as the new voice of public communications" Louis Brill focused on the integration of the public video sphere in use within shopping malls, parks and building structures where large video screen has become an identity beacon in creating digital public space. He emphasized tremendous technological advantages of LED outdoor screens that are capable to transform a civic public space (as it was done in Las Vegas) into a singular location that enhances the value of that space as a tourist or community destination.
Louis M. Brill (second on the right)
Chief editor of the magazine "Screens" Vladimir Krylov
(third on the left)
Chief editor of the magazine "Screens" Vladimir Krylov addressed this problem from a different perspective. In his speech "Social and cultural aspects of outdoor video technology" Vladimir Krylov said that "moving billboards" were introduced to cities to compete with traditional advertising means by offering to outdoor viewers advertising, useful information and entertainment. Informational and entertainment blocks add value to advertising content and increase the significance of outdoor networks for authorities and advertisers.
Dr. Krylov continued to develop issues raised by Prof. Manovich and Mr. Brill and demonstrated how non-standard LED structures can decorate "concrete jungles" of modern cities with their predominance of straight lines and corners.
One of the most interesting reports of the first day and all conference was the report by Olga Barham (marketing manager media, BU Philips Vidiwall) called "Commercial versus Public Service Application". Olga was talking about her company's experience of dealing with screens and Philips' interest in outdoor public space across the world.
The second day of the Conference featured video installation "Ja" by the German artist Fred Fröelich. This project was introduced in 1994 in Leipzig as a first attempt to introduce modern art into the public space of a city. The remake "Ja II" was displayed on CityVision LED outdoor screens in Russia this summer. The video clip consisted of 25 words with positive connotations that flickered across the LED screen network. The clip was simultaneously displayed on 44 LED outdoor screens in 24 cities of Russia. The response to this project was very positive, and in some cities the number of traffic accidents dropped which was directly attributed to project's positive influence on citizens.
Many other reports provided insights into potential new applications of outdoor video screens. Some ideas were so as colorful and exciting as they were unrealistic. However, it was clear that the new opportunities brought into being by this new technology stimulate creative thinking. After all, these are just "first steps" of outdoor video screens into future!
By the end of the Conference it was clear that two days was a far too short period to discuss all the existing ideas, problems, concerns and solutions. Another Conference dedicated to the same subject will Urban Screens 06 will be convened in Berlin.