A Glimpse into the Future of the LED Screen Market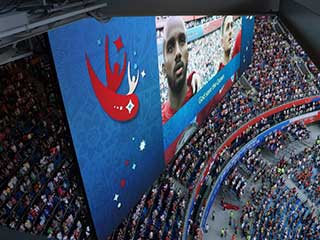 Zenit Arena Giant LED Screen (Russia)
The era of static billboards and neon lights have long gone. Bright dynamic LED screens are now the indisputable winners, quickly taking over the entire urbanized space of modern megacities.
Indeed, today it is difficult to imagine any large city without a rich image, located on the walls of houses, shopping areas and business centers. How faded and lifeless such cities as Moscow, Shanghai, New York, Las Vegas and many others would appear before us. The fact that LED screens have a lot of advantages, no doubt - this is obvious both for advertisers and for its target audience. And demand, as we know, always gives rise to supply.
Market overview of LED outdoor displays is a suitable topic for the end-of-the-year release. The task is typical: As usual, such a review should be devoted to analyzing the factors of market growth or decline, to major trends, regional factors, as well as forecasts for the next few years.
| | |
| --- | --- |
| | |
| LA Staples Center SNA LED Screen | Levis Transparent In-Window LED Screens |
The rising adoption of digital technologies such as smartphones, voice-controlled devices, internet TV, and smart digital signage will revolutionize the global indoor signage market. The digital revolution is changing the way consumers behave and engage with companies globally serving them. Due to the fact that companies are striving to use attractive, bright, eye-catching advertising displays and billboards, the outdoor LED display market promises to remain a highly profitable business in the near future.
In order to attract an audience and remain among the first, despite the strong competition, companies are increasingly turning to LED billboards, LED perimeters and a scoreboard for marketing both themselves and their products and services. The exponentially growing demand for high-resolution wireless signage and billboards will also help push the outdoor LED display market.
According to the new report by Grand View Research, Inc. in 2016, this market was valued at more than 3.5 billion US dollars, and by 2022 it is expected to be 12-14 billion dollars. The experts believe that the global market for intelligent LED signs in indoor spaces alone will bring about $ 2 billion by 2023, increasing by an average of 24% during 2018–2023.
Recognizing the potential of LED screens and the impact that they have on the audience, companies operating in the global LED screen industry strive to develop innovative products that characterize longer shelf life and improved capacity. Key companies producing LED screens include Panasonic, Barco, LG Electronics, Shenzhen Dicolor, Leyard Optoelectronics, Toshiba, Sony, Daktronics and Lighthouse Technologies.
| | |
| --- | --- |
| | |
| Shenzhen Smart City Center LED Wall | Sydney Train Ops Center LED Wall |
For comparison, we can list the major world suppliers of LED lighting systems: Philips Lighting, General Electric, Osram, GE Lighting, LG Innotek, Cree, Inc., Cooper Industries, Virtual Extension, Dialight PLC, Zumtobel Group, Samsung Electronics, Sharp and Seoul Semiconductor. At the same time, one should not lose sight of the fact that the total LED lighting market in 2017 exceeded $ 30 billion.
In addition to developing new products, market participants in outdoor LED screens focus on large-scale investments in research and development and diversification of their product range. Already today, in cities, various information boards, full-color digital signs and perimeter panels are increasingly being installed. Experts speak of a particularly rapid development of the digital signage market, an area that already in 2017 reached a growth rate of 20%, despite the crisis in the economies of many developed countries.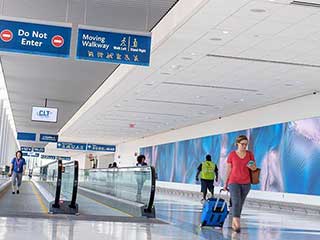 Charlotte Airport Nanolumen LED Wall
At the same time, forecasts for 2024 show a confident average annual growth rate of 22% in this segment. Rising trend towards interactive media with 3D format support is also expected to positively impact growth over the forecast period. Interactive visualization technology presents data using interactive images. Interactive screens are expected to be deployed at various public places such as train stations and bus stops over the forecast period.
This growth can be primarily explained by such factors as high energy efficiency, adaptability to various power sources and reduced maintenance costs.
LED displays are now being increasingly deployed across the globe for sporting events, in stadiums and playground arenas, for advertising big-shot events and products, taxi ads, and even kiosk advertisements. With customer expectations reaching an all-time high, companies are using LEDs to brand themselves across myriad regions. For instance, U.S. outdoor LED display market is anticipated to be worth USD 2.5 billion by 2024, subject to the increasing deployment of LED technology for outdoor advertising in commercial zones such as the Boardwalk and the Times Square. Having held more than 50% of the regional outdoor LED display industry in 2015, this market is expected to grow significantly owing to the huge demand for personalized advertising solutions.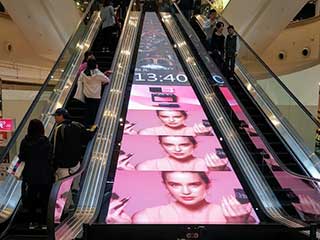 Taipei 101 LED Screen
The entertainment sector, in the past few years, has been thriving solely by virtue of outdoor LEDs. These devices are being used for applications such as interactive floor displays and video walls for sports halls, multiplexes, gaming arenas, casinos, hotels, theme parks, and malls. The increasing usage of LED advertising for such popular commercial entertainment zones will impel outdoor LED display industry globally.
The countries of the Asia-Pacific region have recently been organizing mass sports events, building new sports arenas with giant LED screens. Estimated at about $ 1 billion in 2016, this regional market also shows exponential growth in the infrastructure sector, which in the coming years will lead to widespread demand for LED products. China, Taiwan and Korea broke into leading positions in the production of LED screens of all types and forms, not only for their region, but also practically of the whole world.
In short, the crisis has a negative impact on many industries, but clearly it failed to cripple the field of digital LED advertising, which is becoming increasingly attractive outwardly and profitable economically.
All experts agree that the next year will be successful for digital advertising. Happy New Year!