From smart devices to smart states: Singapore
Singapore continues to firmly retain the status of a "smart" state. Well, a city-states, to be precise. After all, Singapore is not a very big island with a single city and population (in 2017), slightly less than 6 million people. You can read about the wonders of Singapore everywhere: low crime rate, cleanliness, religious tolerance, etc.
But what is important for our magazine: Singapore is the first in the list of "effective modern cities". What makes Singapore the "smartest" capital of the world? The answer is simple: the highest level of digitalization in terms of mobility, communication and communication, security, health care and administrative services to the population.
Let's consider the above one by one: Singapore makes extensive use of intelligent communications solutions in combination with a very tight policy of restricting private car ownership. As a result, a rich city does not suffocate from traffic jams, like many other capitals of the world.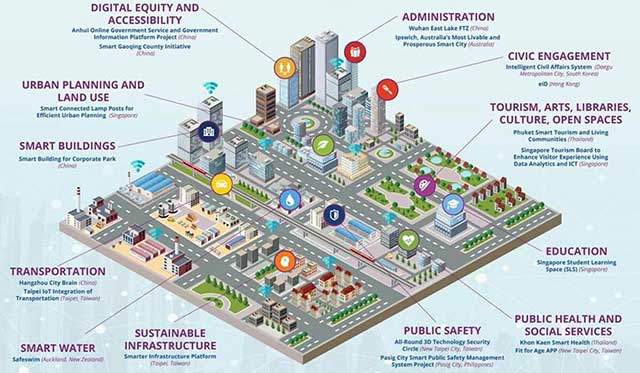 Smart city
At the same time, this approach makes Singapore an ideal place for experiments with "smart" alternatives to private cars based on the principle of sharing. In 2017–2018, car rental services (especially electric cars), scooters and bicycles became popular in Singapore: this service is controlled by a unified electronic monitoring system that allows operators to optimally distribute orders. The electronic monitoring and the widespread use of outdoor video cameras in a short time turned Singapore into the second "safe" city after Tokyo.
The Singapore government recently launched a dedicated video monitoring analytic center that performs many tasks in real time:
analyzing and managing the "crowd" (forecasting street crowd actions with a probability of up to 85% and identifying wanted persons);
automatic tracking of "undesirable" persons during their movement and transition to the tracking zones of other cameras;
prediction of abnormal behavior through monitoring and analysis of social networks;
decision making in real time based on predictive analysis.
| | |
| --- | --- |
| | |
| The first electric car sharing service BlueSG | Driverless taxi system NuTonomy |
Singapore was one of the first countries to launch a full-scale digital health care project, creating a unified digital platform for accounting and the provision of health services and benefits to the population with priority services for the elderly. Among the projects is the new startup MediLot, which uses a double blockchain system for storing all medical information about a person throughout his life.
The government of Singapore set a goal to fully implement such strategic national projects as the National Digital Passport, the Single Digital Passport portal, the use of the PayNow financial system, which integrates and analyzes all payments in the country.
All of the above would be enough for the enthusiastic story about a city of the future, but for Singapore these are projects that have long been implemented. Ahead are the new challenges that will turn Singapore into a truly digital environment. Among them:
driverless taxi system (NuTonomy), is currently passing the pilot testing stage;
the introduction of the "virtual Singapore" system, which assumes 3D modeling of the city, which will be useful not only for virtual tourist trips around the city, but primarily for planning construction, repair and other works in development zones;
equipment of all lampposts with various sensors for collecting information: weather-related (temperature and wind speed), transport (road congestion); environmental (level of air pollution); special interests (face detection), etc.
All this information is interesting not just by itself, but as a glance into our own future. After all, what is today an innovative project in one country will soon become an everyday reality for all of us.