LED Screens vs LCD Video Walls
Our magazine published several articles dedicated to video walls. As large carriers of video information LCD video walls appeared approximately at the same time as LED screens. Initially, video walls showed all the evidences of winning in the commercial battle with LED screens over the indoor public space.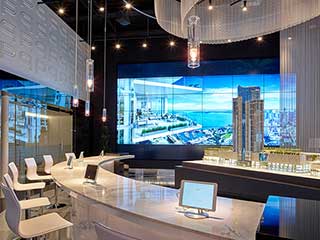 Planar LCD Video Wall in Miami Worldcenter
Video walls always had the obvious physical drawback – spacing between LCD displays that frequently annoy viewers. For some applications, for example, emergency response centers, such fragmentation of viewing images seems to be an advantage. The well-known Belgian company Barco made its reputation in building control and response centers before venturing into LED screens and outdoor advertising.
Video walls have another advantage – scalability. For the size of video walls the limitation is the physical space of the wall or the funding limits. As the LCD technology matured, spacing between LCD displays became smaller and smaller and the LCD displays – brighter and brighter. Apart from these advantages, LCD video walls are relatively reliable, the viewing angles are extremely wide, and the size of the single LCD display in the walls continues to grow. In the 2016-2017 models, LCD displays tend to reach 8K resolution, or 7680x4320.
It seemed that commercial advance of video walls would continue unchecked. At some point LCD displays became the main informational carrier in all public places except outdoor. But LCD displays with LED backlighting became bright enough to install into the protected outdoor spaces, and conquered so called semi-outdoor places.
Even today LCD displays account for the larger part of indoor digital market, though the tendency seems to be slowing down. By the end of 2016 the annual growth of the largest market that is the USA added 800 000 LCD displays, or 17% growth.
At the first stages of digital market development, the installation of single LCD displays was a much more attractive economical solution compared to buying and installing an LED screen. Naturally, advertisers hoped that LCD displays will continue to grow in size to oust the LED screens of average size. This indeed happens. However the price of LCD displays over 50" and larger remains rather high, while the prices on LED screens continue to fall. This is especially true for indoor LED screen applications, where the absence of direct sunlight and controlled environment allows manufacturers to use lower grade LEDs and other materials without compromising on quality.
| | |
| --- | --- |
| | |
| Samsung 1.5 mm LED Screen in Reception Area of Land Securities | Leyard 1.2 mm LED Screen in CNN "The Situation Room" |
LED technology made a huge step forward in the recent years. Modern LED screens can be made both large and small and of any conceivable form and shape (including, concave and convex options); have higher brightness compared to LCD displays; have wide viewing angles; high reliability; long life and absence of seams, coupled with the essential quality of all: the constantly falling price.
The development of new modern control systems allows rendering all sorts of complicated state-of-the-art video effects on LED screens of all shapes and forms. As a result, many halls that earlier could be used for the LCD video wall installations are given to LED screens. LED screens started confidently winning in TV studios, concert and conference halls, as well as in showrooms of major clothing brands. Today LCD video walls firms claim only the niche of informational applications: for example, arrivals and departures boards at airports and train terminals and emergency response centers.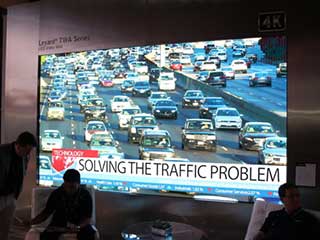 Leyard 1.2 mm Multitouch LED Screen
At the same time, LED screens are growing in numbers at all markets around the world. The analytical analysis by Futuresource shows the 7% growth over 2016, and the sales level at 4.5 billion dollars a year.
For a long time LCD displays maintained an advantage over LED screens, but today this advantage is gradually evaporating. The main functional difference was always the touchscreen option on LCD display. However, industry reports talk of the first LED screens with touchscreen functions that would be introduced later this year.
We should mention that in 2017, LG pioneered with the almost seamless LG OLED Wallpaper Display, only 3.65 mm thick that can fit on the walls easily due to ultra-slim mounting brackets with a magnetic mat. All electronic components of LG OLED Wallpaper Display are located at the control box that is connected to the display by a 2 meter long cable.
Whatever the improvements in LCD display design, LED screens seem to be the winners in the commercial war. Not the first battle won by the LED technology, though. LEDs have already won in the battle with neon advertising technology and with incandescent lamps.