Digital Displays for "Smart" Airports
Airport as a place where passengers and their friends have to spend long hours waiting have long turned from transport into informational hubs. As a result, the term "smart" airport is more than applicable to these places.
Those who come to airports constantly require detailed and accurate flight information, but advertisers have a good chance to fill the "empty" waiting time with commercials. Therefore, airports are places with probably the highest concentration of digital displays, both LCD and LED.
This article is dedicated to several success stories related to installation of advertising and informational displays in "smart" airports around the world.
McCarran International Airport (Las Vegas, USA)
| | |
| --- | --- |
| | |
| NEC Informational Displays at McCarran Airport | NEC Vertical Video Walls at McCarran Airport |
In 2012 in a small but rather busy McCarran airport (41 million passengers in 2016) the famous company NEC installed more than 900 large-format 70-inch high-brightness LCD displays, specially adapted for non-stop operation in public spaces. LCD displays were installed either separately or in groups as two-sided video walls in different zones and terminals of the airport.
| | |
| --- | --- |
| | |
| NEC Interactive Display at McCarran Airport | Samsung Video Wall at McCarran Airport |
Another well-known company "Four Winds Interactive" was hired to prepare interactive dynamic search software for new visual system. By the way, in 2011 Samsung installed a video wall made of 100 monitors with the total dimensions 10.06x5.8 m. At that time this was the largest video wall in the USA. As a result, McCarran airport makes an impression of a place oversaturated with information and advertising. This impression is further strengthened by numerous slot-machines complete with bright flashing lamps and loud music.
LAX International Airport (Los Angeles, USA)
| | |
| --- | --- |
| | |
| LAX Airport Tom Bradley Terminal Displays | LAX Airport Time Tower LED Screen |
LAX airport (Los Angeles) is an obvious choice for this review. In 2013, Daktronics installed here a whole complex of LED screens which are still considered an excellent art-project.
In a spacious and beautiful Tom Bradley International terminal one cannot miss an imposing Time Tower, a 22-meter four-sided 6-mm pixel pitch LED screen. The screen is built around the Great Hall's lift tower transforming the space into a huge art gallery with changing multi-colored images. But Time Tower is only one part of an integrated environmental media system (IEMS) that consists of six displays of approximately 900 sq. meters architecturally integrated with the building.
The operation of this video display installation is supported by:
dedicated power supply system;
specialized software;
dedicated HVAC system (heating, ventilation, air-conditioning);
specially designed fire protection system;
Media Equipment Room/Control Room to house the sophisticated audiovisual and content delivery systems designed specifically for this unique and groundbreaking program.
The Project is unique and elegant. The screens have been in operation for more than three years and still look like they are brand new. However the price tag on the Project is impressive even by American standards. For this turn-key Project Daktronics received 20 million dollars, a good part of the 50 million budget spent on upgrading the informational system in the huge multi-terminal airport.
Incheon International Airport (Seoul, South Korea)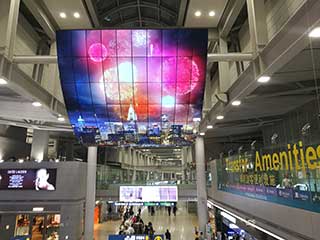 LG OLED Display at Incheon Airport
Incheon International Airport is another interesting and innovative project worth discussing within this article. At the end of 2015 the world-renowned company that manufactures everything installed in the Seoul airport the world largest OLED screen. The place for the installation is very important and noticeable; the airport hosts more than 40 million passengers each year. The Project therefore was supposed to be exceptional. And LG came up with groundbreaking and eye-catching concept.
In the center of the international terminal under the ceiling there hang two large OLED displays: unusual in shape, curving and easily noticeable from any place in the terminal the screen is amazing in clarity of the image. Compared to numerous huge LED screens the size of these OLED displays is rather modest. Their parameters are 13x8 meters. However you may remember that recently OLED screens were hardly larger than the display of a smartphone. This comparison illustrates what a huge technological step ahead was made to construct this screen.
Each screen consists of 140 OLED-55-inch TV displays. All these displays are almost seamlessly connected and are irreproachably coordinated and synchronized. Each of the 55-inch displays has the 4K resolution adding up to the stunning 290 million pixels on the whole screen. In fact, this screen is best possible tribute to LG and to OLED technology in general.
The passengers walking down the terminal are all visibly impressed and stare at it from all sides. The screen features a variety of content to demonstrate the capabilities of OLED technology, such as brilliant fireworks set against a night sky. And because every pixel in an OLED display emits its own light, there is no need for heavy LED backlighting, making both of the airport displays incredibly light and flexible, allowing them to hang from the ceiling with minimal support.
The first projects focused on informational, advertising, architectural and artistic decoration of airports were accomplished by specialists of JCDecaux in Paris, Dubai and Hong Kong. We plan to discuss these projects in the near future.
Meanwhile you may read other articles on the subject at:
The digital informational and advertising systems in airports are gradually developing as a separate art projects that combine innovative manufacturing and creative content. It is possible that such projects will soon entertain us not only at the airports but in the squares and streets of our cities as well.