Virtual reality on the stage
Modern theater is passing through a difficult stage when it has to survive in a cut-throat competition with cinema. In these conditions theaters are constantly searching for novel approaches to attract audience.
New expressive means and spatial solutions in modern scenography (set design) acquire special importance in these conditions. Today's changes include not only the format of performance, but even technology of stage scenery that imitate graphic art, fabrics, various materials (metals, stone, snow, etc.).
The easiest way to imitate reality on stage is with LED panels that maybe built into modern moveable stage to fit the available space. One of the best such examples such technological synthesis of theater and modern media is the recent production of the musical "Anna Karenina" on the stage of the Moscow Theater of Musical Comedy.
Musical "Anna Karenina" LED decoration
The art of theater in the early 21st century it trying to enter the brave new world by active experimentation, attempting to adapt classical theater to modern requirements. Technologies that combine various means of communication and information (cinema, television, Internet, mobile communications) are actively implemented by new generation of stage directors.
The synthetic activity of modern theater art managers transfers this process into an indispensable creative and technological work with stage design. New technologies are mostly focused on creating visual imagery and when used for stage settings allow to simplify performance creation.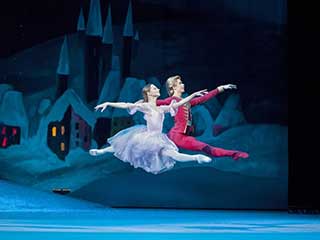 Ballet "Masha and the Rat King" stage decoration
Modern art directors prefer to win over the audience by using the media-assisted stage settings. The innovative technological solutions in lighting, sound, stage design and costumes enhance visual imagery, allow to create and maintain the emotional environment of the performance that organically envelops the artists and the audience alike.
Today art directors have a wide range of technological equipment at their disposal: projection devices, advanced audio equipment, video displays and stage lighting. That is exactly what the art directors of the ballet "Masha and the Rat King" achieved on stage of the St Petersburg Ballet Theater named after Tchaikovsky.
The light settings acquire additional expressiveness. Trying to compete on the theater market the theater managers introduce video projections, electronic stage settings combined with LED screens, LED-based costumes and curtains, numerous lighting special effects, structural remotely controlled stage elements in modern theatrical productions. What modern scenography is most known for is the so the called synthesis of arts that combines standard theatrical imagery with modern hi-tech solutions suitable for the modern audience used to visual effects.
The spatial stage setting is closely linked with using new approaches to technological theatrical performance. Here we have LED screens, mobile projection screens, plasma displays of various sizes, multifunctional lighting projectors, interactive ceilings and floors, interactive glass, various scenography solutions using front- or back-projection – all specially adapted for small theater and outdoor spaces.
Multimedia decoration and 8K LED wall of Rockettes' Christmas shows in New York
The advantages of modern technical means and devices allow to organically combine technology and creative solutions in the process of creating artistic images. New technology actively participates in setting up the modern stage and composition. As a result, the theater stage becomes more attractive for the choosy spectators and at the same time invents new challenges and tasks for the modern machinery.