The Expected Trends in DOOH in 2017
The Year 2017 begins. Time to talk about tendencies, evaluate technological successes of the previous year, try to look into the near future. Naturally, we are talking about digital outdoor media, digital LED screens and signage, TV-format displays, the number of which is growing from year to year.
From the new perspective of 2017, outdoor digital screens and digital signage are gradually emerging as a new active form of the communication platform that is eagerly embracing new functions and applications. Previously outdoor media screens were only useful as a marketing channel with the only function of outdoor advertising. Today their usefulness has increased tenfold.
The standard advertising can be now diluted with social, informative, interactive and gaming content. The resulting programming schedule is significantly more attractive and eye-catching. Outdoor signage is becoming more versatile as more and more applications turn displays into terminals for collecting and analyzing data, accumulating statistics, including targeted statistical selections on the type of audience, time of day, correspondence between advertising and weather etc.
| | |
| --- | --- |
| | |
| Samsung DB10D digital signage | Samsung SoC digital signage |
Previously the technological immaturity prevented outdoor media from winning over the market, made it useless for some potential users because of high prices for both hardware and for advertising services, scared them off by the unfriendly interfaces. Today digital screens and networks are serving well even to small business that is trying to lure customer support through individualized approach.
To meet customers' needs, companies that offer digital signage will continuously cultivate visual technology. Visualization on screens and digital signage helps shops, boutiques, even financial institutions to entertain customers, educate them on new offers or opportunities. In the next few years the outdoor advertising will merge with the Internet web-sites for specific companies. As a result, brand recognition and sales will be enhanced by numerous repetitions in various media spheres.
Large financial institutions are now converting some of their branches to smaller and more efficient kiosks. By providing information and visual support through digital screens, retail banking can improve customers' experiences. Large displays are offering attractively presented data, improve the service quality. Digital displays with the necessary content are firmly established in schools and colleges, in hospitals and out-patient clinics. Location finding displays direct you to a shop hidden in a vast shopping center and provide you with various advertising messages along the way. Displays built-in headrests of the taxi seat help passengers spend the time in traffic. In a way, modern citizens are surrounded by electronic screens from the moment they wake up till the time they go to bed.
As the quality of digital screens improved, the resolution of LED screens and digital signage rose sufficiently to display TV-formatted commercials and news with minimum editing. As a result, modern outdoor digital media becomes universal, a quality that makes it even more suitable for conquering the market.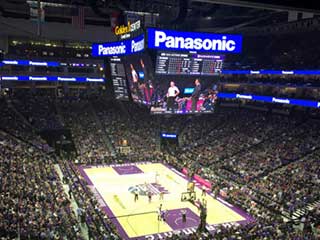 Absen-Panasonic UHD 4K LED Screen
Let us consider the rental screens as an example. Just a few years ago this application demanded LED cabinets of specially strengthened design. They were really sturdy but very hard to move around (up to 100 kg per 1 square meter). That was reasonable at the time. Rental screens "travel" a lot, are assembled and dismantled at regular intervals and must be well protected similar to modular military equipment.
Time changed and the approach changed accordingly. Today rental cabinets hardly differ from standardized cabinets for stationary installations. Universal structure made them light in weight and easy to install in any conditions. Standard cabinets today take about 70% of the market because clients prefer such universal design that makes it easy to replace cabinets. Rental screens frequently appear at concerts or major trade shows where they may be as large as 1000 square meters or more. That is the reason why light-weight see-through curtains are in such a great demand today.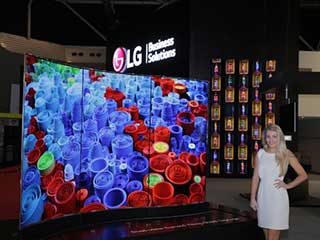 LG OLED digital signage
Among other important and noticeable tendencies is the significant growth in the area of OLED displays. The OLED (Organic Light-Emitting Diode) technology has been in use for several years now but did little to affect the DOOH market. Till now OLED displays were restricted by size and mostly were used in the smart phone industry. It seems that time is up and OLED is getting into the market of large displays. Recently there were announcements of a stable 30 inch OLED computer display.
The analysts believe that OLED will replace traditional LCD panels sooner or later. The fact is that the technology of "organic LEDs" is winning the battle on almost all fronts: color rendition, depth of black color, response time, viewing angles, brightness etc. There are problems, though. Screen burn-out, operating life, to say nothing of high price. That is why we are talking of this tendency as an interesting, noticeable development that has not yet turned into a full-blown self-sufficient technological and marketing area.
Time will judge. Today for it is an exciting time of fast technological advances and innovations that allow us to peep into the near future.