Video Walls: New Wave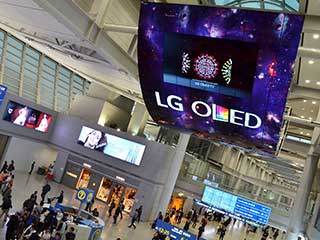 LG World largest OLED display in South Korea's Incheon Airport
The concept of video walls appeared fairly long ago as one of potential methods for competition with large LED screens. Video walls are always at the center of everyone's attention because multiple panels create a wholesome multicolor video field saturated with information.
There were always a lot of walls "asking" to be filled with a large image. However, technologically it was not an easy feat. The projection image was not bright and saturated enough; moreover it required a lot of space for the beam from projectors. To resolve the issue of space for front projection, rear-projection screens were invented. Unfortunately, for most part they did not become fashionable and demanded items. The reasons were the same: rear-projection needs the same amount of space behind the screen. And space comes dear in modern business centers.
| | |
| --- | --- |
| | |
| Samsung UHF-E video wall with bezels 0.5-0.9 mm | DLP cube video wall by Christie MicroTiles |
The idea to cover wall surface with LCD screens with split image for a long time remained a fantasy because of the wide gaps that distorted the wholesome image. Not that far ago the narrow-gap LFD-panels - Large-Format-Display Panels appeared (salesmen prefer to call them "seamless" which is a misleading term, of course) that can be assembled into a screen of any desired configuration. The gap between pales usually stays within 1.8-5.5 mm which is an improvement but easily noticed as an image distortion.
In fact, modern video walls are assembled from LED modules, or LCD panels or DLP cubes. Today the main customers who install video walls are various control and command centers, operations centers, control rooms, conference halls, financial institutions and sometimes exhibition halls. These are all the areas where it is necessary to display a large amount of information used by many viewers simultaneously in the form of one large image or multiple split images.
Beginning with 2013 the video wall market is constantly growing. Some analysts believe that the growth is as high as 20 percent annually. The manufacturers of video walls are quite happy with the current situation and expect the world market to continue to grow at the same rate and reach 18 billion dollars by 2020.
Currently, as the digital technology is becoming ubiquitous, video walls are re-equipped with the IP control systems. This significantly simplifies the installation process and further video wall maintenance. Modern video walls are capable to display high-quality high-resolution video in the real-time mode. This makes them an ideal product for operational centers and security rooms (with multi-screen regime) and for "live" presentations where the system reacts instantaneously to any command of the presenter.
Among other important advantages of modern video walls, especially in operations centers, psychologists name the presence of small but distinct gaps between panels or screens. For the operator who monitors situation in a multi-screen mode the gaps create a customary psychological effect of window panes.
Whatever the case, video walls continue to maintain certain market niche and even expand it a little in spite of falling prices on LED screens that can now cover hundreds of sq. meters of walls and display high-resolution (sometimes even 4K) images.