"Smart" CMS for Digital Advertising
Technological novelties are frequently changing their status from the questionable innovation to the mainstream product. As a result, our attitude, behavior, customs and daily routine maybe significantly changed by the multitude of electronic gadgets around us.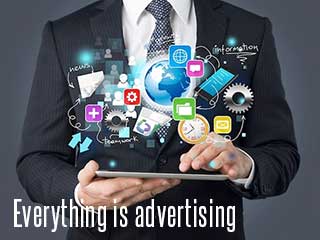 For example, recently I entered a metro carriage and looked around. I counted more than 20 people browsing their smartphones, reading from tablets or playing games against only three people reading books. The tendency is quite obvious. In today's world of evolving technology, would you consider using a typewriter to send your business correspondence? Nobody would. The world is ruled by emails and different messengers installed on our smartphones and tablets.
Personal habits change faster than corporate culture. For example, in the fast world of advertising some primitive forms of product placing and marketing are still in use in spite of their obvious low-efficiency. Simple static billboards are far behind various digital media technologically but can still be found in abundance in the streets and squares of our towns. In their heyday, LED screens and digital signage were innovative.
With a simple digital signage and some channels, businesses could, presumably, change messages multiple times during the day to deliver a variety of focused messages. With enough office space for organizing letter tiles, a place to put that long stick, and a dedicated worker, digital signage could be very useful.
But consider this situation honestly. It is really difficult and time consuming to change billboard posters. During the summer heat wave hundreds of people have to work long hours to replace posters to advertise cold drinks and bring in customers. Winter conditions are worse. The promise of autumn drizzle, winter freezing temperatures and snow accumulation at the base of the billboard makes it all but certain that summer specials may be on the billboard for a while.
Technology has provided organizations and business owners with a much better and effective tool for responsive and timely messaging. LED screens and digital signage are more than just a showcase of vibrant, colorful and attention-getting advertising. Modern "smart", intuitive, easily programmable and regularly updated software and new generation CMS allows the operators of digital advertising networks an opportunity to change content or whole playlists as often as they need, practically without losing a minute.
Creating content finally can be achieved without hiring expensive designers. It can often be as simple as content into software programs. New user interfaces are simple and friendly; to create a playlist one may only master several simple skills. Then creating playlists that work according to such factors as time of day or outside temperature (like, eat healthy breakfasts in the morning and snacks during late night hours) becomes easy. Entice customers with hot beverages when the temperature dips and ice cream treats when it soars. And if the weather becomes unpredictable and a rain shower starts, you can change to an advertisement for rain gear in just minutes.
For community organizations, timeliness is just as important. With last-minute changes to schedules due to weather conditions or other unforeseen events, digital signage offers a much faster way to notify the public. Advanced software has the added advantage of allowing you to update content of your digital signage or the whole network, change playlists and even diagnose the readiness of digital signage via any Internet connected device.
How often did you see black squares on LED screens (failure in LED modules) or flickering colors (failure of the control system or an individual controller)? These are the LED screens or digital signage of the outdated control system that is unable to run self-test programs and alert operator of the need to repair some failing parts. Such a pity that not only the adverting of products and services suffers but the image of the LED screen or digital signage is not improved by such noticeable faults.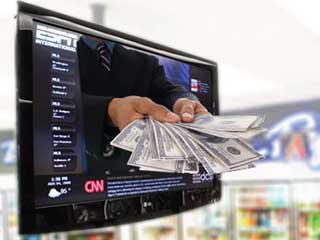 Whatever the case, LED screens and digital signage have proved their efficiency. The cost of advertising spot on digital screens is much lower compared to static traditional billboards. For the most developed advertising market of the USA the CPM index is somewhere about 74 cents, while the second cheapest media of the Internet banner will cost you nearly 7 dollars. Radio advertising is nearly twice more expensive at 13 and for TV at 22 dollars minimum. Consider also the cost of preparing much more expensive content for the TV.
We all spend a lot of time in travel or commuting. In Russia a person spends more than 20 hours a week in transit. Certainly, we spend some time reading, talking, concentrating on driving. But the rest of the time is an ideal period for attracting our attention by bright pictures with trailers of new movies or advertising with tasty food, new cosmetics or something else. The ubiquitous advertising becomes "smart", personalized. It can differentiate between different types of audience and convince us about where to go, what to buy and how much to spend.