Digital Valentine's Day
February always brings news about the expected and pleasant holiday – Valentine's Day. Well, we are not too keen to write about the event. Historical and religious roots of the Day have been discussed in detail in all mass editions throughout the world. But the commercial aspect of the Day, especially when it concerns digital technology, is worth writing about.
The number of LED screens in cities throughout the world has been gradually growing for years. In fact, LED screens frequently become the focus of public debates. Sometimes the authorities in different countries begin the crusade against advertising in general and LED screens in particular. Crusades never last long. The tendency is unstoppable. What can be done in conditions when the price of LED screens continues to go down and soon will equal the installation price of the static advertising sign? The number of LED screens is directly proportional to their price. And since the number of LED screens grows, people will always find ways to fill them up with content.
In this respect the Valentine's Day comes very handy. Traditionally, on this day people send each other messages of love or affection. But the traditional old valentine cards are nearly extinct. First, they were replaced with text messages by millions of smartphone users. And now text messages are gradually giving way to video addresses.
What is the point of sending a clever and exciting proposal text to your loved one if nobody else ever sees and appreciates it? Now there is a way to make others witness your affection. You only have to hire a large LED screen. But LED screens are not only stationary but mobile as well. Screens of excellent quality and high resolution can be installed on a specialized truck. We have written about such mobile LED screens earlier but never even considered that these would become the open boards for public proposals.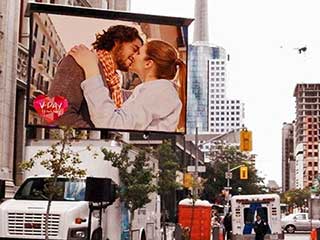 Mobile LED screen with a Valentine image
But the discount company "Groupon" came up with the innovative idea. For the meager 30 thousand dollars you can rent a specialized trailer with the mobile screen (usually, with image area around 4x5 meters). Then you can show to your beloved and to everyone else who cares to see how great is your passion. In fact, this is a modern variation on serenading your love. Not bad: digital video delivered to the addressee. Naturally, the hire price includes assistance of designers and video specialists who will help create video valentine from the materials you provide. The result is memorable and beautiful.
It is possible to spend a lot of money in other ways, too. The 2016 weekly "The Observer" was published with the noticeable front page that guarantees attention. However printed press is not fashionable any longer. So, video congratulations from large LED screen are more fun. Similar methods are currently employed by video-editors who place on stadium huge LED screens happy faces of young couples, sometimes passionately kissing, during pauses in the game.
| | |
| --- | --- |
| | |
| The front page of "The Observer" for the occasion of Valentine's Day | 25 000 LED roses in Hong Kong on the Valentine's day |
The LED technology comes to the rescue of lovers in many shapes. It can be rented mobile screens, or special decorations, for instance, LED roses. The fans in Hong Kong recently lighted up 25 thousand LED roses to celebrate their love. The authors of this Journal welcome all expressions of peaceful romantic feelings but are especially glad when these feelings are channeled via new LED applications and provide new interactive opportunities to LED screens.