Europe and IoT (Internet-of-Things) Networks
As it happens, different tendencies merge and push the society in a new direction. The unusual influx of refugees and the consequent upsurge in crime rate, including terrorist attacks, on the one hand, and the growing capability of controlling citizens' behavior and movements, on the other, - this is how the new European reality looks like.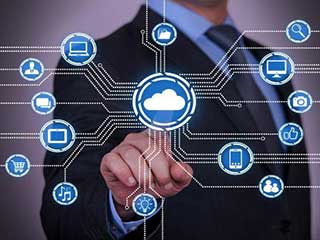 There are plenty examples around. Consider Britain. In 2014 the Data Retention and Investigatory Powers Act legalized surveillance over users of social networks, and then in 2016 Investigatory Powers Act went further allowing data collection without a warrant in the interests of national security.
Among other things, the Acts require that all Internet providers save and keep the records of the Internet-history of each user for at least 12 months. As a result, virtual reality lost its anonymity. The outdoor IP camera surveillance in Great Britain is comprehensive: the level of security surveillance and IP monitoring is the highest in the world. The open data sources state that there are approximately 4.2 million IP cameras currently installed in Britain. A lot for a relatively small country.
Consider another pillar of the European civilization – Germany. The media reported that in 2016 the number of surveillance cameras will grow by 20%. The reports are based on the analysis of the reputable market research company IHS Markit. The experts calculated that by the end of 2016 the authorities will have installed nearly 800 thousand outdoor cameras. It means that there will be one IP camera per every 16 people. After this the total number of cameras in Germany will exceed 5.2 million.
| | |
| --- | --- |
| | |
| IoT, Drones and Wireless Video Surveillance | Video Surveillance Camera |
In 2015 the number of analogue cameras was higher than that of network IP cameras. But in 2017 the situation will change in favor of digital equipment. The authorities promised significant investments into the surveillance infrastructure so that the law enforcement community receives high quality imaging in real time and act on it without delays. The company Deutsche Bahn, main operator of German railways, announced that all its security personnel will be instructed to have wearable digital cameras.
Wearable cameras will soon turn into a new major trend for law enforcement. At present extensive testing is conducted by both local and federal police agencies. Deutsche Telekom is active in constructing IoT networks not only in Germany but in neighboring countries. Deutsche Telekom has last month announced the world's first live Narrowband IoT end-to-end system in Germany, a key enabler for the smart city of tomorrow. Narrowband-IoT is a technology which provides network coverage for a wide area as well as deep in-building coverage at a low cost and with minimal energy consumption. It is therefore ideally suited for a vast number of smart city solutions which often require the communication of only small amounts of information, such as "On/Off", "Full/Empty", "Free/Occupied".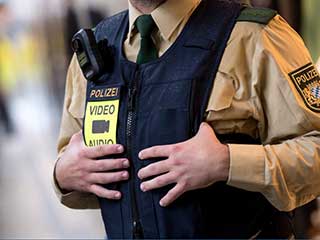 Police Wearable Camera
Naturally, the solutions offered include numerous functions for civilian applications such as smart parking and transport management, as well as intelligent street lighting, electric vehicle charging as well as smart waste management, etc. But primarily, the cameras will be used for monitoring the people in the streets. One such solution is provided by "Kiwi Security". The service increases the safety of citizens and visitors by monitoring public areas through high resolution video cameras and using advanced picture analysis applications in order to automatically detect incidents and report them to the authorities.
As technology matures, new solutions appear that were not available for advertisers before. For example, the temperature sensors installed into vending monitors automatically include ice cream into the list of advertised products if the ambient temperature increases.
Video surveillance becomes massive and extensive. Even small shops, cafes or post offices tend to install indoor and outdoor cameras. Next in line are the public transport stops and cabins of all cars involved in public transportation. 10-15 years ago video cameras were installed only in crowded areas of large cities. Today video monitoring covers nearly all city territory.
As the market is saturated with ultra-high 4K UHD resolution, the demand for cameras with the resolution higher than Full HD will grow exponentially. For example, video cameras without infra-red backlighting will be equipped with it. All analogue cameras will be replaced with digital ones. The recorders will become universal, flexible and multi-hybrid. But this is just the beginning: the 8K format will soon appear.
The analytic agency Gartner Inc (USA, Connecticut) recently made a forecast for the IoT market. They believe that by the end of 2016 the number of IoT related devices will exceed 6.4 billion pieces. This is 30% higher than at the end of last year. It means that daily nearly 5 million devices are added to the existing networks. Financially the IoT market will exceed 235 billion USD that is comparable to the budget of such countries as Denmark, Ireland or Finland.
This is a very positive trend. In spite of the economic crisis, the electronics industry will continue to grow to fill the streets of our smart towns with smart devices of the new generation capable to see all, hear all, and what is by far the most important, to remember all.
The Internet-of-Thing networks expand not only due to consumer demand for electronic gadgets but mostly due to new requirements of national security programs that need more surveillance cameras, more sensors and public terminals, capable of collecting and analyzing vast amounts of data.