Forecast for the Future: or Advertising Business Swimming Against the Current
Each year brings along new ways and methods of information delivery to potential customers. Informational technologies are developing at fast pace. Advertising business is regularly rocked by tectonic shifts: huge advertising sectors are changing places; established players shrink into background while innovators come to the forefront.
Something similar is happening with printed mass media and advertising. They definitely lost positive dynamics and allowed the mobile and Internet-based advertising to take their place. It is obvious that TV advertising is gradually losing the leading role as the TV space is fragmenting into hundreds of channels, including "advertising-free" commercial channels.
Outdoor advertising remains the market segment that has been continuously growing over the past decade. In retrospect we may see that those companies that invested in outdoor advertising came out stronger than others. In Russia, one such example is the company "APR Group" and its outdoor subsidiary "APR City". Between 1995 and 2000, the company grew fast until it attracted attention of Rupert Murdoch's News Corporation that decided to buy out its majority stock.
Since then the company – that changed its name to "News Outdoor" – was growing at an ever faster pace. One of the decisive factors in this unstoppable growth was the cooperation of two talented managers – Maksim Tkachev and Sergey Zhelyaznyak. Outdoor advertising is not an easy business. It is the business with numerous restrictions from authorities, frequent and unexpected changes of rules, requiring significant capital expenses.
Maybe it was the last factor, specifically, the attempt to reduce investments into high-tech equipment, that forced company managers Tkachev and Zheleznyak to deliver a report at the 2007 Conference on "Outdoor Advertising Tendencies" and claim that digital carriers would not be in demand in the foreseeable future.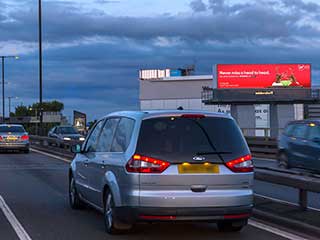 LED screen by Outdoor Plus in London, M4 London Gateway
At that same Conference Vladimir Krylov, Chief Editor of this Journal, addressed the audience with the opposite opinion and spoke of the "LED revolution" that was changing the landscape of modern cities, changing the rules of the game in outdoor advertising in the developed countries, primarily, the USA, Britain and South Africa. Meanwhile, China was nurturing its own LED industry. Dozens and soon hundreds of factories started manufacturing LED screens, signs and curtains for media façades.
Of course, back in 2007 the quality of those screens was dubious; the prices were still high (though the price of Chinese screens was nearly ten times loser than those of major US manufacturers). But this was the time when first network solutions in outdoor advertising appeared. In Russia two companies came up with the idea of covering outdoor space of major cities with LED screens: "CityVision" and "TriStars".
A new hard-to-miss market tendency was emerging. But management of "News Outdoor" preferred not to notice this digital shift because the company already enjoyed a comfortable leadership position in the area of street billboards (in 2007, more than 40 thousand installations in 90 Russian cities). As a result, in spite of the strategic partnership with the world leader in DOOH JCDecaux, "News Outdoor" lost any chances of leading the digital drive in the outdoor advertising and surrendered this position to significantly smaller companies like "Gallery".
Meanwhile the world was changing. The quality of affordable LED screens from Asia has significantly improved, new high-resolution (sometimes higher than Full HD) LED screens offered new functions, including interaction with consumers, LED screens became more attractive advertising carrier compared to traditional static street furniture and billboards.
The public space of commercial buildings and even outdoor locations were occupied by LCD screens, digital networks ensnared cities, and digital advertising became an indispensable part of urban and transport infrastructures.
Naturally, it is possible to follow the existing trend. Obviously, large companies like "News Outdoor" – that changed its name again in 2012 to become "Russ Outdoor" – possess the necessary resources to restructure their business and can strengthen the digital segment of their business.
However, those who noticed and capitalized on the emerging new trends entered the "brave new digital world" faster and with smaller expenses. One must decide what is better: to listen to experienced experts or swim against the current.