Digital Video Fights for Consumers
TV as an entertaining medium is gradually losing its indisputable leadership. Today, the young generation of consumers refuses to keep loyalty to TV and prefer other devices and gadgets to search for information and derive pleasure. To grab hold of consumers, media companies must come up with new ways to present content so that it could be available in various formats on screens of diverse types.
Naturally, the demise of the broadcasting TV is nowhere in sight. But one cannot fail to see that consumers are changing their attitude to video content. They opt for short video clips, especially those meant for replay on personal IP-devices.
Consider the example: the number of viewing hours of video clips on YouTube with its billion plus audience is growing approximately 50% each year, and half of all clips are viewed on personal portable devices. At the same time the longer video content (news, sports and entertainment) tends to move away from TV screens to laptops and tablets.
Analysts believe that in 2014 the TV audience shrank by 13%. IP-broadcasting is widening its customer base, at the expense of the broadcasting TV audience. Our perception of video content changes, too: subconsciously we choose short, dynamic and, possibly, funny. For TV and advertising professionals this translates into transition to digital platforms with new formats of content viewing patterns.
We enter the multi-screen era gradually: up to 37% of the TV audience is involved with searching the Internet or texting messages on their smartphones or tablets and watching TV at the same time. The same pattern is observed in the outdoor behavior: we are busily watching our portable devices while walking along the street or staying on public transport, and glancing at various outdoor displays at the same time. Naturally, media companies who study consumer behavior are actively searching for commercially utilizing this two-screen phenomenon.
| | |
| --- | --- |
| | |
| Digital signage at London Stansted Airport | Giant video wall in shopping mall |
Since most of our time we spend out-of-home, digital video exploded into the outdoor space and conquered city environment in the form of huge LED screens in the streets and city squares, enormous media façades on tall buildings and city-format video-kiosks in the pedestrian zones, LCD displays in pedestrian underpass arcades, elevator halls and commercial centers.
First video screens of the new LED generation started to appear around 20 years ago. Today, in 2015, we are used to complement our life with informational and entertaining content from outdoor screens of all types, shapes and forms.
| | |
| --- | --- |
| | |
| LED screens at railway station in Switzerland | LG giant digital signage in shopping mall |
The digital OOH medium helped merge advertising, interactive functions of digital carriers and social media into networks of ever-growing digital screen ecosystems. Today there are millions of networked displays around the world and video-messages and clips maybe changed or updated on most almost instantly, or adapted to the local peculiarities of the audience with almost no extra cost.
The important innovation of the recent years is the incorporation of the public service announcements (PSA) into the programming schedules. These systems come handy in all cases of urgent announcements, be it pleasant occasion of public holidays or tragic events and emergency situations.
After the powerful earthquakes and tsunami in 2011 in Japan, the development of PSA systems proceeded at a faster pace. In 2015, the destructive earthquakes rocked Kathmandu. The DOOH PSA-equipped networks were activated at once to provide fresh news about the rescue operation, about survivors, about ways to provide charity donations.
Urban multi-functional complex for IP-broadcasting, monitoring and PSA
As the technology matures and secure transmission channels are provided for public use, more and more highly specialized multi-functional urban PSA LED video complexes are being manufactured and installed in public areas. One of the first pilot zones was created by the Russian company RSVO (Russian Broadcasting Networks Corp.) and its technological partner R&D Center "NAO-Pro" in St Petersburg. Full-scale live tests were conducted during the public celebrations of the 70th Anniversary of Victory in WWII.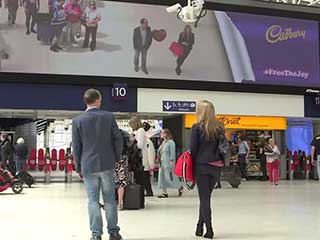 Digital interactive acquaintance at the LED screen in Waterloo Station (London, UK)
Today many analysts talk about convergence of mass media and Internet TV, about development of standardized broadcasting platforms and video-content generation. Children born in 21th century are truly "digital" people. One may argue that printer and Xerox transformed a person into a semi-professional publisher. Similarly, digital technology and the Internet are broadening the scope for informational exchange and developing a modern and comprehensive urban media environment.
We are entering the multi-screen and multi-functional era. All forms of mass media are gradually migrating towards the Internet. But the Internet is no longer content to stay within its virtual reality domain. Today, the Internet is spilling over onto the streets and squares of our cities via diverse screen technologies. This convergence offers numerous advantages and benefits, but brings along risks and threats that we will try to cover in our future articles.