The Great Christmas Light Fight
Christmas and the New Year celebrations are probably the most popular holidays the world over. To some, these events are full of religious associations, for other it is a chance to reunite as a family, to some – a frantic shopping spree. But beyond it all is the holiday season, good festive mood and hopes for the future.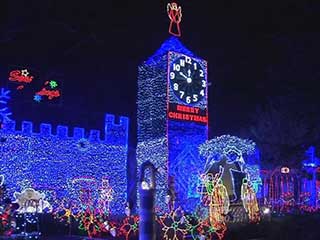 The winner of the Great Christmas Light Fight 2014
Apparently, this is not all. Some hard-working handy people refuse to say goodbye to childhood and continue to play with Christmas toys, in the process transforming December into a breath-taking technological miracle and light show. For several years ABC TV channel offers viewers an exciting show "The Great Christmas Light Fight". We can watch how different American families decorate their houses for Christmas and change them transforming reality into a fairy-tale.
To create competitive spirit, the ABC Channel offers a 50 thousand dollar prize to winners. However compared to what participants spent to decorate their homes, prizes are just an insignificant part of their expenses. For example, one of the participants in the 2015 Show, the Kuhn family from Utah, decorated her house with 500 thousand light bulbs and specialty light projectors; another winner, the Cadger family from Idaho, came up with "spinning" trees and light-up globe. Yet another winner in one of the episodes, the Pelletier family from South Carolina, created an unforgettable display of 500 fireworks synchronized to music.
To describe the unimaginable and impressive achievements of those Christmas fans is an impossible feat: it's better to watch the episodes. However for us, the authors in the magazine dedicated to light shows and technological innovations, it is important that the LED technologies that entered our daily lives fairly recently have transformed our concept of holiday celebrations and turned them into the colorful, bright, dynamic shows. As a result we are now facing the new dimension of the holidays – the light show.
Naturally, this would be impossible if thousands of workers at the factories of China, Taiwan and Korea were not working all year long manufacturing holiday miracles for new year festivities. One of such factories we were lucky to visit and returned back full of impressions. This was a gigantic factory with dozens of manufacturing, testing and storage buildings, so large that moving around the facility was better on a car. To demonstrate the produce, customers were forwarded to a separate 5-storey building that is nothing other than a huge exhibition. Only there it we understood how large is the Father Frost Factory. Don't forget that this was just one of many similar manufacturing enterprises.
New Year LED products from Neo-Neon
It is easy for anyone to buy thousands of light strings but to make them work in a coordinated fashion and synchronize with music requires a lot of skill and effort. To help amateurs the market is filling with specialized controllers with simplified interfaces. The New Year industry each year comes up with novelties in the form of programmers, controllers and players. With their help garlands come to life. It becomes easy to create special effects, synchronize light shows with fireworks, fire and water jets.
As prices on decorations are falling each year, participants of such shows can afford to create more and more sophisticated light displays. Recently LED modules (parts of LED screens) started to appear in the decoration of houses thus offering even more diversity in effective light dynamics. Frequently, specialists add specially constructed stages with transparent floor and LED backlighting – the task previously impossible for amateurs.
Whatever the case, thanks to lighting and LED technology of the new generation, the New Year is transforming from the traditional dinner into a colorful show. Happy New Year to you, our dear readers!