Railway Hackers: Substituting Advertising Content
We discussed hacker attacks and unauthorized intrusions into advertising carriers several times. Each time we stressed that the digital environment attracts talented non-conformists and software designers. They consider hacking into our digital devices as an easy way to either earn money by skimming bank accounts or at least to make public their protest and professional skills.
This will never change. But thieves or scoundrels must be stopped by fool-proof locks and other security measures. In the world of digital devices such security measures are called trusted systems. They protect IP devices from unauthorized access or substitution of content. Such trusted systems are already available in the market but people are not yet used to spend money on digital security. Not smart!
The idea for the current article was born spontaneously. People live routine lives: they go about their duties, read about hacking, feel sorry for people who got were hit, but in a detached sort-of-way. These entire unpleasant events happen to others, far away, do not concern us directly. But when you come face-to-face with the actual hacking, you feel violated, unprotected and helpless.
Advertising and informational displays in railway carriages in Hong Kong
Hong Kong transport system is one of the most developed in the world. Excellent logistics, well-planned transport interchange hubs, beautiful and modern informational and advertising placement. Most of Hong Kong advertising is already digital. For example, all metro (MTR) carriages are equipped with TV monitors that continuously run news and advertising clips (frequently in a multi-window mode).
Advertising displays in high-speed trains in China
Almost all city busses have several TV monitors. Taxis have touch-screen monitors built in the headrest of the front seat, and passengers can browse through useful or entertaining information about the city during the ride. The main railway line connecting Hong Kong with the Chinese southern city of Shenzhen has been using digital advertising monitors for years (managed by Rails Media). Money flows into railway advertising. The advertisers are happy with permanently crowded trains that for them translate into large number of contacts (OTS).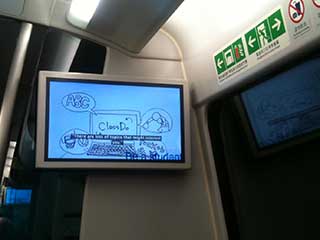 Hacking of the Airport Express train advertising content in Hong Kong
The largest and the most noticeable project in the area of transport advertising was the one initiated by Vision China. The company equipped the metro in Shenzhen and the Airport Express in Hong Kong with digital monitors. The main difference from other such companies was in the method of content transport. Vision China decided against flash memory or changeable disks and opted for the broadcasting method (in case of the Shenzhen metro not the best option at times). However in the Hong Kong Airport Express the premium advertising place – the quality of transmitted picture was above reproach.
Until the time when this tasty morsel of the advertising market was snatched by a bigger fish: the Airport Express rights were sold to one of the largest world advertising agencies - JCDecaux. The company has an excellent reputation, unlimited possibilities and resources, numerous innovative projects around the world. But it did not choose to take precautions against digital attacks, at least in the rich and dynamic Hong Kong. And instead of the glamorous advertising and flashy news and announcements for the departing passengers, all Airport Express monitors started showing the still picture of a silly and mocking nature, a result of someone's professional joke.
We would all like to live in a perfect world where everything is ideal and orderly. Where the trains run on time, people do not insult each other, and the advertising is always beautiful and non-intrusive. However, the world is far from the ideal we covet. That is why we need developers, designers and manufacturers of information security systems – like the Russian company NAO-Pro – that would prevent hackers from violating business procedures of such esteemed companies as JCDecaux. With trusted systems in place, passengers and advertisers would be equally pleased to have live run smoothly.