Tendencies on the Screen Market as Seen from InfoComm 2014
There are approximately 200 states in the world. And more than half, specifically, 114 – were represented at the recently held Exhibition InfoComm 2014 (14-20 June 2014). To invite, provide lodging and intellectually entertain such a gathering is not an easy matter.
However, the organizers of the Event that is traditionally devoted to tendencies and novelties of the media world, new trends and innovative design managed successfully to cater to the diverse tastes of 37 thousand visitors, including some rather choosy experts in advertising screens. It is clear why all these multitudes are going to InfoComm 2014. Here they can see the best and the latest from all countries and different manufacturers, primarily, various screens and displays.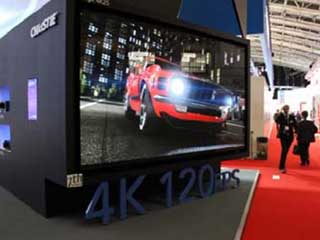 4K 165" rear projection display StarGlas 60 by Stewart Filmscreen with Christie 120 fps projector
It is interesting to note that recently as the DOOH networks continue to expand, new terms appear on a regular basis to describe this new field. A fairly recent term digital signage seems dated or at least well accepted. And here is a whole new bunch of buzz words: OOH, DOOH, Screen Media, Dynamic Place-Based Media, Enterprise Media – and most probably this is not the whole list.
As this huge and still growing field continues to expand and acquire new applications and solutions, new words will turn up to confuse the amateurs even more. InfoComm 2014 with its crowds of visitors, piles of samples and exhibits luring potential customers from every direction, adds up to the complexity of the field. And the general impression is that in spite of the economic stagnation in the economy of the developed countries, the crisis seemingly spared the digital media and advertising space.
| | |
| --- | --- |
| | |
| SiliconCore 4K LED display with 1.5 mm pitch | ViewSonic displays on InfoComm 2014 |
The digital signage supply base continues to grow with providers of technology elements as well as supply partnerships and consortium. Numerous new patents have been filed and granted over the past few months including:
iSign – patent for its ecosystem linking place-based display and mobile devices for commerce;
impulseGuide – patent for content management approaches and multi-choice/trivia authoring;
VertigoGo Digital – patent for outdoor displays for outdoor display/kiosk and Digital Factory for convection cooling.
The number of specialized exhibitions continues to increase the world over. Even InfoComm is no longer a just US-based event, but a brand that repeats itself in many countries: the closest next events in Dubai and Shanghai. But the fact that InfoComm 2014 is not lost among other huge and well-attended exhibitions such as for example LED China, LED Next Stage (Japan), LED Expo (Mumbai), and others, indicates that the US market still dominates the field in the number of services and in the number of offers of innovative solutions.
The fact that many suppliers did not exhibit, and nor did any of the larger digital signage providers such as Scala, Stratacache among other suggests that these providers are moving forward with day-to-day relationships and projects without the need for trade show floor exhibit presence. It would appear that the majority of AV/IT integrators that will add digital signage to their portfolio have already done so.
As they have selected core products and continuously scan for new and better products as needed, one could believe it is less important to await the InfoComm show floor while attending Digital Signage Expo or distributor events to gain the greatest benefit in supplier connection. But, many of the top 25 AV/IT integrators do not yet have a corporate-wide offering as many branches depend upon their search/learn/apply approaches. These firms are encouraged to get their offerings to the next level if they wish to enjoy supply to larger deployments or be part of taking existing networks to the next level of value.
| | |
| --- | --- |
| | |
| 4K LPD display by Prysm | Mobile LED screen by mMScreen with 10 mm pixel pitch |
Other companies like NEC Display Solutions, Planar Systems and Samsung Electronics took full advantage of the InfoComm 2014 event. They all came up with 4K displays of small and large size. 4K displays do present stunning imagery when the content and the media fueling approach support 4K resolution (four times higher than the standard Full-HD (1080p) allows splitting the screen in four. The uptake of 4K in digital signage is expected to be slow as these elements develop further with the most immediate term applications being fashion display, museum and attraction exhibit. The 4K technology is nothing new, but InfoComm managed to promote it and push it from marginally interesting innovation into the market mainstream. The expected result will be the future reduction of retail prices for 4K displays and replacement of all our standard TV sets by new ones.
| | |
| --- | --- |
| | |
| Christie displays on InfoComm 2014 | Christie LED tile indoor displays |
Another interesting innovation that attracted attention of public and media thanks to InfoComm 2014, - laser-based projection (major suppliers are Christie, Barco and NEC). With 20000-hour lamp life (versus about 600 hours on projectors currently), these systems offer significant potential for large space dynamic media projection, which has so far been cost prohibitive due mounting and maintenance needs. The move away from standard lamp projectors to solid-state source can significantly change the market and the sphere of application. Not only do they last longer but they are also much brighter (up to 6000 lumen) and offer better contrast (5000:1). As a result they can be used during the daytime hours on outdoor areas (previously this was too complex and expensive).
An interesting and noteworthy event related to the Exhibition was the statement from the US Department of Transportation Federal Highway Administration. The Agency reported on its study of roadside dynamic display safety, declaring that "Commercial Electronic Variable Message Signs" do not impact driver safety.
Almost at the same time (23 June 2014) it became known that the U.S. District Judge James E. Boasberg ruled in favor of the US Department of Transportation Federal Highway Administration stating that placement of electronic digital billboards along national highways does not violate federal laws. The ruling does not attempt to evaluate road safety but is an important indicator that the public starts to support LED screens and screen-based advertising.
The support for screen technology and public acceptance of their safety are the important news for the market that is over-sensitive to the public opinion. In these favorable conditions the technologies are developing faster, investment becomes more affordable, and we are all eagerly waiting for new trend-setting Events such as InfoComm where we may glimpse our digital future.