Uniqlo and Digital Signage: A Perfect Fit
"A well-placed dynamic video wall with high graphical quality resonates more with a customer than traditional print signage, and is the best means for high-impact communications with shoppers."
NEC spokesperson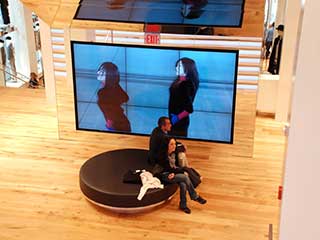 Uniqlo digital signage
Uniqlo, a Japanese casual wear retailer is a purveyor of wow, both in the clothes they design and sell, and in their retail stores where they fully embrace digital signage to impart that wow. The company, operated by Fast Retailing, a Japanese holding company opened its first retail store in Hiroshima, Japan in 1984. Uniqlo defines its retail presence as an "international leader in style, quality, and fun." Worldwide, Uniqlo operates (as of August, 2012) 1,132 stores in 13 countries (throughout Asia, Europe and the United States) with an annual revenue of $10.6 billion.
Recently Uniqlo has begun to open stores within the United States. In this country, they currently have five stores with three in New York City (SoHo, 34th Street, Fifth Avenue), one in New Jersey (Westfield Garden State Mall), and one in San Francisco. Two of the stores, Fifth Avenue and San Francisco at Union Square have flagship status with digital signage as a major design element of each store's operation.
Jean-Emmanuel Shein, Uniqlo USA's Director of Marketing expressed the company's enthusiasm for digital signage, "Our stores are the heart of our brand. It is where our customers connect directly to our product and experience our service first hand. As such, we feel that we should make that experience as rich as possible and signage - be it digital or printed – is critical to giving our customers information about the Uniqlo brand they can use while shopping in our stores."
Uniqlo digital signage completely surrounds the customers
Uniqlo so embraces its digital signage that it is the voice of the company, visually imparting its brand as a lifestyle experience. Uniqlo being in the fashion business also uses its digital signage as a virtual catwalk to showcase its various clothes offerings. Uniqlo's digital signage is so embedded with each store, that customers will encounter the Uniqlo message from any number of video wall digital displays facing them.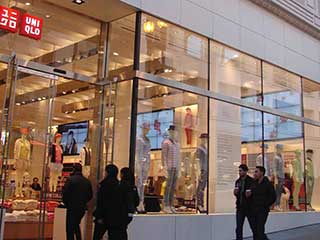 Uniqlo store façade
When possible, Uniqlo emphasizes its store frontage with large (floor to ceiling when possible) plate glass windows, setting several retail advantages. During daytime, the windows light up the entire store interior which easily shows off their various casual wear product lines to help influence drop in visits. As important, the windows create expanded video wall sightlines as additional incitement to draw customers.
Uniqlo's Japan-based in-store design team plans and designs the company's digital signage strategies; several specialized companies partner to complete the final digital signage plan. NEC USA (Irving, TX) is the firm's LCD display supplier and in-store systems integrator. Playnetwork (Redmond, WA) handles infrastructure and installation of each U.S. store's digital signage, but it collaborates with Adaptive Technology Group (Signal Hill, CA), a mounting and rigging solutions provider dedicated to video wall infrastructure.
NEC - Display Solution Selling
The essence of Uniqlo's digital signage system is the NEC LCD from which all Uniqlo digital signage systems are built from. While NEC (Tokyo, Japan) is a manufacturer of the LCDs, the company, as Michael Ferrer, National Manager of Solution Sales and Operations at NEC Display Solutions, noted, "has evolved from just being a provider of commercial grade LCD displays to acting as more of a system integrator, following a client's digital display setup from purchase to its final business or retail placement. Here NEC makes sure that the customer's digital signage system is properly installed and functioning as intended."
Within the build environment of each new Uniqlo store, NEC acts as the technical liaison between Uniqlo corporate and the supporting cast of subcontractors and other suppliers who contribute to building out each store's digital signage network.
NEC's core workhorse display for Uniqlo is the NEC LCD X461 UNV unit. This display is a 46-inch (diagonal) commercial grade LCD display, with a 16:9 aspect ratio with a native resolution of 1366x768 pixels. NEC's X461UNV module functions in both a portrait and landscape mode as an interior facing digital signage display and operates on a 24/7/365 day schedule. For video wall use, the NEC LCD displays have an ultra narrow bezel, so when they're mounted side-by-side on the video wall frame, they appear as an almost seamless screen, portraying one big 3x3 or 4x4 screen image. To date, NEC has delivered more than 1,000 LCD displays throughout Uniqlo's global retail network.
Uniqlo's digital signage system planners have established four video wall formats for the NEC LCD X461 UNV displays:
16 LCD displays in a 4 x 4 pattern;
9 LCD displays in a 3 x 3 pattern;
4 LCD displays in a 1 x 4, vertical ("digital mannequin") pattern;
1 LCD display as a cash/wrap display.
Uniqlo media deployment is created by their Japan corporate headquarters and then transmitted directly to its worldwide retail network of stores. Each store has its own server to receive the Uniqlo store content. That content is then distributed to various media players, one of which is attached to every video wall, video column and cash wrap display within the store.
"Generally speaking the cash wrap video monitors," noted Shein, "present shorter messages/content so that customers waiting on line can view a broad spectrum of what the Uniqlo brand has to offer in terms of product and special services. The video walls display more seasonal and campaign-oriented contents such as behind the scenes videos, our seasonal lookbook and in some cases, more graphically oriented contents that play better on multiple screens."
As much as Uniqlo is a provider of casual wear clothing, they are also a catalyst for a lifestyle very much represented by the presence and content streaming from each store's digital signage. Digital signage in a retail environment presents a very direct influence to the company's Return on Customer Service (ROCS) as follows:
Reaches customers where they shop;
Helps create retail ambiance and keeps customers in the store for a longer period of time;
Offers customized messages for local storefronts to be easily changed with new product information or announcements of sales alerts as needed;
Reinforces brand and advertising messages.
Does Uniqlo's emphasis with digital signage increase sales, that's not always clear, but as Shein pointed out, "It is difficult to attribute sales lifts directly to digital signage as there are multiple messages, however, we have non-sales related calls to action and have seen strong customer reaction that we can attribute directly to the digital signage."
Playnetwork And Uniqlo's Media Experience
Once a Uniqlo store is in a design/build stage, each digital signage system comes together as coordinated by Playnetwork (Redmond, Washington). Playnetwork as described by EVP David Champagne is a multimedia company that provides for business and retailers an audio, aural and visual presence that transmits their client's brand as a complete media experience. To date, Playnetwork has created extensive in-store and cross-platform multimedia experiences for over 275 client brands in at least 90 countries.
In Playnetwork's involvement with Uniqlo, they are responsible for the infrastructure and installation of all digital signage in each store within the United States. In bringing a store's digital signage system together, Champagne noted that "Uniqlo 's in-store design group plans and directs the locations, number of screens and size formats of all digital signage for each store. In turn Playnetwork works with NEC to configure each store's digital signage infrastructure of installing cabling configuration, media management software and each video wall's media player unit."
The result; multitudes of LCD displays making up Uniqlo's various video walls and video columns. Uniqlo's flagship 5th Avenue digital signage system was composed of (45) 1x4 digital mannequins, (1) 3x3 video wall, (3) 4x4 video walls and 56 single displays. Also incorporated in the design was a few LED fixtures for elevator and window placements. The smaller 34th Street store included (26) 1x4 digital mannequins, (34) single displays, and (1) LED window fixture. The San Francisco flagship store has (7) 3x3 video walls and (14) single screen installations.
"Each Uniqlo store's digital signage design is uniquely configured based upon their interior store architecture, number of store floors and the viewing access of the store front windows. In essence, all sign placements were defined by the interior store's sightlines," said Champagne, "resulting from customer traffic flow within that store."
With the number of different video walls being placed within each Uniqlo store, to become expedient and cost effective it was desired that all the video walls could be installed as quickly as possible. To do this efficiently, Playnetwork collaborated with Adaptive Technology Group, a company that specializes in video wall infrastructure.
Adaptive Technology Group
Adaptive Technology Group (Signal Hill, CA) designs and manufactures a wide range of mounting and rigging products for digital signage applications. In the case of Uniqlo, a variety of video walls were a critical part of each store's digital signage installation, as explained by company President, Paul Allen. "Our solution for Uniqlo's flagship store in New York City and other Uniqlo stores was to provide an easy way to install, and a fool-proof way to align multiple NEC 46" displays onto a single piece wall frame to create a 1x4 video mannequin. Using the same design approach, we also created similar wall frames for the 2x2, 3x3 and 4x4 video walls, which can be found throughout their stores world-wide."
| | |
| --- | --- |
| | |
| A 1x4 portrait oriented video column - "digital mannequin" | Single piece wall frame used to create a 1x4 "digital mannequin" |
"In a typical video wall, one of our challenges is overcoming uneven wall surfaces. "Our video wall design assures that all LCD displays line up edge-to-edge. This starts with our adjustable wall anchors, which plumbs the entire video wall frame, regardless of the walls flatness. Further, our single piece frame concept makes it easy for LCD displays to go in and be accessible when they come out for maintenance. Lastly, each display gets four built-in leveling devices that install into VESA mounting holes and provide an adjustment that gets all the displays into one viewing plane."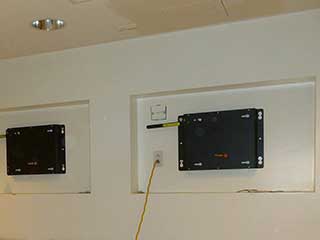 Single screen LCD video display mount
"In regard to external media players, we include a special compartment for their placement located within our video wall frame, behind one of the lower LCD displays. So for adjustment or repair of that media player, only one display need be removed. The media player gets serviced or replaced quickly, and the video wall is up and operating again."
With Uniqlo's video wall requirements in mind, Allen stated, "Once a store build out is ready for its video wall, we ship out the basic video wall frames which are received by the installation crew, who then assemble and install the video wall frame onto wall anchors. Once the video wall frame is in place, the frame is populated with a media player and LCD displays which are cabled together. From there, the store is connected to the Uniqlo digital signage network data center in Japan. Altogether to date, we've shipped video wall frames to Uniqlo stores in at least a dozen countries including the United States, Europe and Asia."
Digital Signage Liveliness
As digital signage becomes more ubiquitous with business and retail, so does it become more integral as a media solution for customer service and product and sales alerts. Whether a single digital signage or a video wall, Uniqlo's digital signage comes in many flavors, but with one result: connecting customers to their brand and their products. In doing so, Uniqlo's digital signage imparts a certain visual liveliness into the store's ongoing ambience. Hopefully to bring in more store traffic and more sales, and for a digital signage that is the best you could expect from it.