Small Business and Digital Advertising
Digital advertising is a new tool in the constant struggle of the small business for survival. It is also a high-tech too that allows to somewhat improve the chances of small business that has hard time competing with large corporations and network groups.
Several years ago the price of installing a digital advertising board on a building façade or several LCD displays in a store was too high for small-budget organizations to contemplate. However sharp drop in price on digital screens of all kinds helps to drastically change this situation.
Semen Resnik, manager of a small Moscow drug-store that is not a part of any large retail networks, recently installed an LED cross on a building façade. Apart from green apothecary symbolism, the new LED sign allows him to attract customers by hundreds of various color variations and simplistic graphic effects. Today Semen is happy since a small investment (slightly over 2 thousand dollars) was returned within one month. He claims that the number of customers increased by 8%, which is a huge improvement. The dynamic visual effects can be seen from far away, the cross attracts people, reminding them of the need to visit the drug-store.
Displays behind the window and in the drug-store
Galina Chernova, the owner of small boutique store in the center of the city. Her approach to digital advertising is more original and substantial. She installed a LED screen behind the store window, and added several LCD screens inside to continuously display advertising clips from fashion shows. Her investment was larger. She also had to spend money on linking displays in a in-store network, buying software to time the shows and synchronize content. But the result was impressive. "It seems as if there is a Sales sign on the shop window. People keep coming in and buying things" comments Galina with a satisfied smile.
Advertising and informational displays in shops
Similar stories are typical not only of Russia. A few days ago Digital Signage Today wrote about Christopher Pugliese, the owner of a small shop and coffee store in New York, who was announced the winner in a Samsung competition. He installed a Samsung Smart Signage displays throughout the store and started displaying advertising clips during the working hours. As a result, customers are watching advertising and entertainment clips and the psychological time of waiting for the order is perceived as much shorter. Christopher is happy, customers are happy, more people than ever flock into the store. The digital advertising demonstrated its effectiveness once more.
Unlike large corporations that have long implemented this and other digital advertising tools in their daily trade, small business has the advantage of flexibility and quick decision-making. Christopher does not need to wait for the Board of Directors to meet and approve the addition to broadcast or change of content, to position screens differently or vary the broadcasting schedule. As a result, he is capable of using new technology more effectively, to experiment with various regimes. Naturally, all this only increases competitiveness of his cafe.
Today large manufacturers of displays and screens, such as Samsung, are frequently offering custom-made solutions for small business, e.g. Smart Signage TV. Sometimes they offer an attractive line of credit, sometime give it for free. For example, Samsung Electronics America, Inc. offers small business owners to participate in a competition and win Samsung Smart Signage (SSTV), a simple but valuable solution for small business advertising. All-in-one solution offers an opportunity for improved customer relations and business promotion. A win-win situation.
The advantages of digital advertising for small business are obvious:
Attracting clients every day;
Educating customers about new trends, ideas and novelties;
Focusing on unique product or service qualities;
Creating an attractive business image.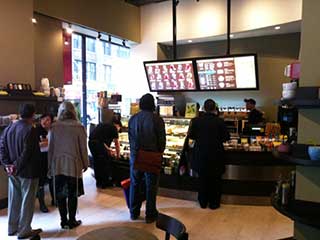 Digital menu board
In fact we are witnessing the process of how relations between business and consumers change due to digital advertising technology, including digital kiosks, voice-operated screens, software with predictive analytics, etc.
Gradually, a new trend is shaping up that US market experts named "Business on Demand". The barriers between customer and product that we are used to see disappear. Mobile payments, virtuial stores, digital signatures, elements of the artificial intellect – all these technical innovations change the way modern stores look and modern customers behave.
Frequently, the revolutionary changes have humble beginnings. Today these changes are driven mostly by digital technology and digital advertising. Good for small business!