"China in LED": Supplier of Major Trends
The below report on LED China 2013 is based on a photo collection prepared by specialists of Croc Ltd. that were initially published in a company blog. We are very grateful to employees of Croc for beautiful photos and their attention to detail.
Our magazine reported about some large trade shows in China:
Over the past several years Guangzhou, a city of long history and gigantic proportions, acquired a completely new look. New highways criss-cross the city, high-speed trains arrive to new rail terminals and of course a new exhibition hall overwhelms visitors by enormous size. Large international exhibitions are now conducted in Guangzhou practically non-stop. Naturally, we are only interested in events related directly or indirectly with digital and LED technologies. Guangzhou is definitely becoming a prominent site for these events: previously international visitors used to travel to Taipei (Taiwan) or Hong Kong, but nowadays trade shows in those cities are dwarfed by the event in the neighbor city of Guangzhou.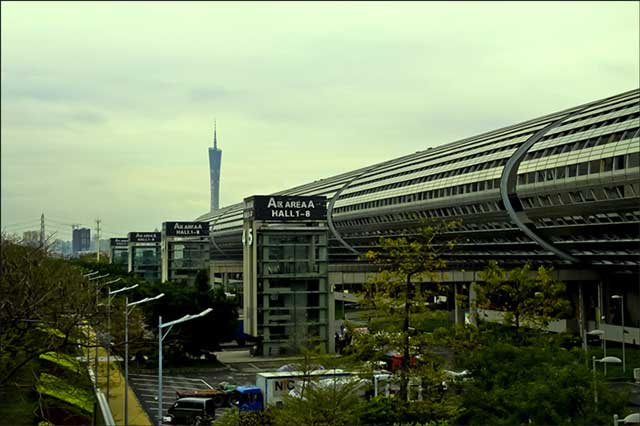 The exhibition hall in Guangzhou – looks like a cosmoport from science fiction book
LED China 2013 Trade Show covers all aspects of production and maintenance of LED screens, manufacture of components (from LED drivers and power supplies, plastic for modules and metal for cabinets), screen assembly (of every shape and form), software solutions (development of control systems and software packages), integration solutions (frequently presented by European or US companies). A separate pavilion features manufacturing equipment for LED production, packaging and testing; SMD machines for PCB assembly, metal cutting, bending and soldering equipment for manufacture of cabinets and support structures of all sizes.
Practically all companies offer LED screens of three types:
For outdoor permanent installations (strong support structures, enhanced cabinets, high-brightness LEDs, specialized plastic with water resistant and anti-vandal properties, etc.);
Rental LED screens (low weight aluminum cabinets, fast assembly structures, etc.);
For indoor installation (LEDs of lower brightness, low weight and extra thin cabinets, tight pitch of pixels, etc.).
At present large companies entered a race of making LED screens with progressively tighter pitch. Theoretically, this is an important task. It's a laudable wish to create a LED screen than matches TV screen in resolution. Today there appear test models of LED screens with 1.9 or even 1.5 mm pitch at various exhibitions. But let us no forget about the practicality of this research. Large outdoor screen does not need such tight pitch. On a smaller indoor screen such resolution will lead to excessive screen price. Therefore when choosing a LED screen we should not jump at the newest and latest but should be more conservative in our choice: look for a screen that fully conforms to business requirements an not to the idealistic picture of what modern screen may be. Otherwise, even a small screen may become exorbitantly expensive.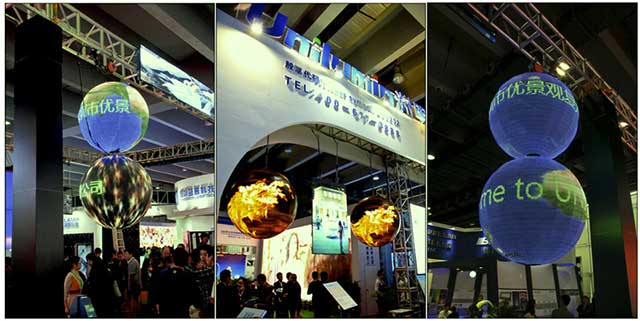 Spheres with LED lettering are an ideal marketing trick
2-3 years ago only a handful of companies was able to manufacture a curved screen. However the technology of LED strips (transparent, light-weight curtains ideal for media façade installations) progressed drastically. The result was that companies started experimenting with unusual an non-standard forms, separated module into strips with LED pixels of varying thickness). As a result, practically, every screen manufacturer can offer straight or curved (convex or concave) screens of different sizes and resolutions.

Left – LED screen with rigid strip modules capable of bending.
Right – Rigid fixing of straight LED strips.
Engineers are thinking creatively – and suddenly you have LED pixels soldered not on a rigid PCB but on a flexible rubber-based PCB. These rubber modules have certain advantages – lower weight, no rust, flexibility. Low eight allowed to make one more innovation: to combine rubber strips with magnets. As a result, installation of these rubber-magnetized modules becomes easy in areas that are hard to reach.

Left – Rubber LED modules manufactured by EsdLumen.
Right- Rubber LED modules manufactured by Absen.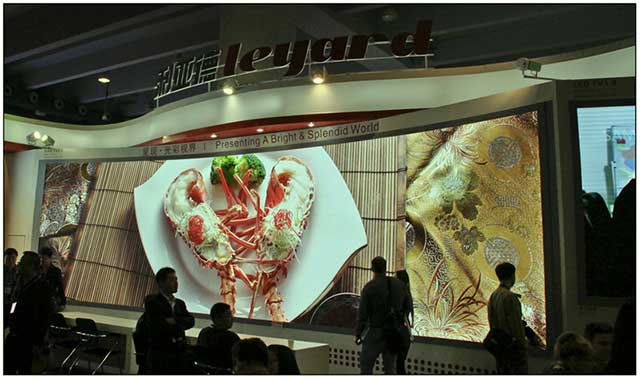 Curved LED screen manufactured by a Beijing-based company Leyard boasts the "impossible" pitch
of 2.5-2.6 mm and resolution of 3840х1080. The screen is made up of small modules, which means that
the surface under the screen may be not just straight but curvy.
Liantronics is a Chinese LED screen manufacturer that regularly wins large government contracts for manufacture of LED screens in China. Liantronics spends a lot of resources for innovative engineering. One of novelties brought to Guangzhou exhibition is the info-kiosks for indoor or semi-indoor installations. However, Liantronics has a lot of experience in manufacturing small-size screens, e.g. small LED screens behind the glass in Shanghai pedestrian streets.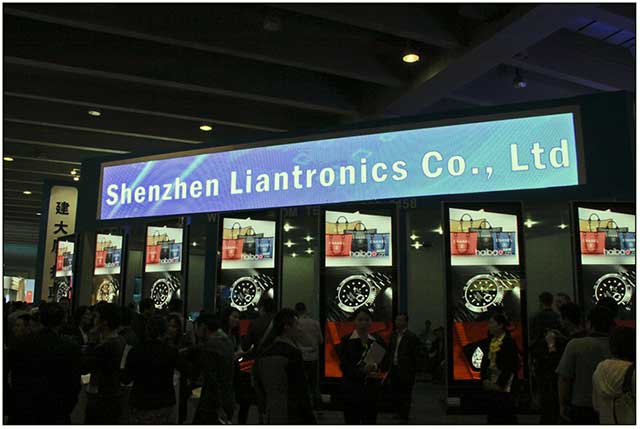 Informational LED info-kiosks manufactured by Liantronics
Manufacturers of control systems recently came up with 3D processors that support both standard video using NVidia cards. This innovations came at the time when the craze over 3D is catching. The old control sytems are no longer capable to support LED screens of new generation with very high resolution. Theoretically controllers support refresh rate of 400 Hz and higher, but you can hardly feel any difference compared to normal video.
Only recently LED screens and sighs were complicated and expensive. Today the situation has drastically changed. A lot of companies today offer ready-made LED signs (running letters) and score –boards that are fully autonomous, easy to transport and install.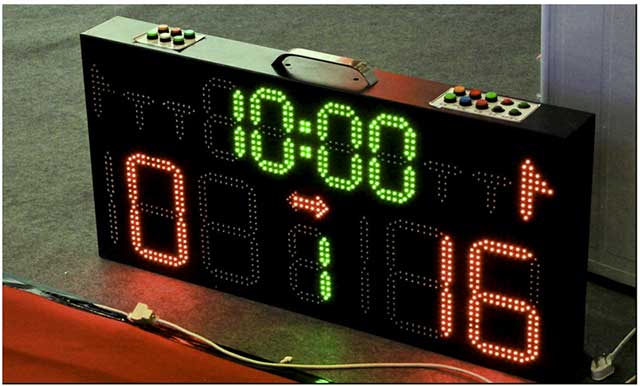 Small LED scoreboard for different team games
These simple scoreboards served as prototypes for informational transport signs. Today more and more busses and tram cars are being equipped with such LED panels to display information about the coming stop or the final destination.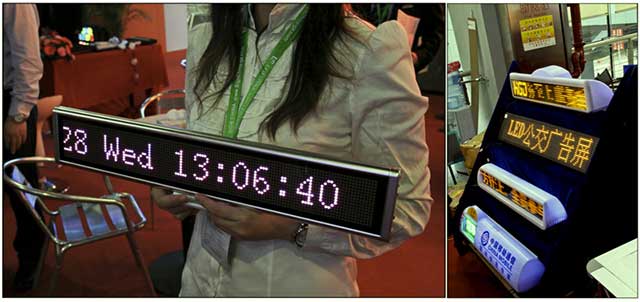 Left – A LED sign for any application you can come up with.
Right – Different transport LED signs. Low energy consumption is the main advantage of these systems;
some can even operate on AA batteries.
For LCD screen manufacturers, advances in LED technology is a major threat. Videowalls is a good example of the on-going struggle. Video walls made of LCD screens deter many potential customers because of easily visible seams between different screens. But LED technology helps even here. The seams between LCD panels are covered by LED transparent strips that make the seam almost unnoticeable.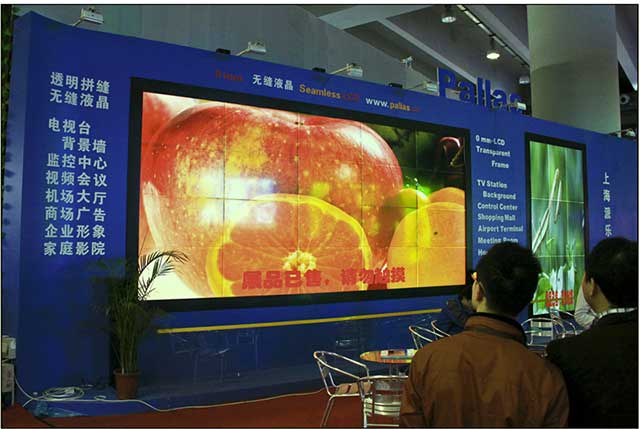 NEC 47'' video wall with LED strip over screen seams
The well-know Chinese company Absen is growing fast. This is the company that unlike many of its competitors decided to expand into the full-cycle production company. Today they package their own LEDs, assemble them onto the PCBs and assemble the complete screen. Naturally, this approach allows the company to minimize cost and reduce the price of the final product. Russian customers are thrilled and flock to the company's banners. However, regular problems with Absen's LED quality are potentially dangerous for the company reputation.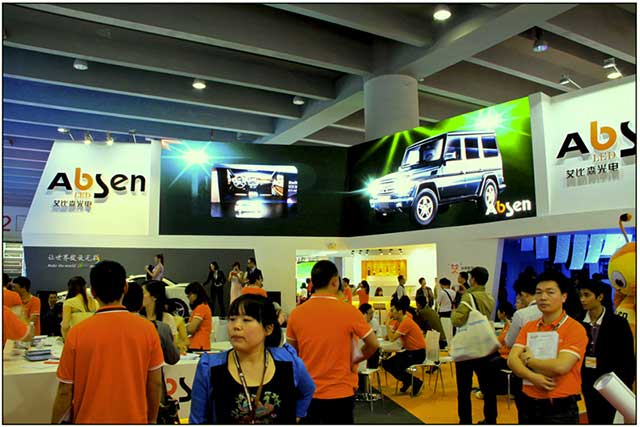 Absen came up strong for LED China 2013 promoting its own LED screen with 3.9 mm pitch
Another option for using LEDs is the hanging curtain screen. Such curtains are ideal for theater production, stage decoration and media façade. For Russia this technology is especially attractive at this current moment when city authorities started a crusade against outdoor LED screens but are quite tolerant to media façade and curtains. Forms and shapes of curtains are fairly standard and uniform. However, potentiual customers must be aware of some technological pitfalls. A well-known truism "The chain is no stronger than its weakest link" is especially true in relation to curtains. In terms of engineering curtains have a lot of weak links: connection between modules, joints, cable connectors etc.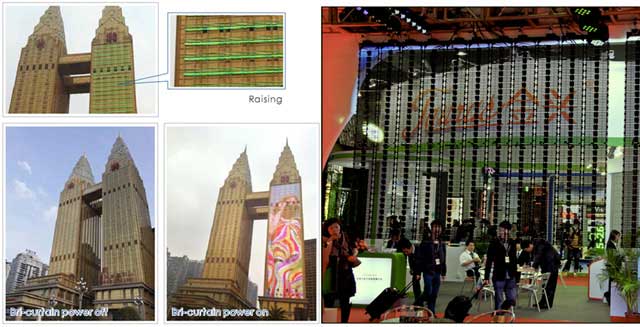 Left – Gtek-made LED screen that lifts and rolls-up during the day allowing for the light to come through
the windows.
Right – Rental LED curtain with 12 mm pitch.
Whatever the authorities in Russia, USA or European Union prohibit temporarily, China is implementing on a grand scale. Chinese authorities allow LED technology to develop and grow. And this gradually creates new cities that are pleasant to live in. Have a look at the night-time Guangzhou that hosts LED China 2013 if you need a proof.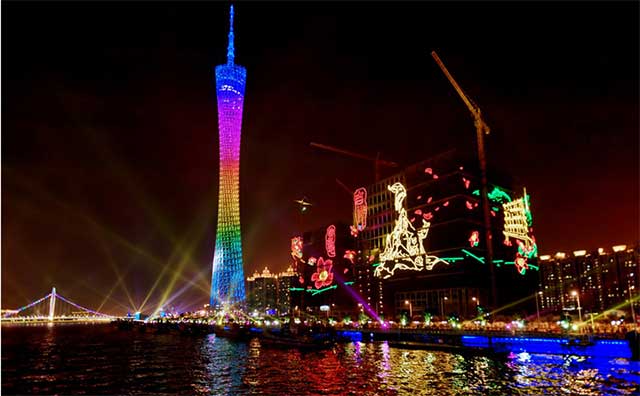 Night-time Guangzhou lit by LED screens and strips