Let's Integrate: Review of the Integrated Systems Europe 2013 Trade Show
Below is the review of the recently conducted ISE 2013 (Integrated Systems Europe) one of the largest and influential events in the field of audio-video equipment.
29.01.2013 - 31.01.2013 these are the dates of the recent 10th Annual Integrated Systems Europe Show in Amsterdam. ISE is one of the largest electronics trade shows. It traditionally features audio-video solutions, installations and services for the corporate and consumer sectors. Started in 2004, the trade show quickly gained popularity under the sponsorship and guidance of InfoComm and non-commercial Custom Electronic Design & Installation Association (CEDIA).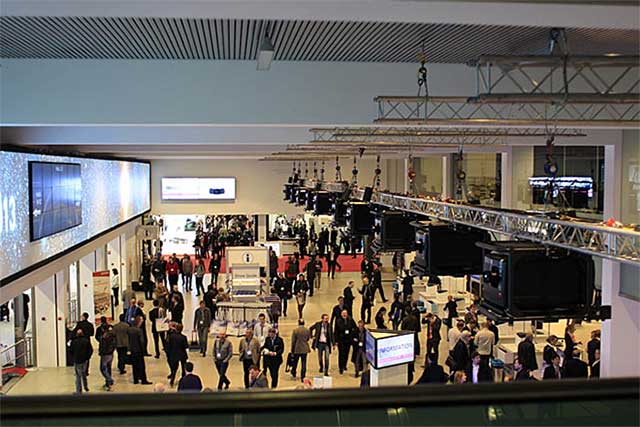 The panoramic image on the back wall screen in the entrance hall is created by 10 projectors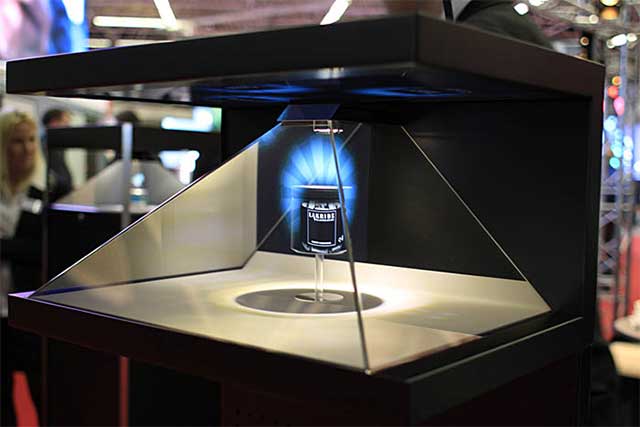 3D image hovering in space
ISE is the second largest trade show event in the audio-video solutions: screens, projectors, etc. Innovations abound. ISE is generally attended by IT specialists from large companies, integrators and their major clients who are searching for solutions in their large scale projects.
The main trend at the 2013 event focused on new technology in screen manufacture: LED screens with the tiniest possible pitch between LEDs, laser projectors, screens of all shapes and forms (triangles, polygons etc.).
Many of the exhibits are the cutting-edge innovations that have not yet found its niche in the current market. One of them – 3D imaging.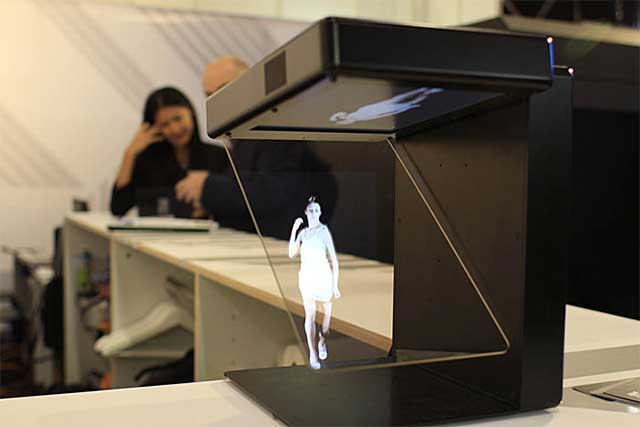 Toying with 3D
The hardest item to miss was the indoor LED screen with 1.9 mm pitch (Orchid P1.9 modules) manufactured by SiliconCore Technology (USA) and presented by the European integrator Lang. Such close pitch was impossible to achieve only recently. Some of the best photos can be accessed through the company web-site -
www.silicon-core.com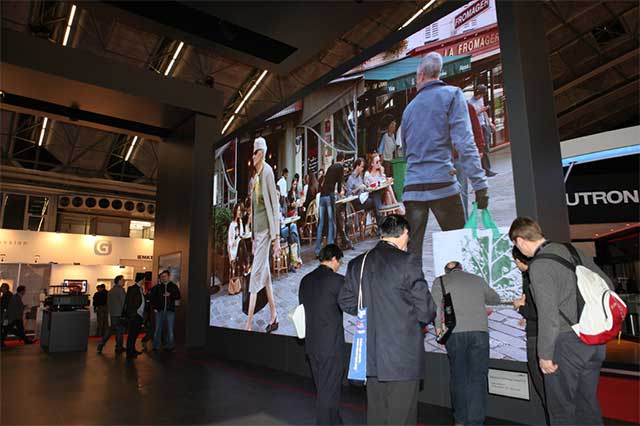 LED indoor screen by SiliconCore Technology Orchid 1.9 mm modules
A good part of the exhibition was devoted to commercial solutions in the marketing sphere. For example, both LG and Christie attracted attention by their virtual fitting rooms that will soon be in great demand in all major clothes stores around the world.
Virtual fitting room
LG LCD screens are all LED-backlighted, while Christie keeps faith in MicroTiles technology (small screens that are stacked on each other in any combination and shape and have only the tiniest of seams).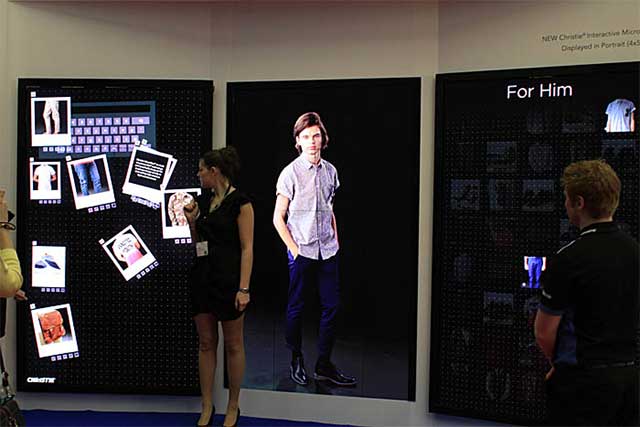 Virtual fitting room attracts a lot of attention
| | |
| --- | --- |
| | |
| Virtual fitting presented by Christie | Virtual fitting room by Christie Microtiles – the screen displays one of the latest fashions for retail |
A few words about the interface. Over the fitting stall LG places a camera. Once a customer comes close, software initiates the process, identifies the sex and all major parameters. The screen offers a selection from the latest fashion collection that can be navigated using non-contact gesture mode. For example, when a person lifts a hand, the type of clothes changes. The photo shows that positioning still remains an issue and virtual clothes do not always fit. However, the virtual fitting rooms can give the general understanding if a new model becomes you or not.
The Christie fitting room offers two screens: one is the touch-screen sensor monitor for choosing the type of clothes one wants, another – for displaying a virtual man or woman wearing the selected model.
Navigation through the available options is a serious problem. It is not surprising that the market now offers numerous solutions for various applications. Primarily this concerns retail stores that have to offer divers products and public areas (e.g. airports). ISE features innumerable large and small displays of different shapes and orientation that could be used as menus or signs in public spaces.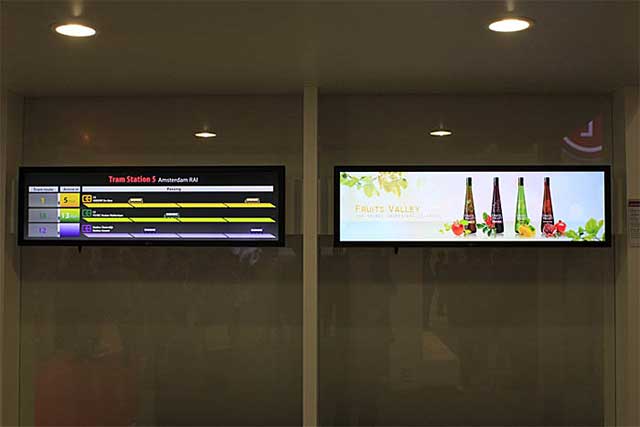 Small format digital signs for the Shelf-Vision supermarket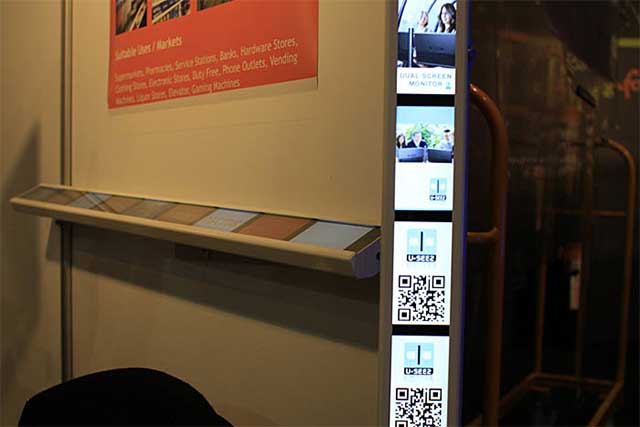 Mini screens used as digital signage
In many stores clients sit opposite a manager who is describing some services or products to them. To show clients a picture or text it is no longer necessary to turn the computer monitor on the desk. A client may have one or two screens facing him that display the same or different content as specified by the manager. In fact, the manager decides whether to show all or part of the information located on his own computer screen. The client screens may be offered in a touch-screen version. This is the U-SEE2 solution that seems convenient and trendy.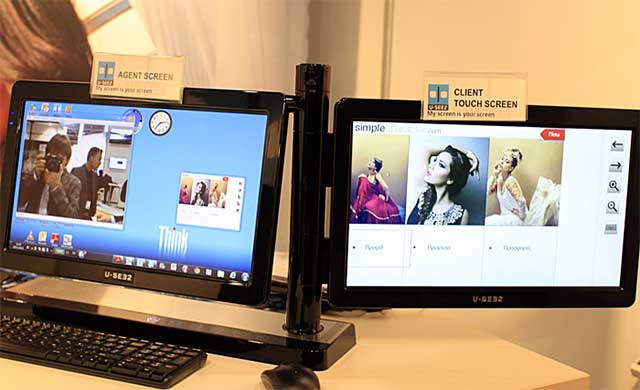 U-SEE2 solution with two screens facing an agent (manager) and a client
Transparent displays were introduced several years ago. The ISE Show featured some of the most advanced and flashy models, e.g. brought there by Samsung.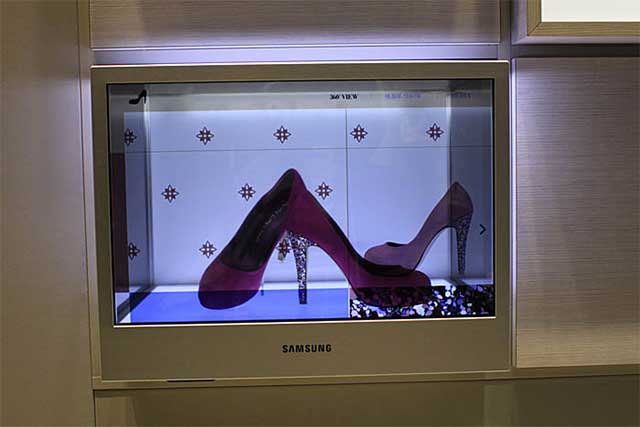 Samsung transparent display
Transparent screens from LG offer an interesting solution of showing all the goods on the shelf behind them with prices displayed on the screen. If a customer touches any of the pricetags a detailed information about the product appears on the screen in front of him.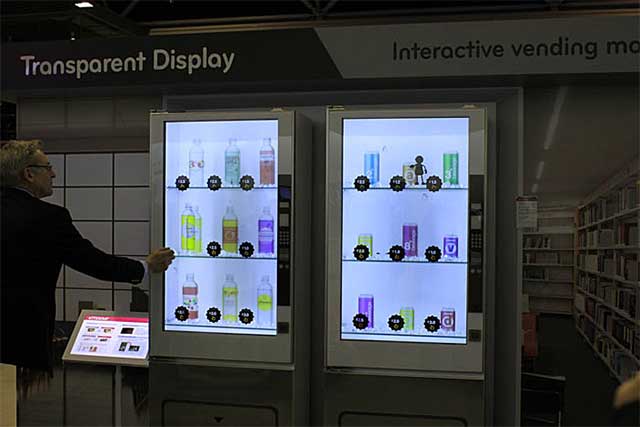 LG transparent touch display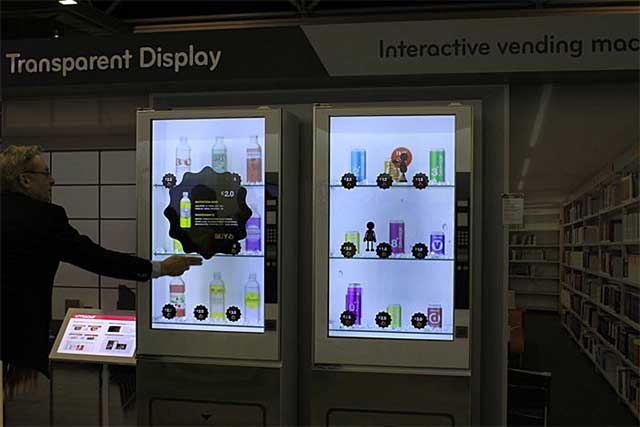 LG transparent touch display with detailed information about a product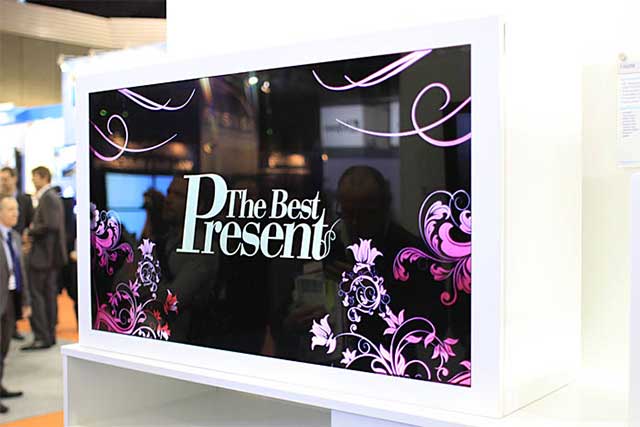 Transparent display
The shapes and forms of displays at ISE 2013 are indeed diverse. For example the Taiwanese Dynascan brought their 360-degree displays and LCD panels with increased brightness upto 1500 nits. Unfortunately Dynascan has been offering the same product line over and over again. The product is unique but not without faults. This may be the reason why the Dynascan displays disappeared from the Hong Kong airport after only a year in service.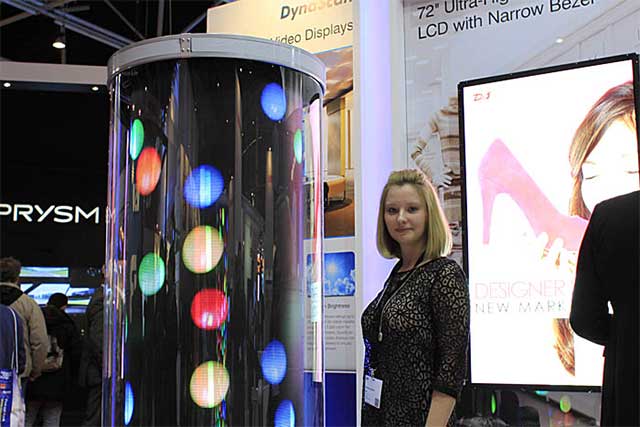 Dynascan display with the 360-degree viewing surface
Unitech Systems presented hanging fixtures for TV screen with moving slider and closing blinds.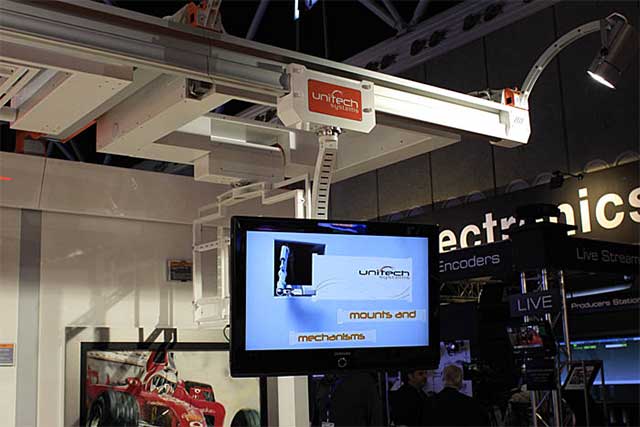 Unitech Systems hanging screen solution
Digital Signage needs not only screens but software, too. To broadcast content many companies develop players. The most popular today are solutions from C-nario (YCD Multimedia) and Scala.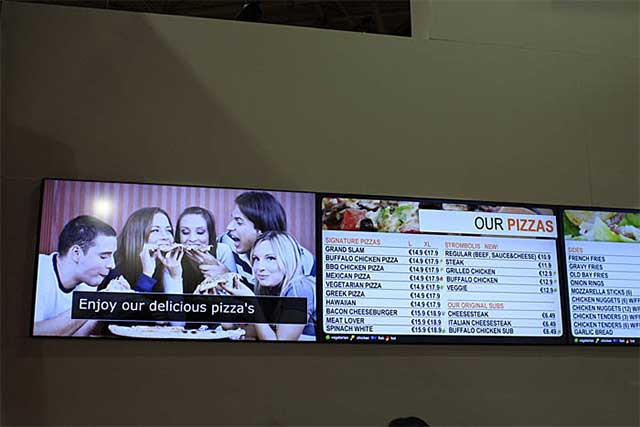 Digital displays with food menus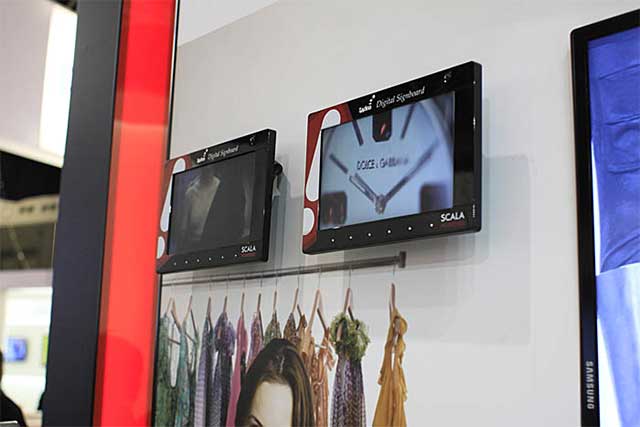 Displays operating under Scala
iAdea, Spinetix and Brightsign are companies offering mini-displays for various applications, e.g. TV conferencing.
Samsung set up predictably the largest show space attracting people by numerous innovations: design solutions for retail (panels for shop windows in various shapes), specialized hotel TV monitors, transparent screens, videowalls etc.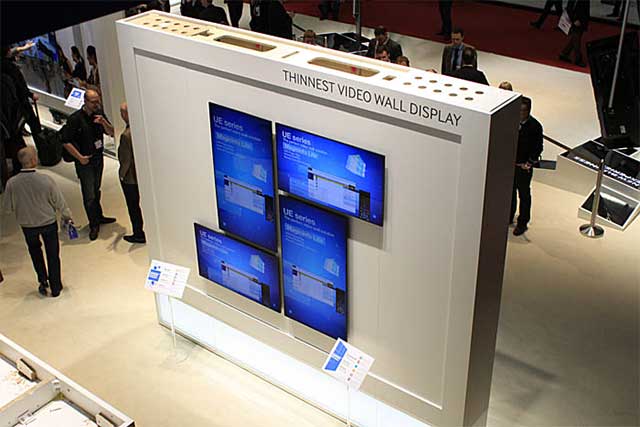 Extremely thin Samsung monitors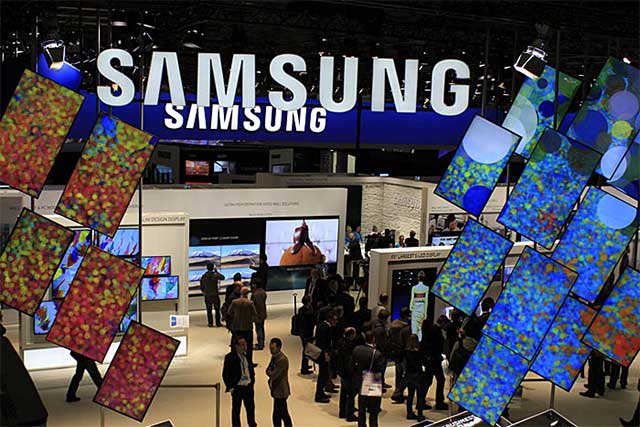 Samsung at ISE 2013
Samsung displayed the largest LCD panel with LED backlight. This gigantic 95-inch screen will be sold commercially by the end of 2013.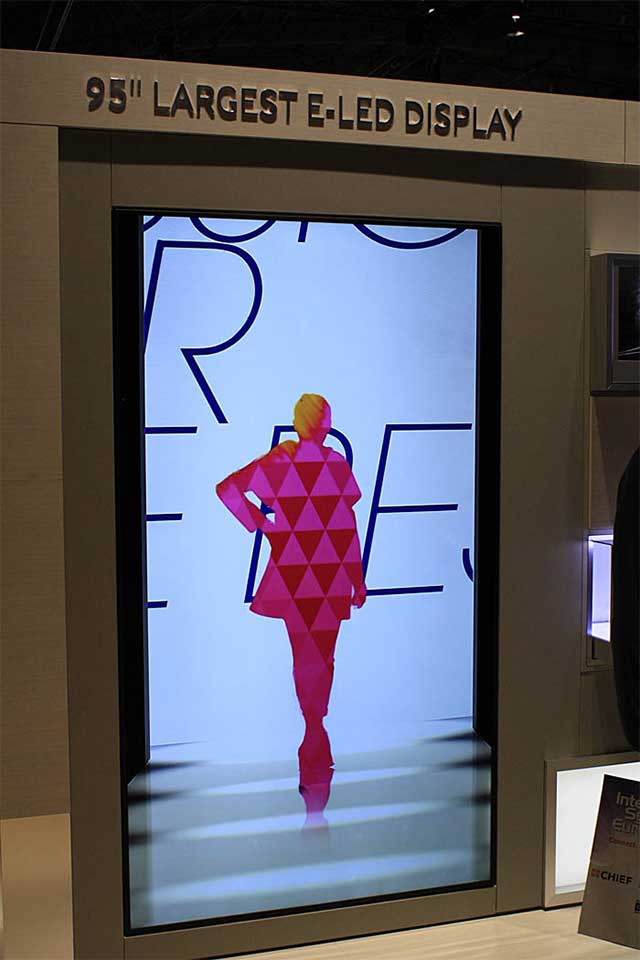 95" Samsung LCD screen with LED backlight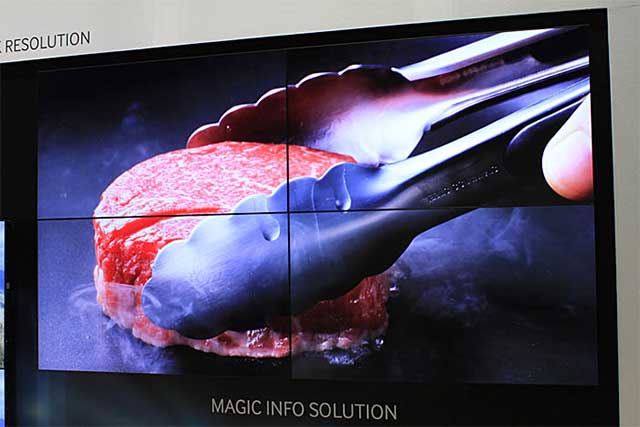 Video wall made of 55" Samsung panels and the seam of only 5.5 mm
A gigantic 3D video wall was brought by LG: ideal for event-shows, exhibitions and museum installations.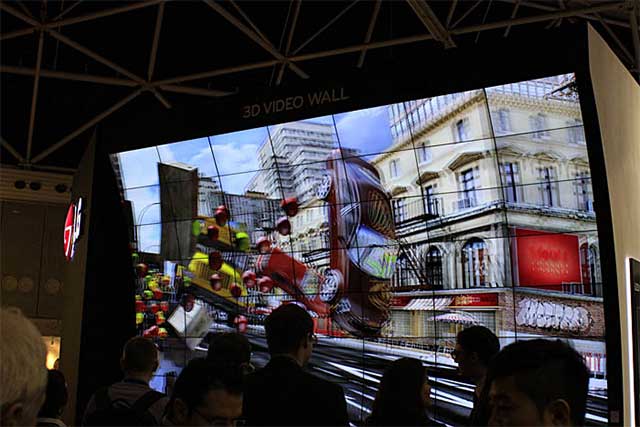 3D video wall by LG
Artur Holm presented a new generation of high-quality monitors Dynamic 3.
New generation of Dynamic 3 monitors
Mitsubishi integrated video with a bicycle simulator. All actions of a cyclist (turning, speed) are reflected on a screen. This is a simple video game – but an attractive one: to reach destination one must navigate through a lot of obstacles: people, bumps, cars. Makes the time spent on a simulator so much more exciting.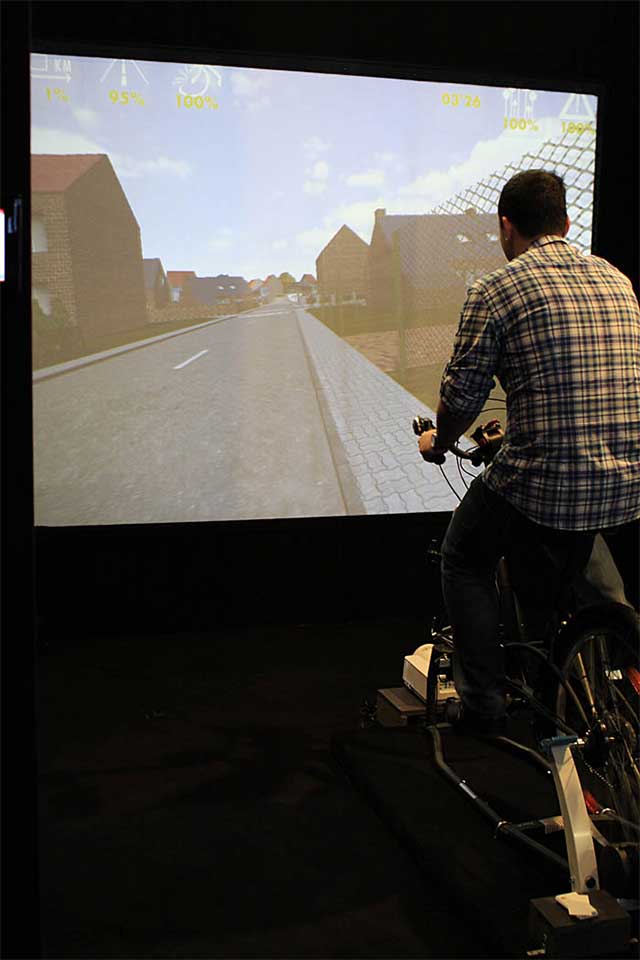 Video simulator by Mitsubishi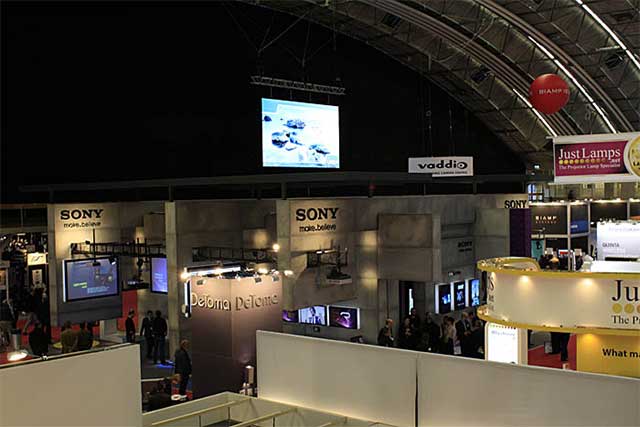 Sony at ISE 2013
NEC is mostly concerned with retail solutions: nothing new this year, though.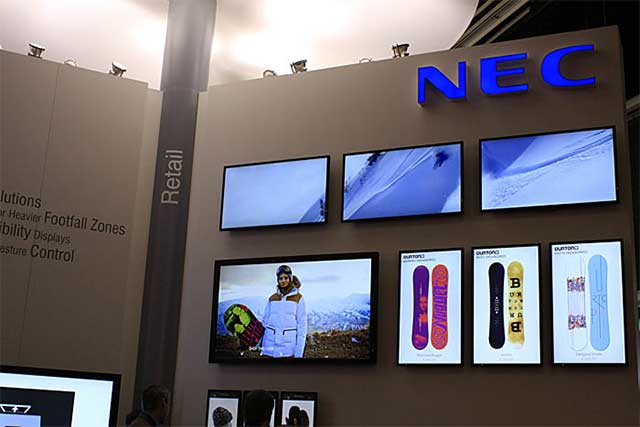 NEC at ISE 2013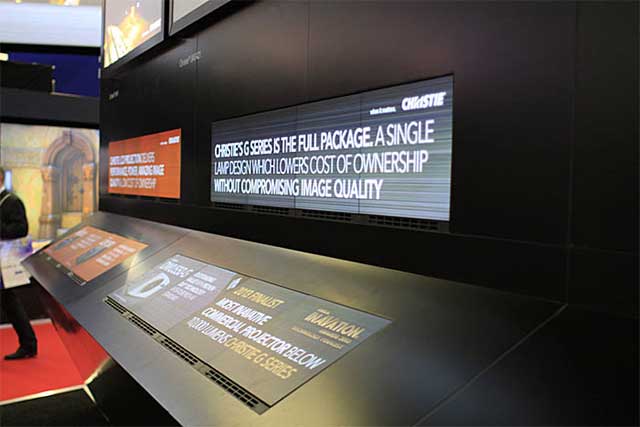 One of the possible applications using Christie Microtiles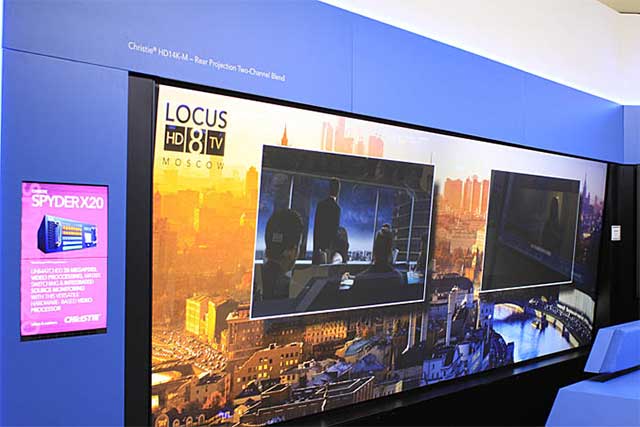 Rear projection screen by Christie
It is only natural that today digital technology allows to show screens within screens, offer extra thin displays with LED back light, connect TV screens to the Internet.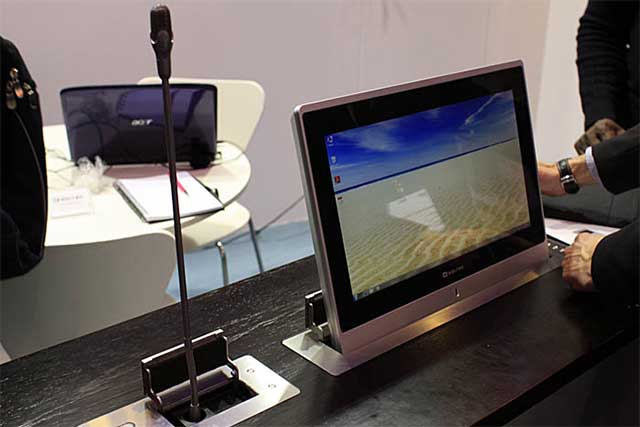 An office monitor with conference call system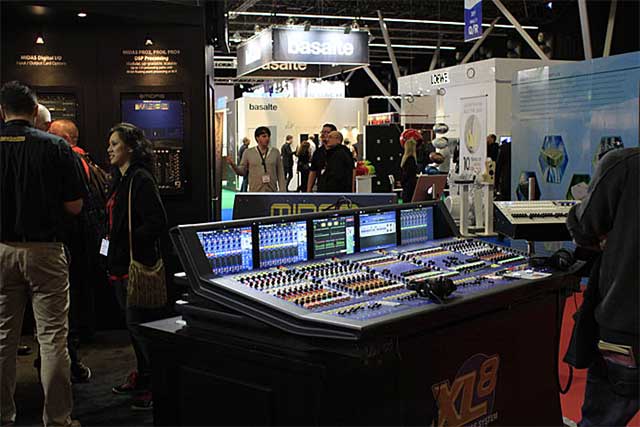 Audio mixer for concerts and shows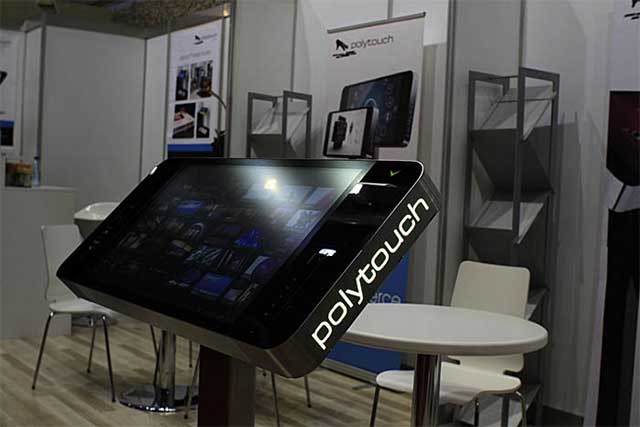 A sensor table in the shape of an iPad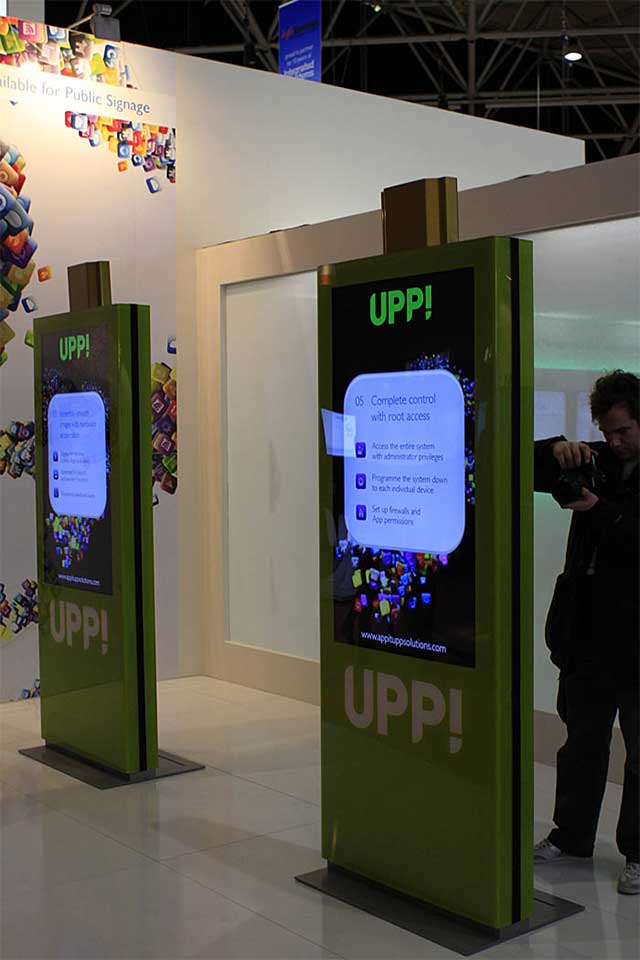 Interactive kiosk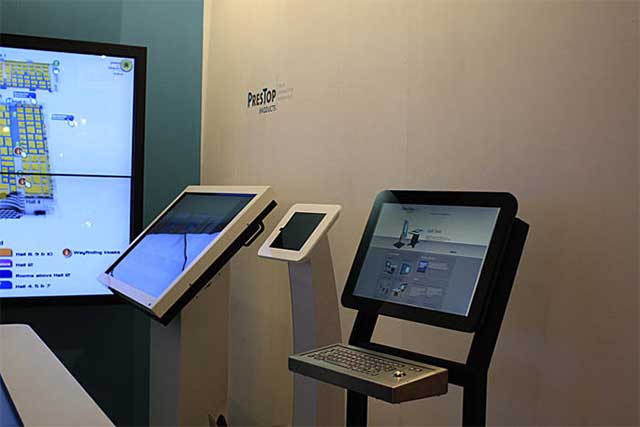 Sensor displays and interactive technology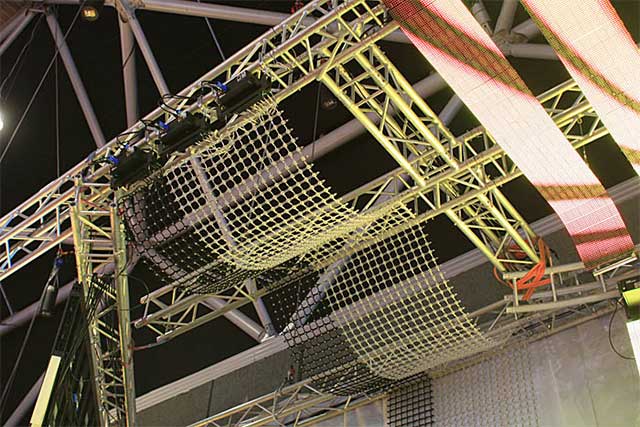 Possible application of flexible LED mesh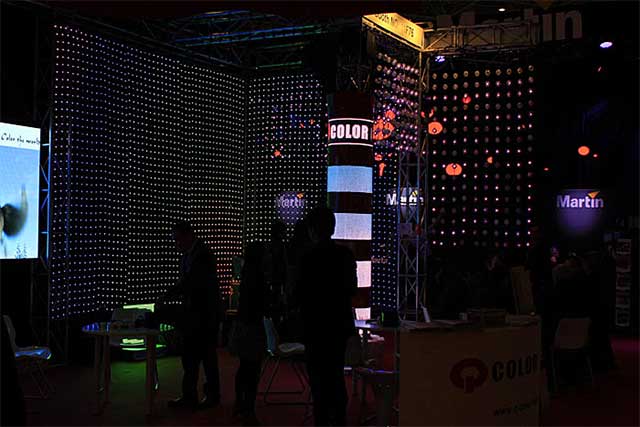 See-through LED screens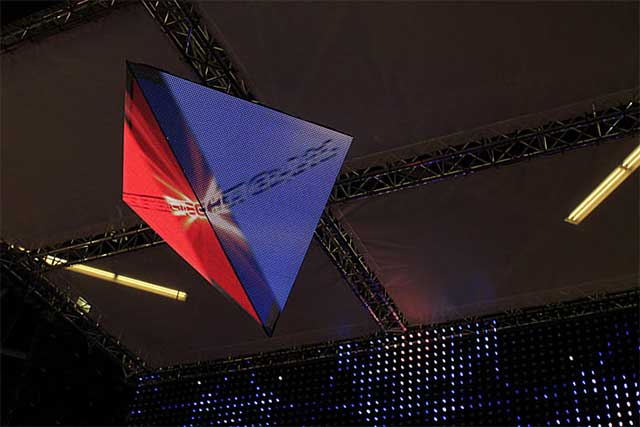 One of the many LED screens at ISE 2013
To enter and exit the exhibition one must go through a hall with enormous panoramic screen that is lighted up by ten projectors.

Huge panoramis screen with 10 projectors
ISE 2013 like other similar events convincingly shows that digital technology is a doorway to our future. So far, OLED is a disappointment, but specialists are talking more and more about the coming breakthroughs. LG already started manufacturing first models of OLED TV and invested nearly 700 million dollars into this technology. We will see what the next year brings!