LED Video Screens and Media Façades: 2013 Records
While the bureaucrats in some countries are waging a war against LED video screens claiming that the screens distracts drivers, blind them, present a road hazard etc., in other not the smallest countries in the world the LED video screens continue to conquer new territories and new functions for the sake of the public good.
Unwillingly, the traditional static billboards are giving way. LED video screens today replace not only the standard city billboards, but become more and more sophisticated, larger, and nice in form and shape. In spite of the hard economic times, customers hurry to invest in large-scale LED projects because they understand perfectly: in the cut-throat marketing race the winner must have strong and significant arguments.
Enormous Video LED Screen at Harmon Corner in Las Vegas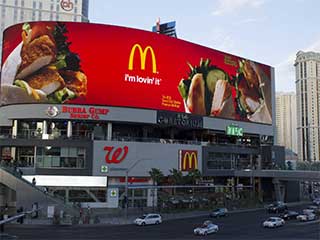 Las Vegas is the world capital of advertisement. It is spoilt and choosy. So, when something new appears in this city, it should be glamorous. And indeed this is true to say about probably the largest LED screen surface in the world that may run single or split-image content along the Harmon Corner Building. The screen is longer than a soccer field and could be dismantled to make more than 30 huge roadside LED screens.
Though manufactured and installed by Yesco some time ago, the LED video screen received a major upgrade after Branded Cities Network transferred it into a BroadSign International software platform. With the new programming software this huge screen of 18 x 93 meters (1674 sqaure meters) became an ideal advertising site for single or multi window mode. It promotes brands, displays logos (to be seen on the other side of the galaxy), may function in an interactive mode with mobile and social applications.
In 2013 Yesco seems to be doing well in spite of the financial crisis. It installed several large screens, including one more screen in Las Vegas. This time the customer was the Mandalay Bay Hotel, a tall high-rise near Las Vegas airport. One whole side of the building is completely covered with the video LED screen which is the tallest in Las Vegas: 18х75 meters. This, if the Harmon Corner screen is the largest in Las Vegas today, the Mandalay Bay Hotel boasts the second largest screen in the city of lights.
And this year the manufacturer of these LED wonders, the company Yesco Electronics, celebrated an installation of the 2000th LED video screen since the beginning of its business in 2002.
Huge Video LED Screen in the Reliant Stadium in Houston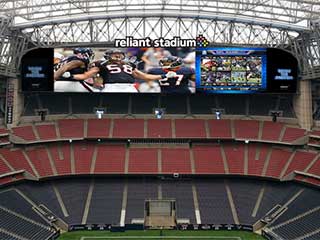 After the Harmon Building screen all others may seem insignificant in comparison, even such noticeable screen as the stadium LED screen in Houston. This "modest" 1300 square meter screen has physical dimensions of 16 x 83 meters. However, this modest screen has a unique peculiarity that sets it aside from the other similar projects. This LED screen manufactured by Mitsubishi Electric has extremely high resolution. With the pixel pitch of 16 mm the number of pixels in the image area exceeds 5 million 280 thousand. Quite an achievement!
Now, the rodeo fans (it is exactly this type of entertainment events that take place at Reliant Stadium) will be able to admire humongous images of video replays, even if they are saving money on cheap far away seats. The company Mitsubishi Electric made significant progress on US market after it launched a Diamond Vision tile series and became one of the largest suppliers of LED panels for sports events around the United States.
The gigantic video LED screen on Absa Lumen Tower in Johannesburg (South Africa) we wrote some time back. This Barco installation is so impressive that not putting in into the list of its huge competitors would be a blatant oversight.
LED Video Screen Covering the Media Façade of NASDAQ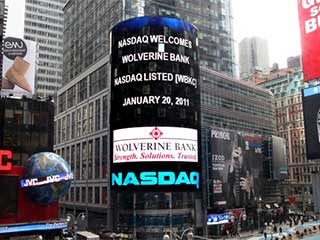 Our unofficial rating will not be complete without Panasonic. The company announced that a well-known fixture in Times Square is getting a digital signage makeover. The seven-story NASDAQ MarketSite Tower, located on the corner of Broadway and 43rd Street in New York City, will receive an upgrade to its 10 800 square foot LED.
To embark on such a noticeable and high profile project Panasonic established a strategic partnership with Branded Cities Network and ABC Regional Sports & Entertainment Sales Company. For the renewed screen to be really spectacular, Panasonic will replace the current NASDAQ MarketSite sign with a new high resolution LED video screen that exceeds the 4K Ultra High Definition standard for vertical resolution.
LED Media Façade in Copenhagen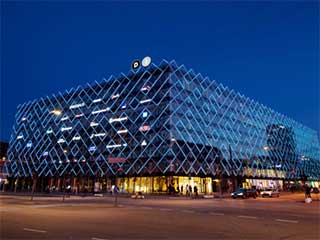 Large LED video screen projects are commissioned not only in large countries. Take for instance a tiny Denmark. This small country is well-known for thinking big. Martin Professional, Kollision and Transform Architects have refurbished the exterior of the Confederation of Danish Industry building in Copenhagen, which now boasts a façade highlighted by an ever-changing LED media surface for a more engaging presence. Founded in 1987 and based in Aarhus, Denmark, Martin is the lighting division of global infotainment and audio company Harman International Industries.
The media façade incorporates 4 000 meters of Martin Professional's VC-Strip in a customized outdoor solution, forming a harlequin pattern across the building on which a variety of graphic designs can be displayed. The LED strips are full-color RGB LED battens with each LED (over 90 000 in total) individually controllable in terms of color, brightness and intensity. Made of seemingly ugly small LED clusters, the strip completely transform the building into a magical Scandinavian palace of lights.
Video LED Screens for Fashion Outlets in Chicago

Here is one more amazing LED structure impressive in size, excellent architectural design, complexity of software solutions in running the advertising content. These are 11 video LED screens and strips that cover the façade of the recently commissioned Fashion Outlets Complex in Chicago. Manufactured by Daktronics, the LED panels cover nearly a third of the formidable façade. The panels offer an excellent picture quality due to the tight 10 mm pixel pitch. The total area of video LED screens covering the Complex adds up to 1 800 square meters. Small will not impress anyone today.
Video LED screens are becoming bigger and bigger, their resolution exceeded the resolution of standard TV screen and moved to HD and even Super HD area. Video LED screens are becoming the status symbols for companies, they help selling goods, services and image; they light up our streets and decorate out city landscape. Apparently, we will return to this topic time and again as LED screens conquer new technological heights. What is important is that the number of screens is growing steadily. Video LED screens defy the economic crisis!