Flexible LED screens: Wrapped up in a display
Today we all know main competitors for the market of indoor digital advertising: TV monitors of various sizes and types, front and rear projection screens, LED screens (both RGB LED and 3-in-1, SMD and Dot Matrix).
It looks that LCD monitors confidently win over major public locations: in shops, boutiques, banks, railway booking offices etc. TV monitors are getting thinner and lighter thanks to LED backlighting and much larger – upto 108 inch. LCD screens are getting almost as big as indoor LED tight pixel screens (4-6 mm) but remain drastically cheaper. The innovative OLED technology is far from being mature and extends mostly to mobile phones and portable communicator's screens.
However in this imperfect world of ours no technology may rule supreme for long. New LED applications appear more or less on a regular basis only to disappear without trace. Thus, we wanted to draw attention to some front runners that have been in the race for some time already: Magink displays, Christie MicroTiles projection screens and Prysm LPD displays. We will not repeat what we have already said in our articles. Let us just mention that the only time will tell who has better chances for success. Meanwhile all these three technologies are still doing well and keep puffing along. But new contenders keep springing up.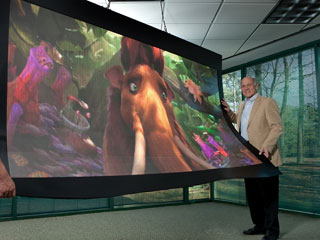 Flexible LED screen by NanoLumens
Photo credit: NanoLumens
In 2010, NanoFlex technology surfaced in the USA. Sure, it was immediately called "revolutionary". Sure, it was the only one of its kind. While manufacturers are advertising and independent specialists evaluate, it's the customers who take the risk of buying and using the as yet immature product. At present little is known about the NanoFlex technology. We can only sum up that these flexible LED screens ate really thin and light-weight and are based on seamless matrix of 4, 5 and 6 mm pixels. NanoLumens claims that flexible LED screens maybe of any size though no one has seen their LED screens bigger than 5 square meters.
At the recent DSE 2011 (Digital Signage Expo) in Las Vegas the company presented 112" flexible LED screen (1.7x2.3 meters). The flexible LED screen is made up of small 7x3.5 inch modules. A really amazing parameter is its thickness that does not exceed 1.5 inch (4 cm). Manufacturers claim that the flexible LED screen is extremely energy efficient. Combined with the claim of its improbable brightness of 5000 nits that claim sounds like a modern fairy-tale. For indoor applications the brightness of 2000 nits is more than sufficient, and the samples presented at various exhibitions are excellent but do not boast unusual brightness or vibrant colors.
Another parameter which is extremely valuable is the possibility of the front-end service. This useful option is only available on a limited number of LED screen models in the market and it significantly increases the list of places where such screens could be placed. NanoLumens also offers flexible LED screens in virtually any shape or size to meet each customer's unique requirements. Specifically, NanoLumens product line includes both flexible (rectangular LED screens) and non-flexible frames in round, square, and triangular shape. This allows customers to fit LED screens to practically any space. Previously it was necessary to install screens. With NanoLumens technology we can now talk about "hanging" the LED screen on a wall like a carpet.
Bally Technologies and flexible LED screen by NanoLumens
Photo credit: NanoLumens
Flexible LED rental screen NanoFlex at the trade show
Photo credit: NanoLumens
So, soon our walls will be transformed into "audio-video surfaces". In his recent interview the President of NanoLumens, John Wilson disclosed the price of their 112 inch flexible LED screen on the US market. If all of the above has not yet amazed you, read this: the price is 75 000 USD while the rent for 2-3 days will cost you 16 500 USD. John Wilson believes that this price is quite acceptable for the premium high-end market, at least for the time being.
Naturally, we need time and statistics to see what this technology is really about. Every technology has to be mature before it turns from the outsider to the mainstream leader. Let's hope that NanoFlex flexible LED screens will not follow in the path of pagers and fax-machines and will not become a dead-end trend in LED technological development.
Some experts believe that the market of digital displays will reach the level of 14 billion USD by 2017 in spite of the negative trends in the financial and economic sectors. As you see it is an attractive market to fight for!