Corporate lobbies: The new landscape of digital signage
As skyscrapers have emerged over the decades, the corporate lobby has been a broad canvass for architects and anchor tenants to create lasting first impressions of a company's presence and brand. In such instances building lobbies have evolved from a small reception desks and bare-bone stone wall waiting area to Public Art lobbies with all manner of sculpture and painting. Beyond that in recent times through digital signage - culture and corporate branding have gained equal value as a premium communication opportunity to connect anchor tenants with their building visitors.
Here the corporate lobby should be considered less as a building entrance that funnels its visitors into the building and more as a golden opportunity for a corporation to present itself with a dramatic visual impact. Architecturally through digital signage, it is the challenge of integrating all these dynamic requirements into a singular expressive visual entity. Thus the physical space of a corporate lobby has taken on new meaning as an extension of the anchor's tenant's corporate identity. The solution is to use that space as a way to present the company's culture and corporate mission to an ever constant audience streaming through the building.
Gone are the days of just hanging tapestries on the wall as a temporary art space. With today's emphasis on branding and all the available digital audio/visual media that can be brought to the forefront, the corporate lobby is becoming the voice of the corporation, visually showing off its mission as a "living" part of what it does for the public it serves. Corporate lobbies who have capitalized on this have used every display technology available from LED screens, LCD screens, video projectors and other forms of multimedia equal to portraying the company's presence in a dynamic fashion.
In a tour through several corporate lobbies, it is interesting to realize the evolution of how corporate lobbies have transformed themselves from a traditional 'pass-through' space to a more functional corporate concierge space that has become an integral part of a down urban center. Our tour includes the IAC Building (Manhattan), 7 World Trade Center (Manhattan), Reuters (Times Square) and Comcast (Philadelphia).
As a way of making a dramatic first impression on employees and visitors to a building, the lobby has become a perfect starting point and digital displays offer the broad strokes and paint brushes to do so. In some instances the screens can be simple and functional, as in the New York City Museum of Modern Art where a strip of LCDs behind the reception desk becomes an electronic calendar of the day's events and a basic way finding system to help visitors navigate through the museum. In a more sophisticated approach, the lobby as David Niles (Niles Creative Group, NY, NY) has noted, "offers itself as a stage to a vast transient audience passing by, some who have less than five-minutes to appreciate your corporate messages." Stage or gallery wall, architects, sign integrators and anchor tenants who have the vision and budget are redefining their lobby space into a media event of their own making.
Reuters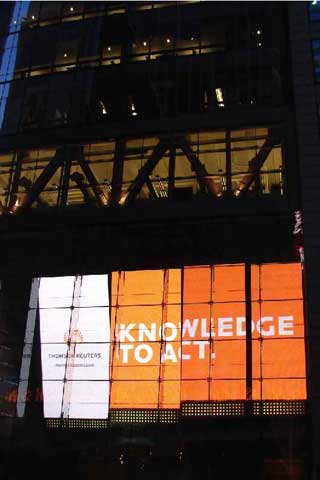 Reuters' 11-story media facade LED screen ends in its lobby, greeting visitors and employees who enter the building.
Photo credit: Louis M. Brill
One interesting corporate lobby approach is presented by Reuters in Times Square whose building is covered in an 11-story media facade (LED screen manufactured by Mitsubishi Diamond Vision) and is a physical metaphor for the company representing its core function of gathering information and recirculating it as print, radio, television and Internet news. The huge vertical display represents an antenna whose LED screen's vertical presence takes a horizontal turn at the base of the building and ends in its lobby. Thus information is gathered at the top of the 11-story display, streams downwards into the building where it is transformed and then in turn, sent out around the world as breaking news.
IAC
The IAC (InterActiveCorp.) company (Chelsea district, Manhattan) is a leading Internet company with more than 35 fast-growing, highly-related Internet brands serving loyal consumer audiences of up to 173 million unique monthly users. With its various Internet brands, IAC provides "interactive" consumers access to a vast commercial and social Internet community. The Frank Gehry-designed building with its distinctive "iceberg" shape is not only a destination because of its unique architecture, but also its lobby as well.
To represent the company's activities, it commissioned a set of visual displays to be placed within its lobby areas, that truly became the "voice" of its corporate endeavors. The screen technology was unique in that the company selected video rear projection as a basic presentation format for its displays. It was noted that video projection was chosen over LEDs because the viewing situation of a 10-point font at a foot away, at that time was a requirement that LED screens were not yet capable of.
The smaller video screen (eleven-feet tall by twenty-foot length) is located behind the IAC reception desk and shows off a complete 360-degree image of the Earth. Visitors near the reception desk (East Wall) are able to interactively activate the globe and rotate it to any part of the planet to view various company locations and observe in real-time, its worldwide web traffic as related to IAC business activities.
Video screen behind the IAC reception desk displays IAC Internet activity around the world.
Photo credit: IAC
The bigger video screen extends the full length within IAC lobby area. Note the sculptured wooden bench in front of it for viewers to watch in comfort.
Photo credit: IAC
The IAC media wall has become a multi-purpose venue as it serves the corporation, and the community and as well, student artists from nearby universities who are challenged to provide content for it. Overall the media wall's content is divided into a series of modules to represent the various IAC corporate brands. The Ticket Master module generates real-time representation of where its major concerts are taking place around the world, Ask-com delivers real-time news feeds to its lobby viewers, showing off its world wide net of international sites that it connects to.
7 World Trade Center
Sunrise Systems, (Pembroke, MA), a LED manufacturing company specializing in outdoor and interior message center systems has transformed many a corporate lobby with electronic message centers. Henry Appleton, president of Sunrise has noted that the company has done at least eight or nine corporate lobbies with dynamic text displays. Many of these Sunrise LED message centers are very architectural in their installations conforming to interior building curves, wall placements or in some instances, built into lobby desk furniture.
The 7 WTC display as a huge white LED message center
Photo credit: Andreas Keller
The 7 WTC display as a huge white LED message center is easily seen by pedestrians passing the building's front lobby.
Photo credit: Louis M. Brill
As Appleton noted, "it's always the text content that defines these displays." as he referred to one of his most visible installations, at 7 World Trade Center in Lower Manhattan. Here 7 WTC utilized its lobby space for an inspirational Public Art display. With a commission to Public Art artist Jenny Holzer, who specializes in using language as art, transformed the 7 WTC lobby into a public discourse of text messages on the poetry and prose of New York City authors from Elizabeth Bishop and Allen Ginsberg to Langston Hughes and Walt Whitman - whose work evokes the history and spirit of New York City. It takes approximately 36 hours for the entire text to scroll by. The text is fully visible from the park outside the building, creating an animated public setting.
Appleton described the 7 WTC display as a huge white LED message center (65-feet long x 5-feet tall) presented a single screen located behind the lobby reception desk and ran the entire length of the lobby area. Set at eye level, the screen was covered with a sheet of glass that not only protects the display, but acts as a diffuser making the text more readable.
Comcast Headquarters
Perhaps the most spectacular example of a corporate lobby display is within Comcast's Philadelphia headquarters' housed in its recently completed 57-story skyscraper. With a high definition LED screen manufactured by Barco and completely covering the building's elevator bank wall (25-ft. tall x 83-ft. long), the high resolution LED video screen has not only transformed the lobby space into a public destination, but also an entertainment area with a growing audience.
The video screen takes up one entire wall of the lobby atrium space and is filled with compelling video content that just about draws the attention of all building visitors and commuters passing through the Comcast lobby. All screen content and show control engineering was developed by Niles Creative Group (NY. NY) as a way of showcasing Comcast's mission as a media company. Rather than a direct promotion for the company, the content was created as a homage to the world around us (nature, outer space vistas, sports activity), and to downtown Philly. There is also some whimsy with a series of vaudeville vignettes dedicated to the visitors and viewers who all stop to watch the display.
Comcast's high definition LED lobby screen manufactured by Barco
Photo credit: Niles Creative Group
The world's largest 4 mm LED screen with incredible resolution – 5X that of an HDTV
Photo credit: Courtesy Comcast Center
The world's largest 4 mm LED screen in Comcast Center
"We view the lobby media wall as the front face of the corporation," says producer David Niles. "The Comcast lobby space was conceived as a spectacular place to be in and where people would gather to energize the Philadelphia downtown area. We were challenged to create compelling entertainment that takes our audiences to some place else momentarily and then brings them back to the lobby. The reward for both our company and for Comcast is to see the hundreds of people in each day's audience pointing, smiling and taking pictures of the lobby wall."
New York City Museum of Modern Art
New York City Museum of Modern Art uses its LCDs behind the reception desk as an electronic calendar of the day's events and a basic way finding system to help visitors navigate through the museum.
New York City's MOMA LCD displays behind the reception desk is used among other features, as an electronic calendar.
Photo credit: Louis M. Brill
A sign of distinction
Given the importance of corporations maintaining direct and continuing contact with the public, lobby space has become valuable real estate for potential signage opportunities to create that first and lasting connection with the public passing through its portal. How that signage is deployed depends on the anchor tenant; it may be informational, it may be way finding, or even whimsical entertainment.
If it's done right, the passing viewers will never forget it. After all the Comcast lobby display is so awe inspiring that local schools are sending their students to view it, Philly tour groups are seeking it out as a destination to visit and local residents are known to bring lawn chairs to watch the displays as a weekend show. Now that's a sign of distinction that could set the bar for getting people to really pay attention to lobby displays.
Louis M. Brill is a journalist and consultant for high-tech media communications.
He can be reached at (415) 664-0694 or louisbrill (at) sbcglobal (dot) net