Outdoor LED billboards and fight against terror
The efficiency of outdoor and indoor digital advertising is being discussed the world over. One indication that this new mass media has serious influence on people is that outdoorLED billboards are becoming a constant source of information about wanted criminals and terrorists. This new application and useful function of LED billboards was initiated by the largest US outdoor digital advertisers and LED billboard operators.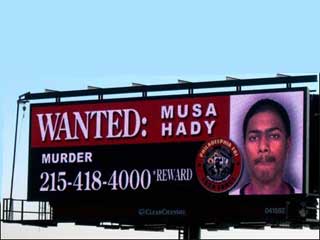 Clear Channel Outdoor LED billboard
Photo credit: blogcatalog.com
Starting with 2007, the US operators of dynamic outdoor digital advertising (i.e. LED billboards) have been offering a useful utilization of their billboards: digital LED billboard is an ideal media for searching out wanted criminals. Unique functions of outdoor LED billboard networks allow the authorities to upload the necessary content, photos and announcements to LED billboards and outdoor digital advertising networks in real time. One of the first such experiments was discussed in our article "Digital LED screens and American bureaucracy" several years back.
The initiative was highly appreciated and many LED billboard operators followed the suit. According to Privacy Digest, in 2008 FBI proposed to install 150 digital billboards in 20 major US cities in cooperation Clear Channel Outdoor. Apart from outdoor advertising these digital billboards broadcast information about escaped and wanted criminals and missing persons. The FBI issued a press-release where it was stressed that digital billboards provide the space as a public service, which will enable the FBI to highlight individuals that they are seeking, including violent criminals, kidnap victims, missing kids, bank robbers and more. On the average the information on digital billboards nationwide helps authorities to locate 2-3 people each month.
Clear Channel was the first company to sign an agreement on "social partnership" with FBI (according to Star Tribune, 15-th January 2010). The FBI's New York Office, in partnership with Clear Channel Outdoor, recently unveiled a digital LED billboard in Times Square (at the cross roads with 47th street) slated to highlight wanted fugitives, missing persons and high-priority security messages. "With millions of people passing through Times Square every year, there is no better way to draw attention to our most wanted fugitives than through this LED billboard initiative," said Joseph M. Demarest, assistant director in charge at the FBI's New York office.
LED billboard by Clear Channel Outdoor at Times Square
Photo credit: sanluisobispo.com
According to information published by Digital Sign Magazine on 18-th January 2010, the FBI currently has access to more than 1 500 digital billboards in more than 40 states through this initiative. At least 30 cases have been solved as a direct result of digital billboard publicity, with many more cases solved as a result of an overall publicity effort, said the FBI. About 40 FBI field offices are participating in this initiative using the digital billboards of several companies. More than 430 Clear Channel digital billboards in 33 U.S. cities have the potential to be utilized by the FBI at any given time, according to the FBI.
It is obvious that the proposal of outdoor digital advertisers to combine digital commercial advertising with important social information is based on solid common sense. Digital LED billboards acquire a new and important social function, become a tool in the constant fight of Special Forces against crime and terror and at the same time improve efficiency of commercials since the passers-by pay more attention to video images on outdoor digital billboards knowing that they see something of vital importance there.