One day with LED screens in Paris and Bucharest
It so happened that our correspondent spent a day in two European capitals: Paris and Bucharest. Naturally, a day-long glance at LED screen structures in both cities could only be brief and incomplete. However, certain facts are worth writing about.
LED screens in Paris
Paris authorities vigilantly protect the city from excessive advertising and maintain an ad-free historical and architectural identity of the city. As a result, it's not easy to find an LED screen in Paris.
| | |
| --- | --- |
| | |
| LED screen on the International Congress-center | LED screen on a façade of Castorama trade center |
However, we found two small LED screens in the center of the city built into the façades of buildings. One of them is positioned on the façade of the Galerie des Champs Elysees trade center, the second – on the International Congress-center on Grenel street.
Strict government rules prohibit construction of high-rises in downtown areas. Therefore modern towers are mostly constructed in the Western Paris, in La Défense area. One of these towers is a large business center housing HQs of several banks and insurance companies. Naturally, such area could not do without an LED screen. The screen is positioned on a façade of Castorama trade center.
All LED screens are high cost and high quality models. But they are few and hard to come by. LED screens are not the only LED applications that can be found in Paris, though. Non-media applications are much more numerous: LED crosses for drug-stores, LED traffic signs. LED illumination etc. Other types of Out-of-Home advertising can also be found all over the city. But the general impression is that outdoor advertising is scarce and subdued.
LED screens in Bucharest
In terms of outdoor advertising and LED screens Bucharest seems drastically different. This capital and economic center of Romania is located in the south-eastern part of the country. Bucharest is told to be constructed on seven hills like ancient Rome. Before the Second World war the predominant architectural style in the central part of the city was beaux-arts, and eclectic style following the Italian renaissance. This tradition continues today thus affecting the general city planning.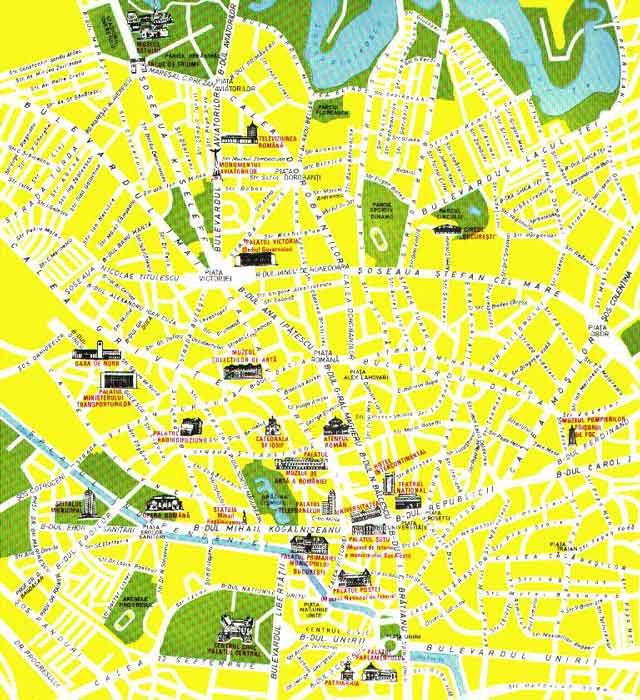 Central city plan of Bucharest
The city of Bucharest looks much like Paris. Squares with circular traffic are interconnected by streets coming out of squares like beams. But where Paris has no LED screens, Bucharest boasts many. One or two LED screens are located around nearly each square.
Naturally, the most high-profile LED screen complex was supplied by Daktronics. Although the construction of the trade center is still under way, the LED screens are already in operation practically stunning pedestrians with high-quality bright and dynamic imaging.
LED screens project completed by Daktronics in the center of Bucharest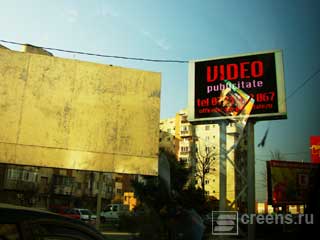 Empty billboards and operating LED screens
Another interesting observation concerning outdoor advertising in Paris and Bucharest: approximately 20% of all standard outdoor media carriers are standing empty. Apparently, this is the result of the on-going financial crisis that hit advertising companies. However all LED screens in both cities are filled with commercials which only means that this type of media carrier is in constant demand and is prioritized in planning of advertising campaigns.
Talking about LED screens in Budapest it's important to stress that the majority of LED screens are low or medium quality models, probably made in China for the low market segment. Some LED screens already developed obvious image defects (like color mismatch or brightness degradation). All LED screens are cabinet type structures.
Among positive features of Bucharest LED screens we can mention light-weight and sometimes even graceful support metal structures developed and manufactured by local contractors. This is a positive advantage: low weight, economy of materials and pleasant appearance. At the same time electrical cables are laid out in an efficient, economic and unobtrusive manner. Ergonomic designs sell better!
Examples of LED screens on Bucharest streets
Such were the LED screens impressions of the two cities: so much similar and so much different at the same time.