LED screens and signs in Chicago: Technology and common sense
Researching materials on various projects of the leading world LED screen manufacturers, we were unwillingly lured by the topic of large sizes. Gigantic and hugely expensive projects are naturally breath-taking. However it is not for everyone to aspire to grandeur, some of us have to be firmly grounded in everyday small business.
LED screens have long become a symbol for large corporations. Finally, the time has come for this technology to mature and become affordable. Today even small business ventures can buy an LED screen and LED sign. Naturally, small business opts for small screens. This tendency became obvious for us during the recent trip to Chicago.
Outdoor LED screens in the streets of Chicago
This large industrial US city is spectacularly low-key compared to many similar-sized cities around the globe. Chicago does not have so many expensive and flashy projects in the area of digital advertising like New York. However, what is pleasing is the long expected advance of digital advertising to the areas of small and medium businesses. The examples were abundant. Small cafes and bars, real estate agencies, hostels and other service-providing enterprises started to order and install LED screens and signs outside their offices and entrances to lure clients.
A small LED electronic screen does not mean primitive. Most of the electronic signs are new and sophisticated. Taken for example an elegant LED outdoor sign in the center of the city. Twisted spiral is an excellent sample of modern architectural design. Not to forget about a complex specialized software that allows to display text and images without distortions.
| | |
| --- | --- |
| | |
| An LED spiral vertical sign | LED screen announcing the entrance to a Chicago café |
Chicago is well-known for some unusual projects in the area of outdoor LED screens. Here we should briefly mention a widely publicized LED screen-fountain Crown in Millennium Park: two separately standing LED screens facing each other across a walking square. The screens display faces and a fountain pours out of their mouths (luckily for us, the water is turned off when the weather is cold).
LED screen-fountain Crown in Millennium Park
Photo credit: Serge Melki
LED screen in front of a mall in Chicago
LED tile technology progressed to the point when tight pitch is no longer prohibitive in price. As a result even a relatively small screen can display bright simple animation pictures and text messages of good quality readable from afar. It's interesting how screen owners prefer to combine a traditional sign (usually the name of the enterprise) and the area with LED modules. Sometimes a one-color running letters sign is attached at the bottom. Such combination allows to maximally enhance the efficiency of the digital advertising and reduce its cost to the absolute minimum.
| | |
| --- | --- |
| | |
| LED screen near a sports bar in Chicago | The same LED screen and giant static billboard |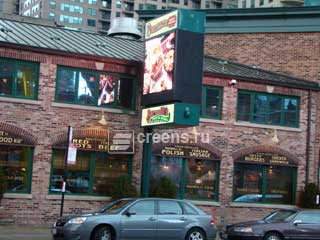 LED sign on a restaurant in Chicago
It was interesting to notice that some of the small and delicately manufactured LED signs are located next to huge monstrously bulky and expensive old billboards. When these structures of old and new advertising carriers are seen close together, one realizes how fast new technology (LED screens) triumphs and gradually replaces what used to be modern and sophisticated only a short while back (stationary billboards).
Small business finally realized the usefulness and efficiency of digital LED screens and signs. Today this interest in LED e-signs helps to survive to LED screen manufacturers who are having hard time competing with heavy-weights like Daktronics in large commercial projects. Luckily these smaller LED screen makers have finally found a new market niche. Small LED screens make businesses successful and visible, and small city streets brightly lit and attractive.