Marquee magic: Marquees become a window to stage and screen!
With this publication we continue the series of articles by the well-known US journalist and expert in media-technologies Louis Brill. In our June edition we reprinted his article "Media Façade World Tour!" Today's publication continues with the information on LED theater marquees.
Marquees have always been a fixture of theaters acting as an "announcer" to proclaim the magic of stage and screen to be seen inside. Today that can all be done via LED message centers directing the public's attention to what's playing inside the theater.
As the theater marquee is evolving into its electronic display counterpart, it presents a visual range including horizontal text message displays, full color graphic display boards and even high definition video screens. Even as some of the older, still existing movie palaces of yesteryear are modernizing their physical facilities, they too are bringing in LED displays to add some hi-tech glitz and glamour to their theater facades. Often these older theaters are land marked with architectural distinction, making them more of a challenge in combining a modern, electronic sign system with a pre-existing historic look, but it has been done as will be discussed within this article. With the ongoing momentum of marquee improvements, we explore several theater venues and their embrace of LED displays to modernize their theaters in how they promote their shows.
New method to an old standard
As film exhibitors build new movie theaters or update older venues, LED-based marquees are becoming a de facto standard for movie theater facades. David Ramirez, Daktronics's New York City senior account executive pointed out the most obvious advantage in managing an LED theater marquee is the theater staff is no longer required to do marquee display change outs with a ladder and box of plastic letters. Now, with a computer, keyboard and a few mouse clicks, marquees can be updated with new titles and show times to accommodate ongoing program changes.
On a basic level, a typical LED message display system is placed as a horizontal band that wraps around the front of the marquee. Once installed, it offers a monochromatic, text display that presents an ongoing stream of information about film titles, film ratings (PG or R, etc) and sometimes, a movie star's name. The next step up from a mono display board is a full color LED screen. "Given the marketing possibilities of full color graphic boards, and that these higher end displays are becoming more affordable to theater owners," says Ramirez, "they are now able to capitalize on electronic movie marquees that are more visual in their approach to promoting their theater's current movie titles."
"By adding color and animation to the marquee, the displays become more effective, more people notice them and hopefully buy more tickets to the shows inside. Theater operators who have these graphic-based displays," says Ramirez, "find it very easy to update their marquees with special movie theater web sites. Here they can select out appropriate graphics for the movies they want to promote, import those files and transfer the content to their marquees, making it more visually interesting and bringing more business to the theater."
Apollo Theater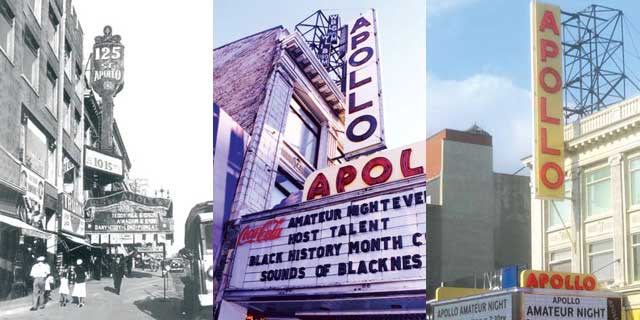 Apollo Theater
Photo credit: Apollo Theater
In some instances when an older theater being refurbished has a land mark distinction, it becomes a double bind of two conflicting viewpoints. On one hand the building calls for modernization, which is a necessary obligation in an increasingly competitive entertainment marketplace, but on the other hand it has to be done while conforming to the Landmark Commission's regulatory guidelines.
Often the landmark committee ruling on the changes will specify that much of the change has to conform to what the building originally looked like. With these guidelines in sight, New York City's Apollo Theater in Harlem recently embarked on a multimillion dollar refurbishment of its property. This included its façade, and most visibly, its original marquee reader board, which was modernized into an electronic LED marquee with a very "interesting" look as a solution to the Landmark Commission's guideline challenge.
Harlem's Apollo Theater (900 seats) was originally built in 1914 and to this day has a musical heritage that is the cornerstone of American jazz, Rhythm & Blues, comedy and soul music. Over the decades, audiences have seen an endless line up of world-class performers including Bill "Bojangles" Robinson, Bessie Smith, Ethel Waters and Duke Ellington. More recently the likes of Whoopi Goldberg and Bill Cosby have come to Apollo's stage.
During its building refurbishment, the Apollo Theater organization commissioned RULE7MEDIA LLC. (NY, NY) to re-conceptualize and execute a new plan for the marquee and also to plan the marquee's content creation to promote the Apollo's ongoing shows. "Our sign strategy included not only bringing on-line a new electronic marquee," noted RULE7MEDIA president, Rik Willard, "but also installing and operating a series of nine street level plasma screens used to promote the theater's current and new show offerings to the public."
"Managing this marquee refurbishment was tricky because the Apollo Theater is both a state landmark and a national landmark, as well as an icon-status destination for tourists from around the world. Having that kind of "image protection" on a building always makes for a challenging project in how you change or update a building feature. The landmark committee provides this building with its special status because of the building's brand and heritage. At the same time, because of the importance of that heritage, there is always a fear by the landmark commission of how much will that new signage affect the original look of the theater that they're trying to preserve."
RULE7MEDIA's final solution proposed to install an LED message center for a marquee, with a visual look that made it appear as the very sign it was designed to replace. We selected a full color, 12 mm pitch eVidea LED display with three discreet faces, the largest one (24' x 4'8") facing the street traffic and two side faces, (both 17'4" x 4'8"), from Multimedia LED Displays (Rancho Cordova, CA), and used it to emulate the marquee's original look of a white back lit sign face with its plastic letters and horizontal grid lines of the a 1940s theater marquee. The difference of course, was that this electronic marquee no longer required a staff member to approach it with a ladder and a bucket of plastic letters. The other difference is that it's much brighter and can be seen by more people from further away.
The issue of course was that because of this retro look of the marquee, it limited how the marquee could be visually presented (no use of graphics, other colors or video) in promoting its upcoming acts. We compensated for that with the installation of the nine plasma screens which were used to modernize the theater's promotional abilities. Here we installed the plasma screens at the street level in the lobby and vestibule areas. This enabled us to provide a more real time presence of communicating the Apollo Theater's entertainment programming to the public.
Willard stated that community reaction to the Apollo Theater marquee has been very favorable. "People who live in the community were previously familiar with the old marquee and when they saw the new one, on the simple level of it just changing its sign face they were able to appreciate the difference and the inherent visual possibilities. Through the use of LED technology, we hope that the community (and the Landmark Commission) will ultimately realize the full potential (color and animation) of how the marquee can be used to increase the theater's ticket sales and with an improved look that provides more of a quality viewing experience for potential customers."
Morris Performing Arts Center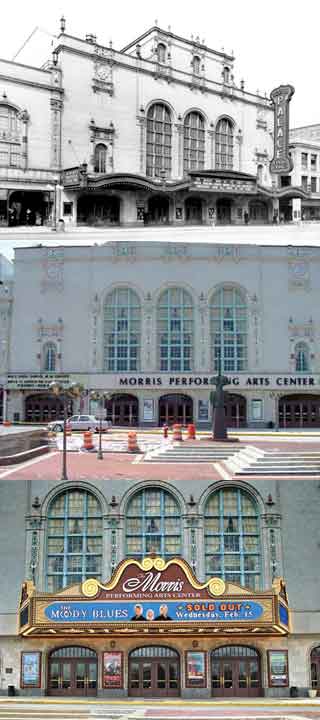 Morris Performing Arts Center
Photo credit: Morris Performing Arts Center
In another instance of a land marked theater building balancing its modernization against its landmark status is the Morris Performing Arts Center (2,560 seats) which first opened in 1921 in South Bend, IN. Originally built as the Palace Theater it was created as a multi-purpose theater venue that offered everything from live shows to vaudeville acts. After 78 years of being opened, closed and reopened, the Morris, in 1999 entered into a rehabilitation that renovated the entire theater, including its marquee.
After 26 months the renovation was completed and in May of 2000, Dennis J. Andres, came aboard as the new Executive Director to the Morris Performing Arts Center. He had noted at the time that the building no longer had a marquee of any significance. Andres pointed out to his staff, "If we're going to make it out here, we need to have a marquee that befits the building". It was decided that in replacing the original marquee, not only did they need a new marquee, but they needed one that could constantly present new messages informing the community about current and upcoming shows and special events.
With a decision to go electronic, the Morris Performing Arts Center selected Daktronics LED displays, using a full color ProAd display (3 feet high x 39 feet long) which had the capability to show pre-recorded video, animations and graphics as part of their overall visual promotion of upcoming theater events. The side panels, left and right of the front marquee were both Galaxy LED displays (3 feet high x 10 feet wide), were both capable of text, graphics and animation promos to the passing public. The screens fit perfectly over the front of the building and can be seen from several blocks away as vehicles and pedestrians approach the Morris, Performing Arts Center.
As for how the marquee is used, Andres noted, "we put a lot of effort into designing the content for our marquees. It's no different than planning for content on an electronic billboard. You have to learn about the proper use of color, use of animation and what the available viewing time (dwell time) is for vehicles passing by. This allows Andres's design team to create readable and memorable messages for drivers as they pass the theater marquee."
"When we first started using our electronic LED marquee, we thought we would need about ten minutes to put up some messages about our current and upcoming shows. Wrong. Once we started doing this, we discovered it took us about twenty hours a week to program the marquee the way we wanted it. Our LED marquee is actually three LED screens, the front or center screen which is a video display which allows us to do both still and moving images as well as strobing and twinkling light effects. Then we have the left and right side panels which are also full color, but we're a bit more constrained with use of graphic effects in what we can put on the side LED screens."
In promoting each show, Andres said the message design is influenced by the time of year and any seasonal colors that would help its design. "In presenting these promotions, we always like to have a picture of the performer(s). In doing this, we have at least three types of messages per show; a pre-show pitch, a 'Show Is Coming' reminder, and a 'Don't Miss' upcoming show display. There are subtle differences in these message statements, but we don't want to hammer the public with the same continuous messages all the time. What we do is alternate with several similar, but slightly different messages for each show. If we're lucky, the best and final message, 'Sold Out' will be displayed as soon as it happens."
Andres pointed out that comparing the Morris's first six months of last year (when they didn't have their marquee) and the first six months of this year (after their new electronic marquee was installed), show attendance had increased by at least 60%. "While not all of that attendance increase can be attributed to the marquee, I think that at least half the attendance increase can be attributed to it."
Nokia Theater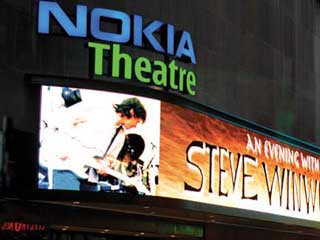 Nokia Theater
Photo credit: Arcadia New Media
The Nokia Theater proves beyond a doubt that location is everything and that also having the biggest theater marquee in New York City doesn't hurt either. The Nokia Theater (2100-capacity) and operated by AEG LIVE, which owns several world-class music concert sites throughout the United States and overseas. Here, located in the heart of Times Square (47th Street & Broadway). The Nokia Theater maintains a full color hi-resolution Mitsubishi LEDerAd LED screen.
Manufactured by Mitsubishi Diamond Vision, the LED screen is 85-feet in length, (10 mm pitch with a resolution of 1344 x 144 pixels) stretching about a fifth of the way down 47th street. Originally a movie theater, the Nokia Theater was refurbished (at a cost of $21 million) and recast into a multi-purpose, concert hall hosting live music concerts, web broadcasts, award shows and special events. Already it's stage has been graced with performances from Bon Jovi, Jay-Z, Rod Stewart, Gregg Allman, Skynyrd and Tom Jones who are a few of the many fantastic shows brought to the theater.
The operation of the Nokia Theater marquee is managed by Arcadia New Media Services (NY, NY), a company that specializes in video production, web design, DVD authoring and related new media production services. "Our primary job with Nokia Theater is to present the Nokia marquee as a motivator to selling tickets to its upcoming shows," says Daniel Salimbene, co-founder of the company. "Given our location where Times Square is a very media rich environment, we have to intensely compete for everyone's attention as they walk past our marquee. We do that by putting a lot of visual glitz on the LED screen. This gets a lot passersby attention long enough for them to see what's happening now and with succeeding show coming to the Nokia Theater."
"Thus, the theater promotions we design are divided with at least two simultaneous messages. This includes the main message on the center LED screen which promotes the latest act and the two additional side screens which promote other forthcoming theater events. This way the marquee is selling three shows simultaneously."
"A challenge for us in doing marquee design," says Jan Eckard, the other Arcadia co-founder, "is keeping your design style 'true' for each act coming through the theater. In one week of continuous bookings, we could have a country music program on Monday, a heavy metal-base on Tuesday, and next evening a corporate special event. The challenge is designing graphic promotions that are different enough to appeal to each diverse audience that attends the theater. There's nothing more dramatic for fans than approaching the Nokia Theater on the night of an event and seeing their favorite band's video clips going across our 85-foot marquee LED display. Doing this gets our audience excited even before they enter the theater."
"We use our marquee to promote the Nokia theater programs right up to the night of the performances. If all the event tickets are gone, we'll post a big SOLD-OUT on the marquee which tells the public that we're a busy house. It gets the music people excited, and reminds them of all the other great shows coming during the rest of the season to the Nokia Theater."
The Nokia LED screen also has a few additional features, one of which is a media promotion of putting Times Square passersby on the Nokia Screen. In an effort to demonstrate the Nokia mobile phone's camera function, Nokia staff has been known to roam Times Square, taking peoples pictures and transmitting them to the Nokia Theater control room where the images are uploaded and flashed on the screen.
The most innovative use of the Nokia marquee is in its real-time mode when a show is being preformed inside where a live camera can capture the stage action and redirect it to the main marquee LED screen, letting the public get a peek at the ongoing stage action. To date, Rod Stewart's show has been highlighted on the marquee, with other performers under consideration in the upcoming months.
Paramount Building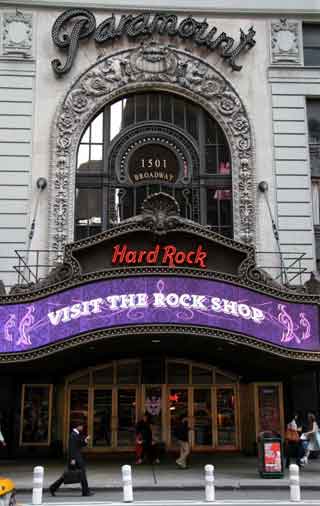 Paramount Building
Photo credit: Hubert J Steed
New York City, which has very stringent, landmark-preservation regulations, was first involved in a marquee protection project when the Paramount Building (Broadway & 42nd St.) marquee was transformed into an electronic display. Originally built in 1926, the building housed Paramount Pictures offices and, at its base, a 3600-seat movie palace (built by Rapp & Rapp).
On the theater's front facade, the fabulous Marquee and Arch proclaimed its silver-screen wonders to the world. At various times, the theater introduced Gary Cooper, William Powell, Mae West and Fred Astaire to a city eager to see them on the cinema screen. By 1964, the last film reel had spun through its projection booth, and the theater and the Paramount closed.
In 2000, World Wrestling Entertainment (WWE) began construction of an entertainment complex. The interior theater space was transformed into a restaurant, retail store and nightclub, for more than $38 million. The Paramount Building's famed Marquee and Arch was restored to its original grandeur. A full-color video LED screen, manufactured by Multimedia LED (Rancho Cordova, CA) was installed in the front and side display areas of the marquee framework.
To maintain the original design's architectural intent, the marquee's outer facade couldn't be altered. The interior space was hollowed out to accept the LED sign cabinet, which was carefully inserted into the marquee structure.
In 2005, the WWE was replaced with the Hard Rock Cafe, Times Square. The new tenant inherited the marquee and currently operates it as a LED message center.
Marquee proves the "world's stage"
The marquee's electronic LED display potential was summed up by RULE7MEDIA's Willard who described the marquee as a piece of "underused entertainment real estate whose potential as an animated LED display system for theaters is unlimited". He views this in the way people currently process information on the go and how our society is now much more visually literate. Over time, theater operators will recognize that potential in upgrading their current marquees to more of a state-of-the-art display where the LED screen becomes both th e carnie barker for the theater and a high-powered branding tool for of the 21st century.
Louis M. Brill - is a journalist and consultant for high-tech entertainment and media communications. He can be reached at (415) 664-0694 or louisbrill@sbcglobal.net