Clad with dreams
The initial investment: Media façade on the NASDAQ Marketsite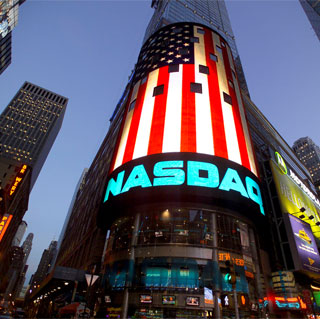 Media facade on the NASDAQ Marketsite
For years, signs have appeared on building walls and roofs. More recently, vinyl wraps have scaled alpine heights as they cover building walls. Now, LED video screens can completely cover building facades and present kaleidoscopic images that dance across the building. Built as part of the building's cladding, or "skin", dynamic video screens have given architects a new theme that enables them to "display" buildings' corporate identities on a large scope.
"Blade Runner", Ridley Scott's 1982 film about androids' place in society, first depicted video-covered buildings. As the movie unfolded across its futuristic city-state, viewers could glimpse several video screens attached to buildings and integrated within the city's skyline.
Video screen cladding is a victory for both architects and advertisers. LEDs' flexibility almost pre-ordained their architectural surface application. Also, programmable light and video shows, which represent tenants on their own building facades, answer their deepest advertising needs. Even building owners benefit from additional revenue and acclaim as a tourist destination.
Currently, at least a dozen skyscrapers worldwide have embraced LED video walls. Most video-emblazed buildings stand in Times Square. However, the phenomenon has migrated overseas to major, urban centers, mostly in Asia, but also in Europe. Image content varies. Some LED screens serve as billboards, but others subtly combine branding and art.
Video cladding first appeared in 1996 as a 10-story video wall on the NASDAQ Marketsite at the Conde Nast building. "Saco Technologies Inc." (Montreal, Quebec, Canada) provided NASDAQ with its 1000-sq.-meter, $37 million "Smartvision" giant LED screen.
"Saco" CEO Gary Nalven noted, "The NASDAQ building's LED screen has become a fantastic symbol of the financial community, in some ways replacing the Wall St. image of its Roman-column building. A day doesn't go by in Times Square where NASDAQ isn't being photographed or videoed by the international media as a backdrop for their reporters."
The NASDAQ giant LED screen solved at least one challenge – how to allow light to enter walls covered by the video screen so tenants could see some daylight. Previous supersized LED screens in Times Square had covered dedicated, windowless wall spaces. Window slots were built into the NASDAQ display.
It's a LED mesh screen!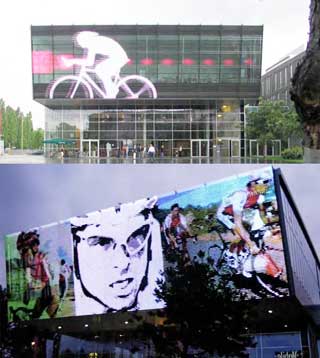 LED mesh screen on T-Mobile's Bonn
Cologne, Germany-based "ag4" Mediatecture, an interdisciplinary group of architects, artists and industrial designers, was searching to optimally balance architecture and media. They knew the solution rested with transparent, LED mesh screens, which would cover a building façade without blocking ambient, exterior light.
Christoph Kronhagel, "ag4" co-founder and co-inventor of the company's LED media façade, explained the team solved the problem by inserting a series of linear LED video components into a metal mesh to produce a transparent media "curtain", which hangs in front of the building cladding. According to "ag4's" technical brief, a distinct, linear gap separates the curtain's LED video arrays. However, from a distance of 60 ft. or more, the human eye fills in the visual gaps between the LED strips and allows the viewer to see a completely discernible image.
Kronhagel said, "Woven-metal mesh was already an accepted, architectural-design look. To incorporate this process into a usable, architectural/signage design element, we collaborated with "GKD" (Duren, Germany), a manufacturer of woven-metal building mesh. Together, we created Mediamesh®, a transparent covering that both radiates video imagery and passes ambient daylight into the building."
The company calls this expressive design form "mediatecture", a blend of media and architecture that enables a client to visually present its brand or corporate identity on a building's exterior façade.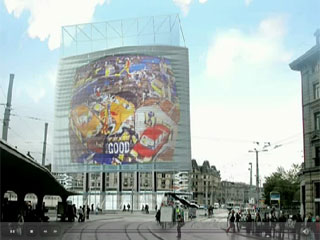 Spinnaker LED mesh screen media façade mimics a sail
"Ag4's" first LED mesh screen media façade installation, on T-Mobile's Bonn, Germany, headquarters, comprises 300 sq. meters (30 m wide x 10 m tall) of LED arrays that are applied to the building front. Each row is spaced 12 cm apart. The giant LED mesh screen presents a complete, low-resolution, full-color, video image, which can be viewed during the day or evening.
As a new medium, these LED mesh screens become more than just signs, Kronhagel said. "Media façades also bring a public-service component to the LED mesh screen. They not only advertise and brand, they also transmit art and culture. At some point, the use of the LED mesh screens becomes collaboration between the building's tenants and the surrounding community to present a world view of what they're about."
A beacon of light: The Grand Indonesia Tower' media façade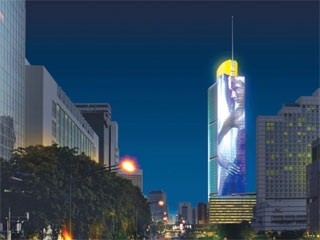 The Grand Indonesia Tower' media façade
Perhaps the most spectacular video cladding has been applied to the "Grand Indonesia Tower" in Jakarta. The 3.7 million sq. ft, mixed-use center, which is still under construction features retail stores, a hotel and as its centerpiece, a 57-story office tower.
The building was created by Darryl Yamamoto, AIA, director of "Austin Veum Robbins Partners" (AVRP) and "Mixed Use Studio", both of Los Angeles (AVRP also has a San Diego office). Yamamoto was formerly with "RTKL", where he designed the project.
"Essentially, the LED grid followed the form of the building's curtain wall," Yamamoto said. "Thus, the LED video strips were mounted against the building in several types of formations. In some instances, where there was glass, the LED video strips were placed inside the glass, facing outwards towards the public. Where there were opaque, metal panels on the building skin, the LED strips were recessed into reveals."
The tower's entire, front façade is covered with at least 60 000 sq. ft. of LED arrays. The 96-ft.-wide x 420-ft.-tall screen comprises approximately three-fourths of that space. The building crown and side walls will also feature LED lighting, which will draw attention to the front of building displays.
While LED lighting has become very "che-che" with architects, a few visionary building developers see the value of video walls as part of their buildings' design. Ideally, a perfect design would combine both lighting and video into a complete, visual motif.
Yamamoto observed that a building is normally defined by its exterior shape and, in some instances, the use of exterior lighting, which emphasizes that shape. "Up to now, architecture has been about fitting buildings into 3-D space," Yamamoto said. "Video LED screens that completely cover a building's surface change the equation of how a building occupies that space. In a sense, a video LED screen covering a building surface places it in a fourth dimension, where pictorial and iconic imagery now become a representational feature of how the building presents itself."
"Standard" (Los Angeles), a company that develops architecturally integrated, multimedia installations, developed the tower's giant video LED screen and is designing its content. Adrian Velicescu, "Standard's" president, said, "This building isn't only the largest skyscraper in Jakarta," he noted, "but, upon completion in 2007, its video LED screen will be the largest LED screen in the world."
The LED screen is being manufactured by "Odeco" (Barcelona, Spain) and "EuroSmartVision" (Antony, France). TransMedia Wall, the Grand Indonesia Tower's video wall, has been developed in collaboration between "Standard" and "EuroSmartVision". Velicescu stated, "Very large video LED screens aren't just billboards. These LED screens also have a social responsibility to offer a 'civil function' beyond just advertising and branding messages. Kinetic art and socially relevant iconic graphics will also be shown on the building face. We believe that content should have some direct relationship to its surrounding community."
"We perceive about half the building's sign content will be revenue based, and the other half will be public-service announcements and art," Velicescu said. "All of this content will be designed with a natural visual pacing to make it compelling and more universally accepted by its viewing audiences."
In your dreams: Media façade of Chanel's store with LED screen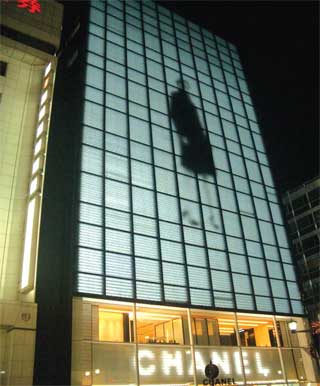 Media façade of Chanel's store with LED screen
"LED Effects" (Rancho Cordova, CA) specializes in unique LED image-display and lighting applications. Recently, the company collaborated with "Chanel", the international luxury-goods company, and the architect of record, "Peter Marino + Associates Architects" (New York City). "Chanel" commissioned a store in Hong Kong and two in Japan (Osaka and Tokyo – the Ginza district). LED screens were integrated into the cladding of each building.
"LED Effects" President Kevin Furry said the LED screens covered each building differently. "The LED screen completely covered the front, and partially the sides, of the Ginza building. The Osaka building covered two sides of a corner of its building, and, in Hong Kong, where it also covered two sides, a building façade intervenes between the screens."
Furry said "Chanel" selected only white LEDs because "that's their logo color, and this signature style imparts a classy look". "LED Effects" chose the brightest-available "Nichia", surface-mount LEDs to achieve optimal white. The white is controllable with 1024 brightness levels, which gives each screen a diverse, descriptive palette.
The LED screens were fitted into the building's surface walls in different ways. In the Ginza building project, the LEDs were integrated with extruded tubes behind Privilight™ glass and fitted within the curtain walls. In Osaka, the 1-ft.-sq. translucent panel, backed with white LED circuit boards, were placed behind white diffusers. The Prince Building in Hong Kong sandwiches the LEDs into the glass curtain wall.
The "LED Effects" screens can cover different surfaces (clear or frosted glass) in various configurations (attached to mullions, behind the glass and on the building). Also, the LED screens can display various building textures (as well as Chanel's tweed look) and gripping, cinematic images. As images swirl around the exterior walls, you seem to be watching a building that's dreaming. In one "Chanel" graphic, models walk back and forth across the building, then suddenly transform into doves and fly away.
"To see these buildings in action is always amazing," Furry said. "You can never prepare yourself for the impact of these huge wall displays when you see them close up, in real time."
Unforgettable images
Architecture has transformed buildings into signs that function less as billboards but more as outdoor, urban, community bulletin boards and cultural canvases. In this venue, messages and graphics must accommodate a building's huge scale and balance their visual impact with the surrounding urban space. The displays juggle advertising, branding, art and cultural imagery with such grandeur; they won't be forgotten by viewers. What more could you ask of a sign?