Social and cultural aspects of outdoor video technology for national and municipal networks
Usage of modern information display systems in civic society
As you all see, we live in the time of informational explosion, when the fastest growing industries are linked with technology that allows passing information over to the general public in the shortest possible period. These are mass media and advertising, and of course, the most recent additions: the Internet and large outdoor LED screens. The number of TV channels, radio stations, newspapers, magazines is growing. In spite of all limitations, outdoor advertising and billboards are everywhere. Internet resources are increasing exponentially every day.
We like to be informed but a multitude of information creates new problems:
A problem of choice: what to watch, what program to tune into, what web-site to surf, what news reel to select?
A problem of efficiency of advertising: digital technology allows skipping channels with advertising; peopling move on to a different channel and frequently forgetting to get back to the one they started watching.
A problem of promoting Internet-sites and events outside the Internet itself.
Advertisers are constantly searching for new ways to promote their products and services; authorities are constantly searching for ways to increase efficiency of political campaigns, various social events that include sport, festivities, mass shows. This is exactly what a new technology of "Outdoor TV" and "Outdoor Video" based on large outdoor LED screens can deliver.
The essential characteristics of these new informational carriers are:
Limited number of "key sites" for large outdoor LED screens in each city.
Absence of choice in channels: no chance to click to another channel.
Psychologically proven efficiency of dynamic video images compared to standard static advertising.
Video advertising outdoor does not annoy as advertising does when you are watching a film at home. It does not interrupt any interesting program, it fills the time, it provides useful information during the time that is wasted in a traffic jam.
Large outdoor screens bring closer the images of favorite performers during shows, sports events, concerts; allow replaying the essential moments.
Time and expenses for preparing advertising materials for outdoor screens are minimized since this carrier is based on modern digital technology, which is essential for advertising of Internet-sites.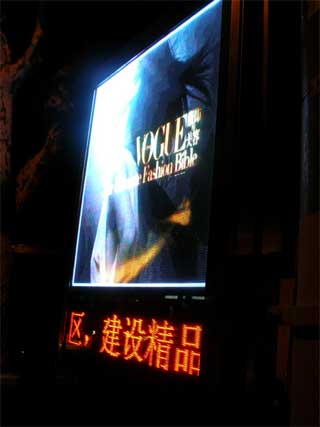 Network of outdoor LED screens in small city format in Shanghai (China)
Practically unheard of just a few years ago, the outdoor LED screens are becoming a key element in the government, regional and urban informational infrastructure. Separately standing outdoor screens are now joined into networks, thus, increasing the efficiency of this new technology even further. First city outdoor screen networks appeared back in 1998-99 in San-Paolo (Brazil), Johannesburg (Republic of South Africa), San Francisco (USA), Moscow (Russia).
Today there are three tendencies that can describe development of large screen technology in city environment:
1) Individual installation of outdoor LED screens with no regard for urban landscape, architectural peculiarities of nearby territory, effect on citizens. There are plenty of examples in Europe, USA and Russia.
2) Substitution of existing advertising outdoor structures for sophisticated LED screens. The best examples can be seen in Shanghai (China), a network of Clear Channel in New York (USA), and Moscow (Russia).
Both tendencies are mostly related with advertising application of outdoor LED screens.
Third tendency is to use large outdoor LED screens not only for outdoor advertising but as a large scale public address system in case of various massive events: terrorist threats, floods and other emergencies, as informational support systems in public campaigns, or festivities. It is the third tendency that will be essential in future. Because it allows to reasonably combining commercial interests of advertisers and interests of a civic society, as represented by federal and municipal authorities.
Russia is the first country where large outdoor LED screens were supported on the governmental level, where large outdoor LED screens were included into the program of public address, where importance of influence of outdoor screens on general public was recognized on the state level. In October 2004, the Government Decree #1327 was issued that listed all possible technical mass media measures that have to be taken to keep population well-informed in case of emergency. This significantly pushed forward programs developing integrated informational solutions in the out-of-home environment.
Problems and factors that limit introduction of outdoor screen systems in practice
At the same time, there are numerous problems that prevent outdoor LED screens from becoming widely used:
Absence of sophisticated control system for outdoor LED screens.
Insufficient utilization of technological functions of modern LED screens.
Limitations in assembly procedures and production facilities.
No compatibility with Internet technology.
High price and slow return-on-investment.
Imperfection of electronic components (primarily, LEDs and IC drivers).
Here we should remind ourselves that screens have appeared only recently and still are one of the most complex technical areas in modern electronic and digital equipment. Outdoor LED screens today – can be compared to PCs in the 80-ies when 386-486 processors were considered state-of-the-art technology.
However, breakthroughs are near at hand:
New LEDs start to appear as an alternative to Nichia monopoly, LEDs based on Cree, AXT, HP, TG, Siemens.
Some companies continue intensive R&D efforts in creating innovative technical solutions. There are just a handful of companies so far that possess their own individual designs that refuse to follow the easy and unproductive path of cloning other ideas: here I mostly mean Barco (Belgium), Daktronics (USA), Lighthouse (Hong Kong), ATV Outdoor Systems (Russia), Agon-tech (Taiwan). Almost daily new outdoor LED screen manufacturers appear on the market with nothing to show but carefully but imperfectly copied systems.
Greater utilization of LEDs into architectural design and city landscape pushes developers into unusual and innovative thinking.
Modern solutions for incorporating LED technology into architectural projects and city landscape
It's a great pleasure for me to see that now the status of outdoor LED screens has risen so high as to justify an international forum like the one we are having today that addresses incorporation of outdoor screens into the urban environment and ascribes new interactive possibilities to screens.
Here are some examples, probably well know to this audience but which once again stress how harmonious or incongruous maybe the presence of outdoor LED screens on the streets of out towns. Urban environment is tough on people and outdoor screens may do much to alleviate the stress, move away from the concept of "concrete jungles" into pleasant, brightly-lit and interactive cities.
| | |
| --- | --- |
| | |
| Outdoor LED screen by "ABC" studio in New York | Curved LED screen of JPMorgan in New York |
Giant LED screen at Fremont Street in Las Vegas
Multistory building turned giant outdoor LED screen in Shanghai
A few words about content that appears on outdoor LED screens and formats of presenting information on urban architectural screens
LED screens being digital equipment will display any information fed into the computer. However, from experience we see the urgent need to adapt content to LED screens: perception in the open environment is different and needs closer attention. Content for outdoor LED screen must be created separately, not indiscriminately borrowed from the available TV commercials. This concerns not only an internal plot of a commercial, or enlarged views, larger letter of textual information, but also the need to develop new digital formats for outdoor urban environment.
| | |
| --- | --- |
| | |
| Fred Froelich experiment on outdoor LED screen | Outdoor LED screen in Hong-Kong on Jordan Road that works in the "JM Network" |
Here is the place for an interesting example: a creative experiment with outdoor LED screens by the German artist Fred Froelich whose special format clips were displayed for a month on all CityVision outdoor screens in Russia in 27 cities and which helped to drastically increase public approval and awareness of outdoor screens as a useful urban mass media.
The clips consisted of 25 words that are associated exclusively with positive images. Each word had a numerical index calculated by a special formula. The words appeared on screens as bright red letters on black background, and their numerical indices – as black numbers on red background. Until the campaign was completed no explanations were given in the press. At the same time the campaign created quite a stir in public thinking in each of 27 cities.
Another interesting and innovative approach to advertising was demonstrated by a Hong-Kong based company "JM Network". Unlike other advertisers with traditional short advertising blocks of 6 or 10 minutes, the company introduced commercials of arbitrary length from 5 seconds to 7 minutes and a 10-minute newsreel. The total loop may last between 30 to 60 minutes and always begins with live News broadcast at the beginning of each block.
Their approach to the format of advertising clips is also worth mentioning. The format of frames changes from 9:16 to 3:4 with various linear dimensions. This helps utilize the outdoor screen area better. The commercials maybe fully dynamic video clips or half-static (with minimum dynamic) with or without sound.
| | |
| --- | --- |
| | |
| LED screen in a department store in Taipei (Taiwan) | LED screen in a department store in Hong-Kong |
By splitting a large outdoor LED screen into sections with socially valid information (like news blocks, weather forecasts or displaying of current time) and commercials, the screen owners increase it's attractiveness to the public. Consequently, the price of advertising time on such outdoor LED screens significantly grows.
As a result, no matter how often people pass by and look at the outdoor LED screen, they never get used or get tired of it. The outdoor screen transformed a typical street in the maze of "modern concrete jungle" into a place of light and joy.