Laboratory for complex testing of LEDs in full-color video applications
Full article is available only in Russian and can be found in Russian version of our magazine.
See issue #10/2007.
Brief summary of the article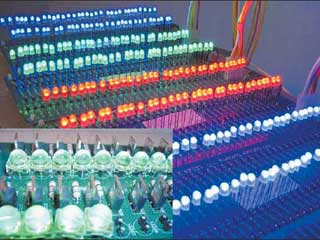 A few years ago a company specializing in design and production of full-color LED displays, set up a photometric laboratory of its own. Specialized testing equipment was procured to study LEDs and LED-based products' parameters in depth. Years of field experience, numerous patented research techniques in the area of metrology of semiconductor light-emitting equipment allow to conduct complex calculations, conduct scientific experiments and make projections on quality and reliability of LED-based products. The study of LEDs (the most important and costly component of any full-color screen) is justified by the need to maintain high quality and long life of the final product.
As technology of LED die manufacturing and packaging matures, the LED-based products from experimental front-line research turned into the mainstream of informational systems, light indication, architectural and general lighting. Wide selection of colors, combination of powerful light emission with wide angle distribution patterns make LEDs the primary source of light devices in practically all areas. However, design and manufacture of new LED-based products is hindered by poor understanding of light source characteristics.
The testing complex described in the article allows to study practically all known photometric, spectral, electrical and energy parameters. Additionally, the laboratory provides express analysis of LED emission parameters and LED packaging quality. The testing equipment can measure various physical characteristics of chips that form the basis of LEDs, make accurate projections into life and degradation of LEDs.
To develop modern methods for testing and verifying LED quality and reliability, to compare actual LED parameters with those stated by their manufacturers is vitally important for many industries. But nowhere it is more critical than in the area of LED-based informational video displays, especially large-sized structures that use millions of LEDs.
For this reason the laboratory was created that now serves as an indispensable resource for quality control of company's products as well as an independent authority in testing LEDs and LED-based products for other clients.