Electronic LED billboards: The new voice of business!
In several issues of our magazine we were talking about development of LED screen networks in the USA. In the first issue of 2007 we are publish an article by famous journalist Louis M. Brill where he specifies the reasons of American success in operating of LED screens and billboards.
The billboard, a mainstay of outdoor advertising has entered the realm of high-tech in the form of an LED billboard media format. When viewed, the electronic LED billboards appear similar to a print (or static) billboard except for one small detail: every six to eight seconds the sign face changes to display a brand new advertising message.
Just about everyone connected to electronic LED billboards are benefiting with outstanding results ranging from LED sign manufacturers (who can't make them fast enough) to outdoor billboard operators (who are building outdoor digital display networks in premium locations as quickly as possible).
Electronic LED billboards are an economy of use, both in terms sign management inventory and in earnings potential. The proper management of an electronic LED billboard allows six to eight different advertising messages to share the same sign face, increasing multiple advertising awareness without the labor of continually replacing vinyl sign faces. In terms of earnings potential, anecdotal evidence has portrayed electronic LED billboards with its multiple advertising messages on a single sign face as being able to "out earn" their print counterparts.
OAAA sets stage for electronic LED billboards
The billboard has a legacy dating back to the 1830s when it began outdoor advertising with just about everyone's favorite tag: "The circus is coming to town." In 1891, when the billboard medium was well established in towns and roadsides throughout America, a trade association of Bill Posters was created, an organization that more than one hundred years later has come to be the Outdoor Advertising Association of America (OAAA).
The billboard has since evolved into three standard sizes, 10x36 feet (a 30 sheet), 14x48 feet (a bulletin), and 12x24 feet (poster). OAAA Chief Marketing Officer, Steve Freitas estimated that today in the United States there are close to 450 000 roadside outdoor print billboards (incorporating all three formats). Electronic LED billboards are just getting started and Freitas acknowledges that as of summer, 2006 there are probably at least 200 electronic LED billboards in the U. S.
More incredible is that the American billboard inventory has just about doubled 100% since last year. "The emergence of electronic LED billboards as a new component of outdoor advertising is expected to have a significant impact on all aspects (manufacturing, operations and media buying) of outdoor advertising," says Freiras. They are easy to view day and night, easy to create content for and messages can be quickly reprogrammed. "It now offers media planners and advertisers more effective ways of doing something they already do."
While there is an industry excitement about this new medium, it's not without significant challenges that balance the digital transformation of outdoor print to its electronic counterpart. Cost of product is always an issue; though in an economy of scale, electronic LED billboards are probably less expensive now than they have been in recent past. Electronic billboard sign codes are another challenge as state and city regulatory administrators are slowly coming to grips with changeable outdoor media messaging.
It is the latter observation, the rule of sign code regulations that ultimately govern the speed, progress and placement of electronic LED billboards throughout the United States. In 2005, the OAAA established its first Digital Display Committee which has focused on legislative and regulatory issues in regard to state and local municipal sign codes and how favorable they are towards installing electronic billboards.
The usual objections to an electronic billboard placement are either safety, i.e. that it's a driver distraction or there is an esthetic concern that an electronic LED billboard might give a small town a "Times Square" look that would be out of character to that market area. In terms of the first issue, there has been much research which has resulted in several exhaustive studies that have proven conclusively that electronic billboards are not a driver distraction.
The Times Square fear is an out of hand reaction by sign code regulators who don't fully understand how electronic LED billboards work as Frietas noted, "electronic billboards are really no different than their print counterparts except they successively rotate through different advertising messages. There is no video animation, no flashing lights or scrolling messages. Each electronic billboard is like its print counterpart, with a convenient changeover to the next message."
LED billboards by Daktronics
In the LED billboard finishing pipeline at Daktronics, a completed sign is going through its "image burn-in"
Photo credit: Daktronics
Another LED billboard being installed, creating more opportunities for media buyers in the outdoor advertising realm
Photo credit: Daktronics
"The regulatory environment is still the largest barrier to entry within the electronic LED billboard market," says Jeremy Johnson, a manager for Commercial Business Development at Daktronics (Brookings, SD), a company that is the largest LED sign manufacturer in the United States. "But having said that, there is good progress being made at the state and municipal levels. Several outdoor companies have been successful working cooperatively with regulators who are willing to adjust their local sign codes to allow various electronic billboards to be installed within their metropolitan areas."
In reviewing the company's annual rate of sales for LED billboards, Johnson observed that in 2005, Daktronics has seen an increase of up to 200% growth in manufacturing LED billboards from its previous year. "Since this market is still relatively new, we should expect to continue to see large growth numbers for the next few years."
The company offers LED billboards through its ProStar line and offers standard bulletin and poster sizes as well as any custom sizes that may be necessary to fill a need, according to Johnson. Daktronics is in the process of expanding its production capacity to keep up with the demands of this business as well as the other markets currently being served.
Vismax electronic billboards
Another LED electronic billboards manufacturer, Visioneered Image Systems (VIS) of Garden Grove, CA, recently created the Vismax electronic billboard display with state-of-the-art technical enhancements including holographic optics, brightness adjusting photo sensors and Pantone color matching. The company, which just began in early 2006, its billboard manufacturing process, has already confirmed sales orders for at least twelve 30 sheet billboards to be delivered before the end of the year.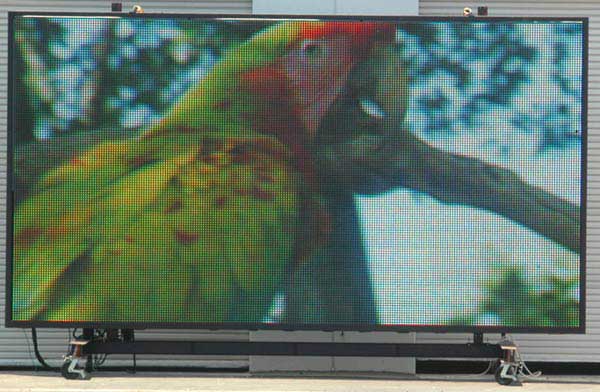 A VISMAX electronic billboard showing off a complete illuminated display in broad daylight
Photo credit: VIS
Despite the fact that electronic billboards have been around awhile, Tony Marino, president and CEO of VIS noted there are still many billboard owner/operators who are just learning about these kinds of billboards and their capabilities. "Our biggest challenge is in educating billboard owners about the differences between print and electronic advertising and how to properly prepare advertising messages for an electronic billboard situation."
The two hundred or so electronic billboards that are in place around the United States are divided between several electronic billboard networks owned by the country's major outdoor advertising operators and the rest by mid-range operators and one or two boards owned by a small media agency.
Lamar Advertising electronic billboard network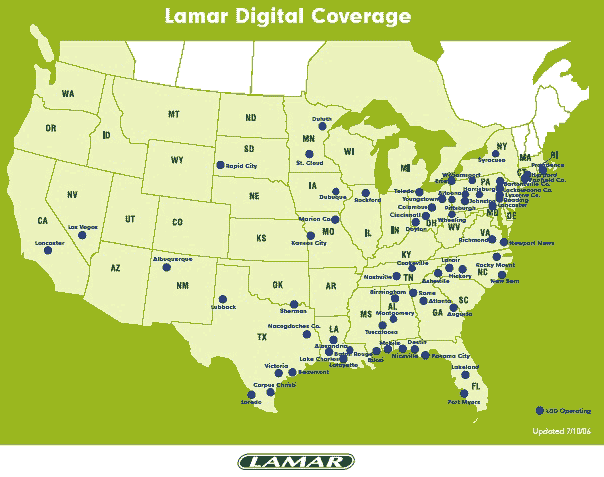 Lamar's current deployment (as of summer, 2006) of its LED billboard network in the United States
Photo credit: Lamar Advertising
Currently the biggest LED billboard network in the United States is operated by Lamar Advertising, (Baton Rouge, LA), who is one of the largest outdoor advertising companies in the United States owning and operating over 150 000 billboards deployed throughout most of the country. The company began their exploration of LED billboards in 2001 as described by Bill Ripp, Director of Lamar Digital.
"Our first effort was a 'Beta Test' in Baton Rouge with a single digital display. Subsequently we installed several other displays, including ten LED billboards in Pittsburgh, PA. As of the summer, 2006, Lamar has installed 150 electronic billboards into about 40 different advertising markets along the eastern seaboard of the United States. Some deployments are several electronic billboards in one region (Pittsburg, Cincinnati, Toledo, etc.); some are a single LED sign when it makes sense just to have one unit in place."
The Lamar LED billboards are known as Lamar Digital Displays and are either poster size or typically 30 sheets or bulletin sized (10'6"x36' or 14'x48'). Lamar's LED billboards were manufactured by both Daktronics (Brookings, SD) and YESCO (Las Vegas).
"Conditions of installing each sign are based in part on location and vehicle demographics of how many cars pass by that site on an hourly basis. There are also the municipal sign codes, which pretty much determine the fate of each sign. Thus with a great location and an unfavorable sign code the chances of an installation are pretty slim. However when both forces are in balance, the likelihood of our LED billboard being installed are greatly increased."
As Lamar's LED billboard inventory continues to grow, Ripp distinguished between what are now two types of major platforms for outdoor advertising. "We don't see electronic billboards completely replacing print billboards. The two formats will co-exist in a proportional relationship. There will always be print (or static) billboards because there will always be a market for that specific kind of advertising product.
Here print billboards are positioned for promoting corporate or product branding to remind viewers of what the advertisers sell. Electric billboards are more distinguished in creating a "call to action" in regard to more immediate sales offers, discounts or sales references to local store sites. Thus we have a mature (print) billboard market and an emerging (electronic) market which is still building its network and customer base."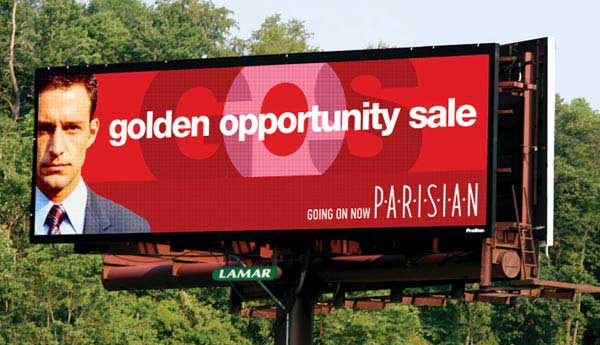 Lamar Advertising's LED billboard
Photo credit: Lamar Advertising
The two advertising formats will do different things media-wise. Print billboards are more for branding and product awareness when you want to have more of a long term presence. Electronic is more sales-oriented when you need to have a more immediate contact with a billboard that allows you to change your message quickly, in regard to sales specials or to alert the public to a nearby store where there are discounts or new products to take advantage of.
Clear Channel Outdoor's LED billboard network
Clear Channel Outdoor (Phoenix, AZ) is the leading outdoor advertising provider in the United States with more than 40 markets utilizing various outdoor advertising platforms including billboards, wallscapes, posters, street furniture and taxi tops. Clear Channel Outdoors' advertising platform is also evolving as the company is beginning to embrace digital displays as the next step in how they connect the public to up-to-the-minute advertising.
Clear Channel's LED billboard in Las Vegas
Photo credit: Clear Channel Outdoor
Clear Channel's ProStar LED billboard by Daktronics
Photo credit: Daktronics
In Las Vegas, on the highway corridor approaching the city, Clear Channel has installed a series of LED billboards, known as the Digital Tourist Network, all promoting the latest and greatest show time and convention activities within the town.
Michael Hurdes, the Global Director of Digital Media of Clear Channel noted how Clear Channel is currently deploying LED billboards as part of its newly developed high-tech sign inventory. Clear Channel's LED billboards were also manufactured by both Daktronics (Brookings, SD) and YESCO (Las Vegas).
"We started using electronic billboards in 2005, and launched our first digital outdoor product in Cleveland OH with a network of seven electronic billboards capable of reaching the entire Cleveland metropolitan area. In early 2006, a second electronic LED billboard network of six signs was launched in Las Vegas, touted as the Digital Tourist Network. The Las Vegas network provides both general market and targeted coverage allowing Las Vegas advertisers to promote venues, shows, conference activities and special events in an unprecedented manner along various tourist corridors. In August 2006, we unveiled our third network of digital LED outdoor displays where eight LED displays will be deployed in Albuquerque, New Mexico."
"In some instances such as Wichita, KS and other very small markets, it only made sense for Clear Channel to install a single electronic billboard. In time, we anticipate these single sign markets may grow into more of a network. This is an expanding market for Clear Channel and as we find more favorable locations with supportive sign regulations, we expect to deploy more electronic signage."
Electronic billboards by SiliconView
SiliconView is an outdoor electronic media service which was founded in 1999 to provide state-of-the-art advertising and information imaging system solutions. The company at this time operates a single, two-sided LED billboard located directly next to busy Highway 101 in the heart of Silicon Valley between the San Francisco and San Jose airports. It stands almost 40 feet above the ground with its sign face measuring approximately 34 feet wide and 19 feet high. The billboard is highly visible from 2900 feet away (northbound) to 3500 feet away (southbound).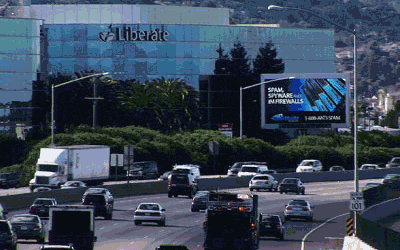 Silicon View's electronic billboard
Photo credit: Marek Poray
"Silicon View recognized early on," said company founder John Mozart, "that LED billboards had a tremendous potential as a new kind of outdoor advertising medium. The big selling point for our board has always been the photographic quality of its high definition look. When most advertisers see our board, they know they want to be on it. It's paid off as we're now at 100 % capacity most of the time with our advertising loop. In some cases, we've had as much as 180 day waiting period before we can book a new client onto our board." Although no specific sites could be announced, Mozart also indicated other identical electronic LED billboards were in the planning stages for deployment around the Bay Area.
Giant LED billboard by Xtronx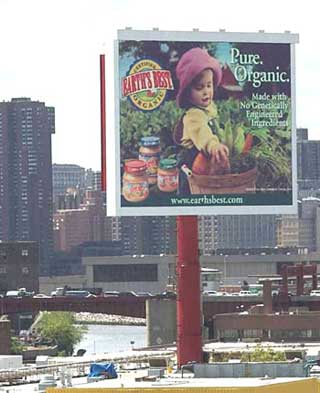 Giant LED billboard by Xtronx
Photo credit: Lighthouse
In San Francisco, Xtronx, is a digital outdoor media company that owns, operates and represents digital video billboard owners. The company began in 2001 as explained by Eric Wong, founder of Xtronx, to start putting together a network of electronic billboards by talking to owners of other electronic billboards who did not have a great outlet to sell advertising time on their boards. Xtronx acts as a third party representative of these boards as Wong stated, "We are able to represent these boards and sell advertising slots on them. As for content, sometimes the client will create it and turn it over to us. Other times we will create it and then install and operate as well as sell time on these boards for our clients."
Currently the company represents about 15 electronic billboards around the United States. The Xtronx billboard inventory is divided with some electronic billboards on the east coast (boards mostly in NYC) and the rest on the west coast (with boards mostly in the Bay Area). Although individually owned, Xtronx sells and manages all the boards as an integrated, national electronic billboard network. Xtronx has partnerships/relationships with the largest companies including CBS Television Network, Macy's/Federated Dept. Stores, and Fresh Direct Corp.
Among the sign inventory that Xtronx manages is the Fresh Direct billboard (manufactured by Lighthouse) which is the largest electronic LED billboard in the United States. The billboard is directly opposite the Long Island Expressway with traffic approaching Manhattan. The sign is 170 feet from ground and is a total of 5373 square feet of outdoor digital LED display, using a 31 mm pitch for promoting the Fresh Direct consumer message passing commuters.
While LED electronic billboards are the foundation of electronic outdoor advertising, Hurdes was quick to point out other electronic technologies with similar display potential including using LCD projectors in shopping malls and a relatively new reflective display known as Magink (Mevasseret Zion, Israel), a digital ink process which also shows promise as another real-time electronic display format. See our previous issue Smart billboards attack!
Lamar's Bill Ripp summed up his overall feeling which could easily be reflected by most of the outdoor advertising community, "I'm very bullish on electronic billboards right now. From all of Lamar's initial research and indications, we see electronic billboards as a very healthy product for outdoor advertising for years to come."