Blue LED and LED displays
Revolution in outdoor video displays occurred in 1990 when the Japanese engineer Shuji Nakamura who used to work for Nichia Chemical Industries invented blue LED. When InGaN high bright LED was invented, LED has immediately become extremely useful for numerous applications. For example, liquid crystal display backlight for mobile phone, instrumental panel for automotive use, courtesy lights, full-color display etc. InGaN LEDs are getting lots of attention as a material environmental friendly and energy saving.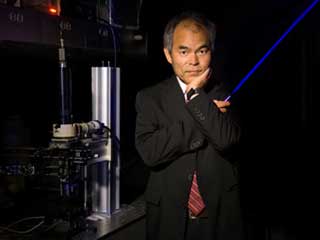 Professor Shuji Nakamura
Photo credit: Randall Lamb
Before the 1990-ies, LEDs were only red, yellow or green in color. However, it is only the combination of green, red and blue that gives pure white color, and all the multitude of color shades. Therefore, until blue LED was invented, it was impossible to create and full-color LED display. Full-color lamp screens were produced by such companies as Daktronics, White Way, but those first lamp screens had low resolution and consumed too much energy.
In 1993, Nichia was the first in the world to start industrial manufacture of blue LEDs. By 2002, the volume of blue LED in Nichia's total production rose to 60 percent.
In 1999, Shuji Nakamura sued his former employers Nichia Chemical Industries. For five years he was fighting the company in courts and was finally rewarded. The Tokyo District Court on Friday ordered chemical maker Nichia Corp. to pay an unprecedented 20 billion yen to the inventor of a key semiconductor device for his transfer of patent rights to the firm.
According to Japan Today, Presiding Judge Ryoichi Mimura concluded that the Anan, Tokushima Prefecture-based firm had earned 120.8 billion yen in royalties for the patent.
Nakamura contributed at least 50 percent to the patent earnings and is therefore entitled to 60.4 billion yen from his employer, the judge said. However, the court ordered Nichia to pay Nakamura 20 billion yen - the amount that he had demanded in the suit.
The blue LED, which emits blue light when electricity passes through it, was a revolutionary invention that enabled the creation of all other color in display panels. It was the last of the three LED types necessary to produce other colors, the green and red LEDs having appeared many years earlier.
It is a million times more than the 20,000 yen that Nakamura initially received from Nichia for his contribution to the LED device. The firm succeeded in commercialization of the device in 1993, the first such device in the world. Nichia has since seen its sales rise from just over 20 billion yen to more than 80 billion yen in 2001, of which some 60 percent was from blue-light LED products, according to an interim ruling on the case in 2002.
Blue LEDs are used in mobile phone screens and large LED displays and are deemed essential for commercializing the next generation of large-capacity DVD systems.
Nakamura quit Nichia in 1999 and filed the lawsuit Aug. 23, 2001, claiming the patent was his and he never gave it to the company. He also sought 2 billion yen for Nichia's use of the patent. He claimed he invented the technology virtually all by himself as the company ordered him to halt the study on it, viewing blue LED development as an impossible feat. Nichia argued it did not have to pay because it contributed greatly to the invention.
He is now a professor at the University of California at Santa Barbara's College of Engineering and a consultant for Cree Inc., a U.S.-based manufacturer of semiconductor materials.
Cree is known as one of the main competitors of Nichia. It develops and manufactures semiconductor materials and devices based on silicon carbide (SiC), gallium nitride (GaN), silicon (Si) and related compounds. The company's products include blue, green and ultraviolet (UV) light emitting diodes (LEDs), near UV lasers, radio frequency (RF) and microwave devices, power switching devices and SiC wafers sold for production and for use in research and development. Targeted applications for these products include solid state illumination, optical storage, wireless infrastructure and power switching.
Cree has numerous clients in Western Europe and South-East Asia. For the last 9 months, the company announced revenue growth by 41% to the level of 165.8 million USD. Net profit reached 23.5 million USD compared to a loss of nearly 79.2 million USD for the same period in 2003. Such sharp growth is attributed to increased demand for company's products and drastic change in marketing strategy. Capitalization of the company is estimated at 1.56 billion USD.
Such noticeable results are mostly due to company's mass production of new generation chips XB ("Extra Bright"). The first company to start using these new chips for outdoor LED display application was ADT (Advantage Digital Technology), a Hong Kong-based screen manufacturer. Additionally, in June 2004, Cree Inc. (Durham, NC) announced the 2004-2005 sales of $160 million of Cree's LED products to large Japanese corporation. As part of the agreement, Cree has extended current distributorship relationship within Japan until June 2007. The deal covers Cree's full line of standard, medium and high brightness diodes, including MegaBright, Xbright and Xthin.
In a move that seems as a counteraction, Nichia announced that it entered into a series of agreements with Opto Tech, a large Taiwan-based corporation, with respect to collaboration between the companies, including alliances, in InGaN material for LEDs.
As global demand for LEDs is expanding, and as a leading LED manufacturer, Nichia believes it has a responsibility to answer the calls for its LEDs. This collaboration is a part of Nichia's plans to secure the LED supply.
Today, Nichia is exploring possibilities for collaboration with certain Taiwanese LED manufacturers, including licensing out technologies. On the other hand, however, Nichia intends to take appropriate actions against any LED manufacturers that infringe its patents. The battle of the giants for LED markets continues.