Sport scoreboards: From simplicity to sophistication
A modern scoreboard is sometimes the fan's best friend. It keeps the fans totally connected to the game by showing off a huge video of both the game in real-time with tight action camera work and all those yummy replays in case you blinked your eyes. And that's just the video component, along with that is the game statistics reader board which tallies team scores and whose up next. For stadium owners, there's also potential advertising to consider on a scoreboard via banners, backlit or front-lit signs, tri-face or permanent, and iconic signage for naming-rights sponsors. Internet magazine SignIndustry.com published interesting material prepared by Louis M. Brill, journalist who specializes in this area.
In its original incarnation, the stadium scoreboard served a single function of keeping track of game activity and the running score. Prior to the electric scoreboard, the main component of implementing a score change was the scorekeeper who, depending on a scoreboard's overall design would sit in the scoreboard and periodically leaned out of little portholes to change out numbers and player designations. In the case of Boston's Fenway Park, the scoreboard was placed at ground level, against a huge retaining wall and nicknamed "The Green Monster". In its earliest days, the major tool of the Monster for updating it was a wooden stepladder where the score keeper could climb up and adjust the board of the just played inning.
When electric scoreboards came into play, stadium game summaries became easier to manage and to view and the stepladder was traded in for a keyboard and monitor. While the conventional scoreboard is rectangular in shape, some stadiums have taken exception to the rule with specialized scoreboard configurations. Anaheim Stadium in 1966 mounted their scoreboard on the inside of a big A-frame with a single advertisement for Chevron placed over the board. The Royals Stadium in Kansas City took pride in installing their board inside of a 12-story frame in the shape of a giant crown. The board was illuminated with over 16,000 computer controlled wedged-based light bulbs to spell out who did what and when, out on the field.
Sport stadiums come in two forms, either open field or indoor with an enclosed roof. The configuration of scoreboard and advertising signage is usually defined by stadium sightlines. The scoreboard, which evolved from a manual changing display with numbers and letters, was eventually replaced with an all-electric scoreboard of flashing incandescent lights. From there, the scoreboard went electronic with the advent of video viewing screens. Here Mitsubishi Electronic was the first company to introduce large-format video displays with their installation at the Los Angeles Dodger Stadium for the 1980 Major League Baseball All Star game.
The projects of sport scoreboards with LED displays
Photo credit: WJHW
WJHW of Dallas, Texas, is a consulting and design firm with a specialty in sport facilities, particularly with the related audio-visual system. Principle Jack Wrightson described: "As for scoreboards, we often custom design them for our stadium clients and do so by helping them define what kind of scoreboard needs they have. That is put into specifications that define the entire scoreboard face and all the associated signage that will be attached to it. We even spec the control software of the scoreboard. The documents are put out to bid to independent contractors, and then selected vendors begin to fabricate and build the scoreboard as desired by the stadium."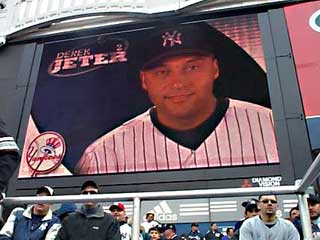 LED scoreboard display of Yankee Stadium
Photo credit: Broadway National Sign and Lightning
Scoreboards also have a revenue side vis-à-vis advertising. Depending on the owner interest and the stadium's marketing department requirements, the rest of the scoreboard can be leased out for different advertising placements, which can be anything from front or back lit signs to even additional video LED displays for electronic advertising. "The percentage of dedicated advertising," says Wrightson, "could range anywhere from covering 30%-40% of a scoreboard to as much as 70% of a board."
As for the scoreboard's pure "entertainment" aspect, (as opposed to game/statistical information) aside from game value, it depends according to Wrightson, "on how much you want it to act as a cheerleader to your audience. This could include related graphics, animations or even independent signage or dimensional sculptures added on the scoreboard." As a sign goes from design to fabrication; its final stop is the playing field. Getting a video LED display up in the audience's face is a big job. One company who excels at that is Broadway National Sign and Lighting of Ronkokoma, NY. One of their more recent and exciting projects was the upgrade of Yankee stadium's LED scoreboard display, which was manufactured by Diamond Vision.
"In the 18 years that the previous Diamond Vision screen operated, it was trouble free and was primarily being replaced with a new level of display technology, a full color, large scale video LED display at 25 feet by 33 feet." To do this, Broadway National had three big tasks:
removal of the old CRT-based screen;
modify the existing scoreboard structure to accept the new and improved LED scoreboard display;
and finally the installation of the new Diamond Vision LED scoreboard display.
Broadway National's procedure in removing the old Yankee Stadium display screen was that it required the use of a 35-ton crane with a 144-foot boom. The big challenge for Broadway was how to bring the crane onto the playing field without destroying or tearing up Yankee Stadium's recently renovated and brand new baseball field. A protective covering of masonite and plywood across the areas the truck would drive was set up as to not disturb or ruin that part of the field.
"First we pulled the old Diamond Vision screen off and brought it to ground level and took it away. We found several boxes of the screen's spare parts and they were all unopened and just sitting there because they weren't needed during the entire operation of the old Diamond vision screen." The next step that Broadway National faced was to structurally upgrade the scoreboard to accept the weight of the new LED scoreboard display that would be placed on it. Once that was finished, our next task was to lift the new Diamond Vision LED scoreboard display into place.
Altogether, it took Broadway National two weeks to replace the old CRT scoreboard with a new LED scoreboard display and have it operational in time for the season's opening which by then was less than two weeks away.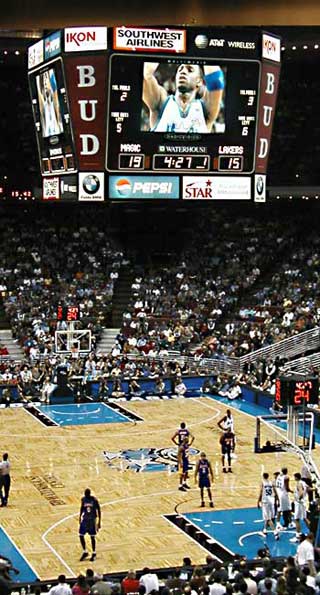 Orlando Magic LED scoreboard displays
Photo credit: Mulimedia
For indoor arena-based sports, LED scoreboard displays are usually circular hung from the center of the ceiling with viewing screens facing outwards to every side of the seating areas. Such was the case with the TD Waterhouse Centre (Orlando, Florida), home of the Orlando Magic. The arena's ceiling scoreboard contained four older JumboTron screens, which the owners were looking to replace. The project was awarded to Multimedia who, in a marketing partnership with DornaUSA (NY, NY) prepared its LED scoreboard displays, full color eVidia I series as the Orlando Magic replacement video display.
The LED scoreboard displays were designed as 10 mm pixel pitch high-resolution displays with a matrix of 240 by 320 pixels. The high-resolution LED displays support live video, graphics and animations all as part of a game presentation. Jason Barak, operations manager for Multimedia's East Coast: "To install the new LED scoreboard displays, the center hung scoreboard was lowered from the ceiling to within five or six feet of the arena floor. More interesting is the fact that TD Waterhouse sports arena is also host to their hockey team, the Solar Bears, and when Multimedia arrived to replace and install the viewing LED scoreboard displays, the game court had an ice floor for an upcoming hockey game."
"We had to be careful about not dropping tools or bolts and putting dings and dents into the ice. Since this job took place during season, we had a minimal amount of time to completion. Altogether it took about 16 hours to replace all four LED displays and return the scoreboard to its proper height."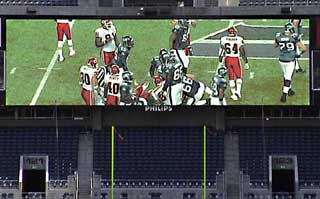 LED scoreboard display of Seattle Seahawks
Photo credit: Lighthouse Technologies
In the great modernization of scoreboards with new and replacement video displays, Lighthouse Technologies of Cary, North Carolina has made its own contribution to sports entertainment according to President Troy Dodson, having installed video LED displays in sports venues throughout the United States, Canada, Australia, Asia and Europe.
In one Lighthouse installation at the Seattle Seahawks football and soccer stadium, although two LED displays were installed, one for each side of the field, the outstanding feature of the south side installation was its ultra-landscape (cinerama-like) format with a unique twist of tiling two LED video displays side-by-side to create an aspect ratio of 32 x 9 ratio, which measured a vast 83.25 ft wide by 23.75 ft high, with a resolution of 1600 x 456 pixels.
The Seahawks LED display is unique in that instead of traditional scoreboards, the giant LED displays incorporate all scoring and statistical information on a virtual scoreboard as part of the input signal. "The ultra-landscape board is big enough that it not only shows game play, but scoreboard operators," says Dodson, "can split the screen with game play and current scores or run, at an appropriate time, stadium sponsored advertising all on the same LED scoreboard display."
There's no question in the digital age for sport stadiums that full color, high definition LED scoreboards are an integral part of a stadium presentation. In sports, this is a win-win for everybody, the owners get a better stadium and the fans are ecstatic. It's the first thing they see when they enter the seating area and it's those LED scoreboard displays that helps them remember the memorable moments of their favorite sporting events - Gotta love that!