Giant outdoor electronic screen in Paris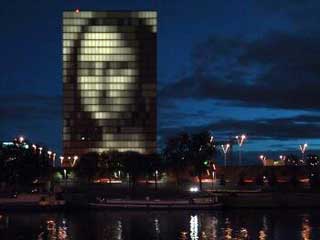 Giant outdoor electronic screen in Paris
Photo credit: computerra.ru
It may seem that large-size electronic screens is a narrow specialized topic. However, news in this area appear almost daily!
Information about a Paris-based library turned into a giant electronic screen appeared in many newspapers and magazines and even featured prominently on TV in various countries. The project was named "Arcade" and it was definitely the most noticeable in a whole series of events organized within Nuit Blanche cultural festival in France this year.
A well-known German group of computer enthusiasts and programmers developed a way to light up the windows of French National Library with total area of 3370 square meters in a manner of a huge screen. A specialized algorithm will make library windows light up and down as pixels on an electronic screen.
Since the library has 20 floors with 26 windows at each floor, the total resolution will be 20x26 or 520 pixels. Not much, but enough to form simplistic but very large images. In fact, the project has indeed amazed the general public and journalists alike. It is expected that the building will also operate as a huge Tetris game board and people will be able to order a game from their mobile phones.
Naturally, turning buildings into giant screens (even for a short duration of a festival) is most unorthodox project. However, this playful event proves the most important trend in the area of screen manufacture: outdoor screens must be big! And then they will be able to fully return investments for their production and maintenance and turn into profitable advertising media.