Large outdoor displays application
Large outdoor displays in emergencies
According to numerous analysts and commentators, the tragedy in New York clearly demonstrated what threats face mankind in the third millennium. In the first hours after the catastrophe, New York mobile phones were switched off, many Internet channels failed. For a certain period the informational vacuum only added to panicky mood of the people.
| | |
| --- | --- |
| | |
| Large outdoor LED display in Los Angeles broadcasts the speech of President Bush immediately after the terrorist attack | ABC TV Studio large outdoor LED display in New York broadcasts the terrorist attack |
In these conditions, huge outdoor displays became an important informational tool for a large city. The outdoor screens that usually incessantly display commercials were now broadcasting live reports from the site, presidential address to people, warnings from the authorities and recommendations on proper behavior in these extreme circumstances.
We have written time and again that outdoor displays of large formats may perform not only the advertising function but also an essential function of informational support of population in case of emergencies. That is exactly what happened in New York where large "street television sets" became an extension of CNN. No doubt, the world has to reconsider the problems of security in large cities. From now on, networks of large outdoor displays will perform an indispensable role in plans of organizations and special services responsible for protecting population and clearing up after catastrophes.
Outdoor displays at exhibitions
The International Moscow Autoshow became a noticeable event in the otherwise sluggish cultural life of Moscow in August. For several year organizers have been promoting the event. As a result, Moscow Autoshow has become prestigious, and no serious manufacturer or distributor may afford not to participate.
| | |
| --- | --- |
| | |
| Four TV displays at Audi stand | Bright projection video screen at Renault stand |
Apart from professionals who visit the exhibition on business, it turns into a Mecca for curious Muscovites and tourists. The atmosphere is lively. Exactly the type of atmosphere when people are relaxed and prone to be affected by any outside information, i.e. advertising. That is why advertising is present everywhere in all forms and types: leaflets, brochures, balloons, plastic bags, and video advertising.
Firms of simpler status restrict themselves to TV displays. Reputable firms use a series of TV sets, or projection screens. For a specialist it is quite exciting to walk around pavilions looking not at flashy cars but at various types of screens. Projection (or plasma) screens indoors are quite useful: they are sufficiently bright and have good color saturation.
However, installed outdoors the projection screens are practically invisible. But the weather is perfect, there are plenty of people outdoors, it is just the place to attract them by commercials. The solution is obvious: in such conditions you need an outdoor display. The mobile outdoor LED displays are still rare in Russia, but they appear at various shown nonetheless. However, the Autoshow did not have one. It's a pity. An outdoor display would be definitely worth installing there.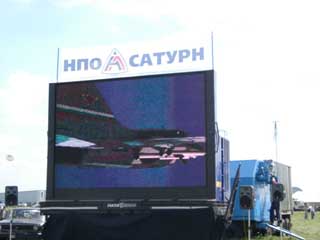 Mobile outdoor LED display at Airshow in Zhukovsky
More professional approach to advertising was noticeable at the Airshow in a little town of Zhukovsky near Moscow. The mobile outdoor LED display was the hit of the show. It was obvious that LED outdoor display is very effective. In Europe and North America hardly any exhibition is organized without electronic displays. In Russia it is still a novelty.
As the large displays becoming cheaper, lighter and easier to maintain, they push aside all other types of outdoor advertising. It is inevitable that in the near future there will be plenty of outdoor displays everywhere, and then the carnival atmosphere of exhibitions and shows will be enhanced by lively colors of electronic advertising.
New outdoor advertizing displays in Russia
Recently a new outdoor LED display appeared in the streets of Moscow. In fact, the site near the Hotel "Moscow" was given to an outdoor display quite a long time ago. But it was viciously criticized for being so small that drivers and passengers could hardly see anything written on it. True, in a large city with its long streets and wide squares small sizes of advertising "disappear".
| | |
| --- | --- |
| | |
| New outdoor advertizing LED display in Moscow | Outdoor advertizing display in Vladivostok |
The company "Tikhaya Gavan'", the outdoor displays operator, reacted to these critical remarks positively: they installed a much bigger outdoor LED display in the same place. The difference is obvious. The efficiency of advertising is much higher and it is much more interesting to watch commercials while standing in a traffic jam.
Recently one more outdoor advertizing display was commissioned in Vladivostok. Operators have selected a very fashionable spot in the center of the city that will guarantee high returns of this enterprise. However, the distance to potential viewers was not evaluated correctly. Installed on a high roof, the linear dimensions of the outdoor display are not big enough. Nonetheless, it is very gratifying that slowly but surely electronic advertizing displays move into prominent positions in our cities.