Large electronic displays at Olympic 2000
Electronic displays are gradually becoming part of city life, ever-present part of city landscape. Almost every new trend begins with a false start: only a few years ago electronic displays were a novelty, expensive toys. Now they are in fashion, a hot topic in outdoor advertising. Today almost everyone realizes that full-color electronic displays are what are needed. The competition turned to a fierce fight overnight. Other consequences followed. The topic appeals to engineering minds, experts come up with new solutions and technologies, the quality started improving; the prices went down.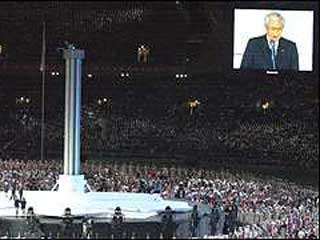 Large electronic display at Olympic Games in Sydney
Electronic displays became sophisticated machines with new functional capabilities. As a result, the range of their potential applications is extending daily. Bright dynamic displays used to be just carriers of advertising and commercial information. Displays became an important public information and entertainment resource. Today every "respectable" stadium has to buy a huge display screen, or four, which is better. Few concerts and show are now conducted without large electronic displays on stage; even those sitting at the back of the hall may watch their favorite starts as if from the first row.
If the stadium or concert organizers fail to supply a large display screen for the show, the results may turn tragic. This is what happened recently at a show of a popular Russian star singer Zemphira in Perm (Russia). In the stampede to glimpse the start dozens of people were injured. Could they watch her on the large electronic display screen, the tragedy could have been avoided.
Autumn 2000 will be remembered for the Sydney Olympics. The Olympic Games is a rare event. The advertisers look forward to it, TV channels compete for viewing rights, gifts with Olympic symbols sell like hot cakes. At the Olympics we have seen that the most shrewd businessmen were those who manufactured, installed, or rented electronic display screens. The Sydney Olympics beat all records on the worldwide television coverage. More than 100 countries acquired rights for TV broadcasting from Sydney. Moreover, the Games were widely represented on the Internet.
Large electronic displays at Olympic Games in Sydney
However, there appeared one more carrier of visual information that started competing with traditional television. Large full-color electronic displays were installed in the main squares of Sydney and other Australian towns. It's interesting to note that while IOC (International Olympic Committee) tried to prevent moving pictures of Olympic competition from appearing on the web, it only welcomed broadcasting of events on the electronic displays! The reason is that such shows do not violate the rights of other broadcasters and provide additional advertising and promotion to the Games.
There are plenty of large cities in the world. Clearly, even in Sydney, main site for the Olympics, not every one may get to the stadium. And even on the stadium one may not see clearly everything that is happening at a distance. That is why huge displays became so popular with the stadium managers. Practically every venue in Sydney was equipped with huge display screens that showed enlarged pictures of the main events, and provided advertising and re-runs of the most interesting moments of the Games during the breaks.
In the streets, the squares with displays became the most popular places in towns for those who failed to attend the Games. People would come to these squares with families to watch the sports events on large outdoor displays, to support sportsmen with cheering, to eat tons of pop-corn and drink innumerable bottles of Coca-Cola, beer or other beverages. So, businesses around the screens flourished.
No show, celebration or carnival ever had so many displays. In the opinion of the Mayor of Sydney "displays installed in the city will provide a perfect opportunity for families from throughout Sydney to be a part of Olympic history and enjoy festivities". Six large electronic display screens were erected at vantage points along the Sydney's harbor foreshore. The city authorities took special precautions to protect the safety of all spectators; people awe reminded that no glass could be brought into any of the six Olympics Live sites.
Spectators coming into the city for the closing night celebrations were advised to travel by public transport, travel light, wear comfortable clothing and shoes and prepare for changing weather, and drink plenty of water (after all, it was hot in Australia). Major roads were closed for traffic, and no parking was allowed. Every day thousands came to the electronic display sites. Naturally, the emotional effect of watching sport events and opening and closing ceremonies with a crowd in the street is by far stronger than in the solitude of city apartment.
The Olympic Games are over. The medals are distributed. The profits are calculated. But for us it is important to stress once again the noticeable tendency to use full-color electronic displays. New media once again proved that it is useful and practically indispensable. The electronic displays became a permanent feature of our towns. They confidently replace dull static billboard street advertising.