Large outdoor advertising screens in Tokyo (Japan), Brisbane and Sydney (Australia)
I'm pleased to inform the guests of our site that in the end of October - beginning of November, 1999 the experts from our magazine "Animation Television Video Systems" obtained significant technological and industrial results that are especially important on an industrial scale. They can have revolutionary value in the development and spreading of a new informational direction of XXI century (c) "Digital Outdoor Video" and (c) "Digital Outdoor TV". But we will talk about these events in December – January issue of our magazine in detail.
Outdoor screens in Tokyo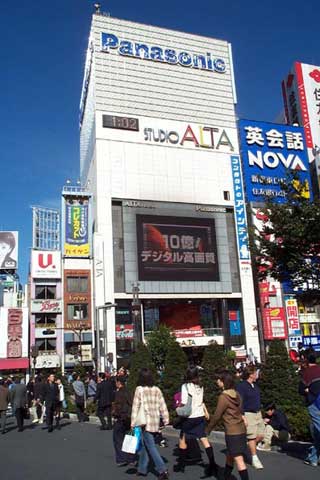 Outdoor advertising screen by Panasonic in Tokyo
Unfortunately, we didn't have much time and visited only one city - Tokyo. But this was enough to evaluate great achievements of Japanese engineers in the field of large outdoor advertising screens. First of all, it is necessary to note a great number of outdoor screens (no less than 7 full color screens sized more than 6-7x8-9 meters (height x width) and 5 smaller ones (not full color).
We intentionally will not post technical characteristics – only photos and short visual impressions. Large outdoor screens in Tokyo have already become familiar to people. They are not only part and decoration of the city, but are also active participants of street city life. Let's start with "traditional" (in many reviews) Panasonic systems.
The first place that we visited was a small square at the crossroads in front of the Shinjuku metro station. The screen is big enough (about 6-7 meters in height, 8-9 meters in width):
Screen works wonderfully against direct sun.
The viewing angle is wide enough 120-140°.
CRT-based outdoor screen.
The main drawback – there is light jitter of the image (it is caused by peculiarities of switching power on and off of CRT's lamps (that, most likely) or not absolutely by high quality of a video of a source).
It is necessary to mark, that square, which is serviced by the screen, is 50-70 meters in a diameter and is limited to the large buildings and this very competent solution for the given type of screens (since at the large sizes of square the sharp lowering of brightness and quality of the map) would be marked.
The transmitted clips and video materials are practically not adapted and probably there is no digital control system of compilation.
Nevertheless, the newest outdoor LED screens placed at small squares near the underground stations Harajuku, Kanda, Akihabara have undoubtedly produced the best impression. First of all, let's consider the LED screen at Harajuku.
Outdoor LED screen near Harajuku station in Tokyo
The screen has the larger size than the previous one (about 6-7 meters in height, 8-9 meters in width):
Brightness and color rendition are magnificent. Screen works well against the direct sun.
The viewing angle is wide, especially for a LED screen - 120-140°.
The square is quite small – 30-40 meters in diameter and is limited with trees and a railway.
The transmitted clips and video materials are not adapted and there is no digital control system of broadcasting.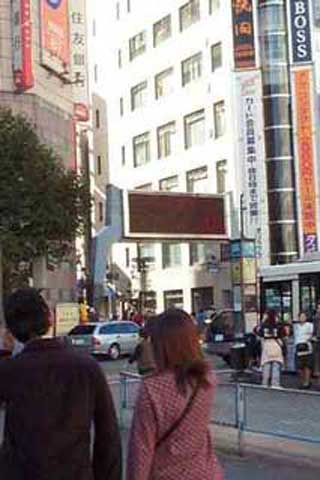 Outdoor LED screen near Shibuya station in Tokyo
Our observations in Tokyo confirmed a number of technological features distinguishing the LED systems from CRT and newest lamp ones. It spite of the stated long duration maintenance of LED systems, they have one common feature - LEDs grow dim. In Tokyo we noticed that the difference between the new screens and the screens that worked 2-3 years (also the screens of cluster type) is simply striking.
The new ones are bright and contrast (near Harajuku station). The old outdoor LED screen that worked 2-3 years (near Shibuya station) - dim. Certainly, one shouldn't forget that the direction of large outdoor screens is very young and real-time experience is just starting to be accumulated. That is why we won't be very strict.
On the other hand, it is high time to note and evaluate solutions and approaches not only theoretically, but also practically – real experience (from several months – up to 3 years). Taking into consideration the fact that most conceptual solutions in the field of large outdoor screens are very closely connected with the newest computer and digital technologies (for which even one month can mean very much), these time intervals do not seem so short.
The general impression of Tokyo is the following: there are a lot of large outdoor screens of different systems. Lots of old large neon boards (and it is quite possible to change them with newest screens). There are a lot of kind people. The prices are very high (unfortunately, the screens are not an exception).
Here are a couple of photos of screens and large outdoor advertising in Tokyo.
| | |
| --- | --- |
| | |
| Indoor LED advertising screen | Large outdoor advertising in Tokyo |
Outdoor screens in Australia
Just before our arrival to Australia the first outdoor advertising screen was started in the capital of state Queensland - Brisbane city. It is much less than the screens in Tokyo (4-5 x 6-7 meters), but judging by the type of LED surface, it is of the same class as the newest LED screens in Tokyo. The advertising screen is quite good. To tell the truth, there is a set of problems connected with managing of broadcasting and with output of video information. Therefore static pictures simply varied at the LED screen.
Outdoor LED screen in Brisbane
In Sydney we saw two more outdoor sport LED screens at stadiums. The screens are produced by a Chinese company, quite large (7-9 meters in height on 10-12 of meters in width), the quality and brightness of the image does not concede to the Japanese ones (viewed from a distance of 30-50 meters).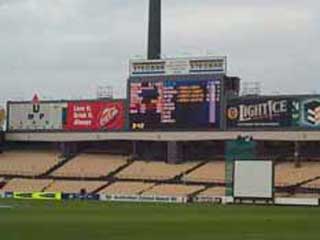 LED screen at the stadium in Sydney
But despite of large linear size and excellent image, the brightness of the image changes considerably depending on the point of viewing. The study of the given effect has led our experts and specialists from the chair of optics of the physical faculty to a simple, but conceptually important solution.
There are brightness and directivity of the light flow of the whole system (not the type of a dot light source, be it LED, lamp or CRT) that are important. The image should be bright and seen from apart (the optical part of the system should be responsible for that). The most vivid example explaining the core of this effect is the following:
Imagine that you have a BMW, Mercedes 600, Ford or any other car and you want to have good long-distance light. So, it doesn't matter what type of bulb you install – the headlight reflector is of primary importance for brightness.
As for screens, they also work in daylight, so one should also consider the influence of common intensity of illumination, which notably increases at withdrawal and the lack of direct light flow system (at least simple reflectors). So, the further are we situated from the screen, the more important it is, whether the system has a good reflector (focusing) system, i.e. like in usual headlights.
The reflector system has initially been part of newest lamp screens. That is why the largest and brightest screens at Times Square are exactly on the basis of the newest lamp technologies.
Perspective trends and new solutions in outdoor advertising and systems of "Digital Outdoor Video and TV"
After generalization of the main results of the business trip to Tokyo (Japan) and Australia we can say that it is quite possible to define precisely enough a number of new trends in outdoor advertising that we will witness in the nearest future.
Old large neon installations, large light boards and installations with primitive animation can now be changed with large outdoor video screens on the basis of the newest lamp systems. Their cost has already become comparable to the cost of installations with primitive animation on neon base and the possibilities are much higher. They consume much less electric power than old neon systems.
Soon we'll witness a very important feature of large outdoor systems on the basis of the newest lamp technologies: gradual "capacity escalating" and subsequent upgrade, as well as in the computer world. It allows even small companies to become participants of a new direction of "Digital Outdoor Video", and large companies - to have their own channels of "Digital Outdoor Television" on the basis of the network of several large outdoor screens.
The newest lamp and LED outdoor screens are not competitors but systems intended to solve different problems in a common direction of © "Digital Outdoor Video and TV":
If you need a system with a clear image that will be visible for the audience from the distance of 5-70 meters, you should choose a LED screen, a screen on a CRT basis or a lamp one, but with high resolution (their output is expected in the nearest future).
If you need a bright image that will attract attention at a distance longer than 50-70 meters at a large square and withdrawal (for example, at large stadiums and crossroads), at concerts and meetings with great audience or roof installations. In this case newest lamp systems are the most suitable solution.
The most difficult problem for LED screens in outdoor advertising for the nearest future is lowering of the cost price, that is – price reduction! Besides, one more important direction is upgrade ability (of course if it is possible in principle). The latest technological solutions that are already being used in newest lamp systems will be quite helpful.
Great many directions of further development of the newest lamp systems have lately appeared. The main advantage of this type of outdoor screens at this stage is that the prices are quite competitive and can be compared to the prices of neon and standard light static advertising and sometimes even less than of LED screens (without any loss in quality, especially for large screens intended for great audience).
But we would like once again to emphasize the idea that LED and newest lamp technologies are not competing solutions – they are interconnected and complementary directions in new independent information area – "Digital Outdoor Video and TV".